This is the story of the 11-mile marathon training run that wasn't. 
Today's run started like any other long run.  I consumed a filling breakfast: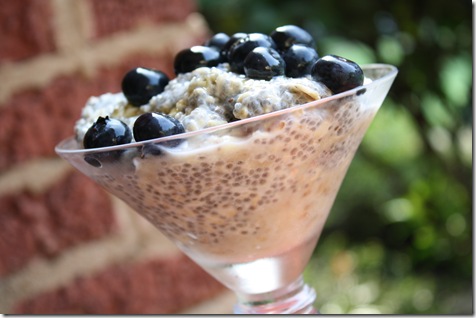 That, my friends, is a Vegan Overnight Oatmeal/Banana Soft Serve concoction.  I've been watching Angela make these for months, and now that I've finally bit the bullet and purchased chia seeds, I cannot get enough.  It tastes SO similar to Greek yogurt and granola that you'd be floored.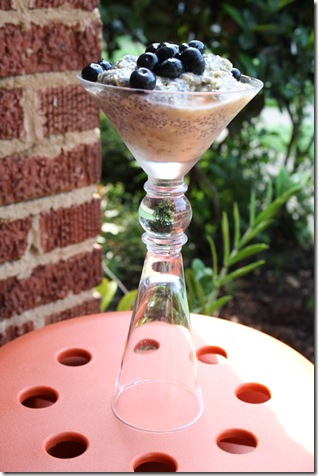 Here's the recipe I followed for Vegan Overnight Oats and here's the Banana Soft Serve recipe.  I topped it with blueberries and honey.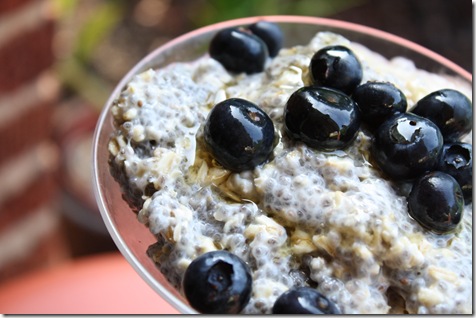 Major Mistake:  I got sucked into emails and blogging for Operation Beautiful.  As I worked, the sun got higher and higher and hotter and hotter.
Nearly two hours later, I needed another snack so I had PB toast.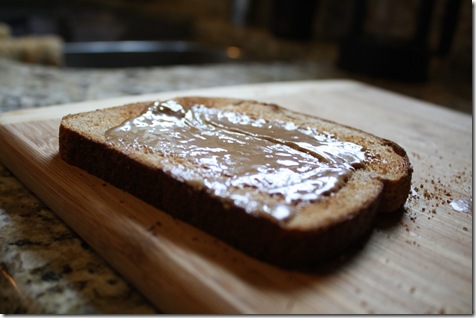 Since I was planning on doing 11 miles, I packed two packets of Gu so I could also take in calories during the run.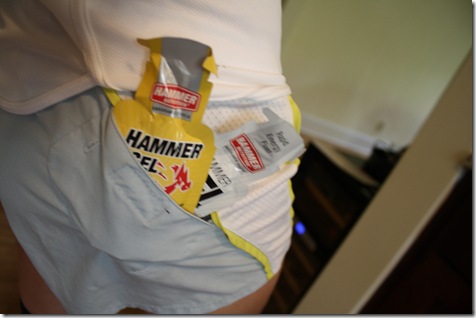 I was feeling REALLY good for the first few miles.  My pace was strong, and although it was hot out, I had enough water (and access to water fountains) so I could stay hydrated.  I was also wearing a visor, which kept the sun off my face.
Mile 1: 9:38
Mile 2: 9:20
Mile 3: 9:54
Mile 4: 9:24
Around Mile 4.5, I started to feel REALLY overheated.  As if I couldn't control my legs, my pace started to drop rapidly.  I had to climb a couple of huge hills that literally took my breath away.  I took a packet of Gu to see if the calories would help, but it made my stomach cramp.  By 4.75, my vision was starting to swim, and I decided to make a pit stop at the Husband's acupuncture clinic, where he was working.
I hid behind the receptionist desk for about 15 minutes, laying on the carpet and trying to settle my stomach.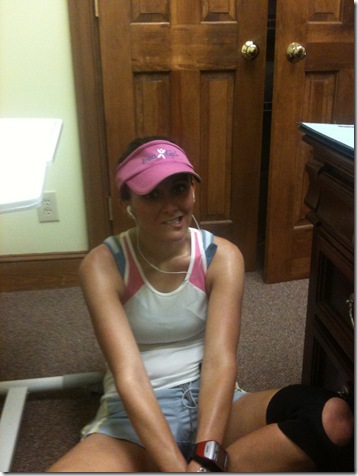 I knew I was fighting a losing battle.  It was just too hot out.  I decided to call it a day and took the shortest route back to the house.
Mile 5: 9:45
Mile 6: 10:52 <—Had to do lots of walking.
Mile 6 – 6.46: 9:38 pace
In total, it took me 1:02 to finish 6.46 miles, which isn't bad by any means.  But I felt physically destroyed.  Mentally – I was fine.  I think quitting a run would've made me feel so much worse a few years ago, but I've really learned how important it is to adjust your expectations for each and every workout according to how you feel that day.  You might think running long distances requires you to be a bit of a Type A perfectionist, but I think the key to ENJOYING long distance running is to NOT be so hard on yourself.  Not every run can be epic!
Plus, "bad" runs are great learning experiences.  It prepares you mentally and physically for a wide variety of conditions that may challenge you on race day.  Working a little past the point of comfortableness is key for improving your distance and speed, but you can't conquer every mountain, every time.  It's not giving up… it's just giving in.
Came home and showered.  Then I made this wonderful sandwich.
It was a spinach, tabouleh, and roasted eggplant and zucchini sandwich.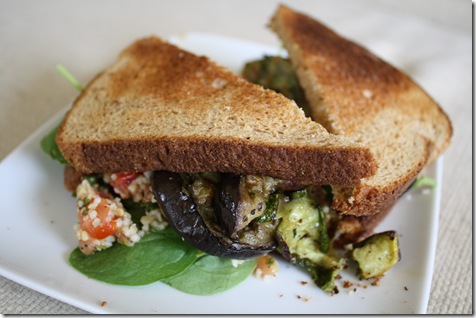 In other news…
Toot-toot!  Check out today's stop on the Operation Beautiful Virtual Book Tour!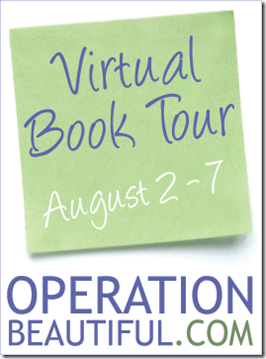 Today's Virtual Book Tour stop is Superchick, a Grammy-nominated rock band!
Find out what the ladies of Superchick think about body image on this post.  Melissa wrote, "We as females are constantly being told through TV, magazines, advertising and our own peers what is supposedly beautiful and what size we should be. When are we going to stop listening to the world around us and take hold of the women we were created to be?"  And enter for a chance to win a FREE copy of the Operation Beautiful book!
In honor of the OB Book Release, women (and men) all over America and the world are submitting guest posts describing their own experiences, struggles, and triumphs over body image issues.  To read the posts from earlier in the week,check out this page.
Here are today's featured posts:
Thanks to everyone who participated in Change the Way You See, Not the Way You Look Week!  Due to overwhelming response, I've decided to extend it until tomorrow, so stay tuned for more great guest posts (submissions closed on Wednesday).
How does scaling back a workout make you feel?  What lessons have you learned about listening to your body?