Previous marathon training long runs:
After crashing and burning when I attempted to run 11.0 miles in the heat yesterday (I got to 6.4), I decided to wake up extra early today and try again.
My alarm went off around 6:30 and I was out of the door by 7:15.  Before I left, I had an almond butter sandwich with 1/2 serving of Banana Soft Serve.  The combo of warm + cold was so delicious!  Definitely try this.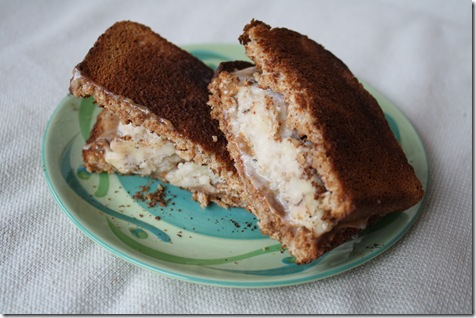 I ran 0.75 miles to a parking lot and met up with Michelle.  Having a friend to run with AND being in the shade made such a difference.  I was a little sore from running 6.4 miles yesterday, so I tried to keep a moderate pace and not push myself up the hills.
Michelle and I said goodbye around mile 7.5 and I continued along my merry way.  I took a packet of Hammer Gel (banana flavor – eck!) and the glucose seemed to hit my bloodstream instantly, making me nauseous.  I need to remember to eat each packet slowly, not all at once!
Ran by the house around 8.0 and refilled my water bottle… I drank three full bottles today!  It's so hot out there, even early in the morning.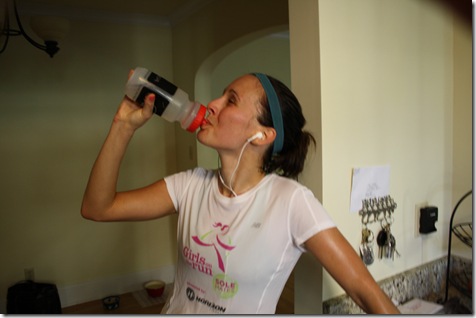 Like my tech tee?  :)  It's from Girls on the Run's Solemates program!  I received my welcome package in the mail the other day, and the goodies are great (but within reason for a non-profit, which I really appreciate).  The tech tee is SPF 30 and fits nicely.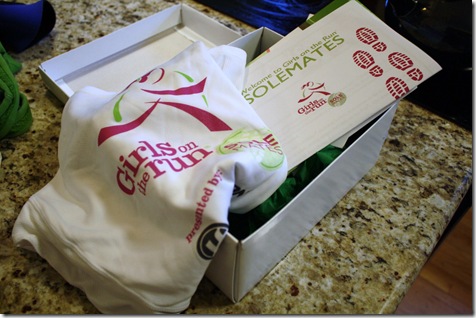 Have you heard about the Solemates program? It's a great way for busy people to get involved with the Girls on the Run charity, which teaches tween girls to run a 5K while building self-confidence and other social skills.  If you're too swamped to be a coach, you can be a Solemate.  As a Solemate, you run ANY race and raise $262 in the process.  The fundraising goes towards funding two girls' participation in the awesome program.  If you want to make your race about something bigger than your own efforts but don't want to commit to raising a lot of money (some charities require thousands of $$!), Solemates is perfect!  If you sign up, tell them Healthy Tipping Point/Operation Beautiful sent you!
I'm a Solemate for my upcoming marathon and I LOVE IT.  So cool that my fundraising helps two young girls!
Back to my run…
I started to feel really good around Mile 9, but my attitude took a nosedive around 10.5.  The last 0.5 mile seemed to go on FOREVER! But I finished it.  🙂 That's all that counts.
Distance: 11.0 miles
Duration: 1:51:09
Mile 1: 9:56
Mile 2: 9:39
Mile 3: 9:52
Mile 4: 9:48
Mile 5: 10:11
Mile 6: 9:56
Mile 7: 11:46 <—walking breaks with Michelle
Mile 8: 10:28
Mile 9: 9:54
Mile 10: 9:59
Mile 11: 9:41
Came home and ate leftover Chinese food.   Tofu, veggies, and rice is the ultimate post-long run recovery meal!  🙂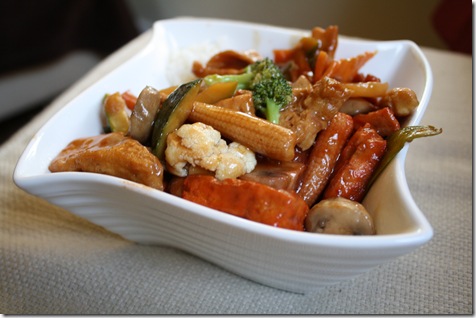 Chinese food at 10 AM… because that's how I roll.  🙂
Have a great day!
Oh, and… Since the response to the Change the Way You See, Not the Way You Look Week was so overwhelming, I decided to extend it for an extra day.  Here are the last bunch of submissions – thanks to everyone who participated!