Sorry for the delay!  :)  I have a good post for you, though – and I can't wait to read everyone's thoughts and opinions.
First: lunch.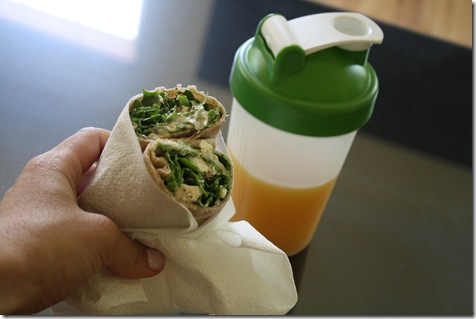 A little light, but my stomach is feeling off so it's the best I could do!  I had a white bean hummus, Athenos Tomato & Basil feta, and arugula wrap.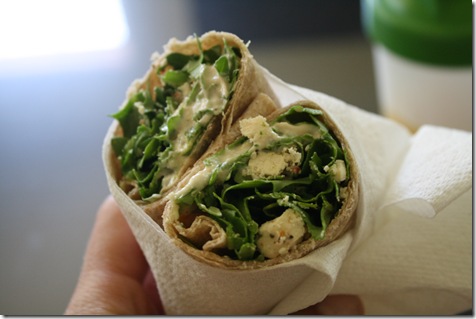 With a banana-orange fruit juice: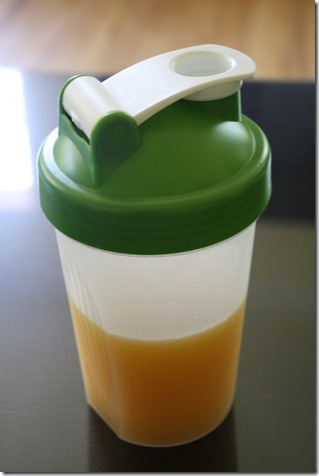 And a snack of sourdough bread with Earth Balance.  I heart bread.  A lot.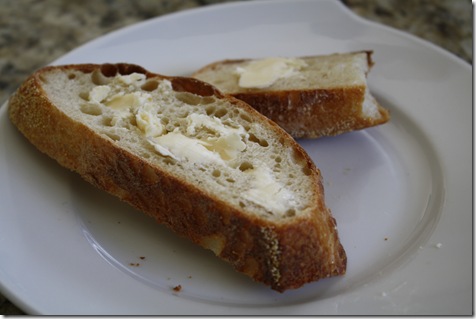 What Does "Ethical Eating" Mean?
Recently, there's been a lot of discussion in the comments section about my attempts to "eat ethically" and how I have certain "rules" that I apply only to certain situations or foods.  For example, I don't drink cow's milk for "ethical" reasons, but I eat yogurt. 
Let's first define an "ethical eater." 
When I first started Healthy Tipping Point in July 2008, I was just a regular eater.  As in, I did not really think about where my food came from and the impact my choices had on the environment or animals.  Sure, I knew about organic food, but I didn't really understand why I should care about it or buy it.
Over time, I've transitioned to being a vegetarian because I'm concerned about how factory farming impacts our animal friends.  Not all meat is factory farmed, of course.  Furthermore, not all dairy or meat farmers are cruel, so please don't assume that I'm implying this is the case.  However, the vast majority of meat and dairy comes from factory farms, and that disturbs me. 
Can you be an "ethical eater" and eat meat?  Of course.  Why?  Because I don't believe you have to be a "perfect" eater to be an "ethical eater."  I believe that being an ethical eater doesn't mean you don't eat meat or don't eat dairy or only eat local or only eat organic. I believe that "ethical eating" means you strive to make educated decisions about your food choices and the impact such choices have on our community, animals, and our environment, and then you strive to reach the best conclusion for YOU.  Sometimes, you might learn a bunch of information and decide you can take some, leave some.  For example, I can go without cow's milk, but I personally don't want to give up yogurt.  Does that make me "unethical?"  In my eyes, no.  Because I believe that every positive effort you make is important and worthwhile.
A really great (NON-vegetarian biased) movie is Food Inc.  If you haven't seen it and care about our food system, I really recommend it.
When I say that I am an "ethical eater," I mean that I strive to understand WHERE my food comes from and the IMPACT that my choices have.  That does NOT mean that I am perfect. 
I find it very worrisome when people say that I am a "hypocrite" for eating gelatin or yogurt (just as a side note, I haven't had meat or fish since I went vegetarian 1+ year ago).  I do not believe we should throw around the word "hypocrite," especially when it comes to food choices.  Food is very personal, and all I can hope to do is educate people about why I do the things I do.   When people come down on me harshly for my choices and decisions, it makes me feel very judged.  It also makes me want to shy away from learning more.   Mama Pea said it best when she said, "I think being militant about any lifestyle choice is one of the biggest deterrents to invoking change in others."
When it comes to being an "ethical eater," there is no black and white.  There are a lot of gray areas, and these gray areas are dependant on each individual person.
I get a lot of e-mails from people who say, "I want to be a vegetarian, but I seriously don't think I can skip turkey on Thanksgiving / give up marshmallows / never eat French onion soup again."  And I always respond, "WHY does it have to be black and white?"  Make your own decisions work for YOU.  Again, as long as you're educating yourself and making your decisions based on that information, I believe you're an ethical eater.
What do you think of the ethical eating debate?  Would you say you try to eat ethically?  Are you an "ethical" meat eater? Do you view your "label" in a black or white manner or is there wiggle room?