I was sitting on my porch when I saw Kath and Matt turning the corner!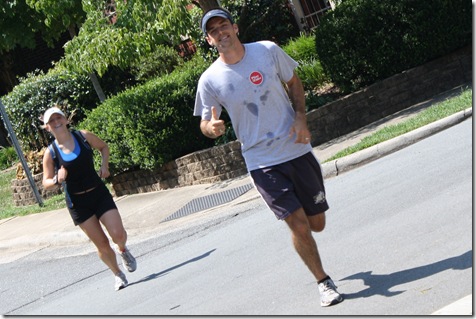 They ran 2.8 miles to my house to surprise me and say hello!  Since they were there and sweating, I decided to throw on my running clothes and do a quick run with them. 
Kath and Matt are super fast, so I had to haul booty to keep up!
Distance: 3.37 miles
Duration:29:55 minutes
Mile 1: 9:01
Mile 2: 8:44
Mile 3: 8:51
Mile 3 – 3.37: 3:19 (9:05 pace)
Very proud of Mile 2 in particular!  :)  One thing I'm trying to focus on during my runs is getting used to the sensation of feeling "uncomfortable" when I go fast.  Obviously, pushing myself to RUN-RUN instead of jog is a little hard on my legs, lungs, and entire system!  I kept repeating, "It's OK to be uncomfortable, it's OK to be uncomfortable," and that helped motivate me up a few hills. Framing the sensation in terms of "uncomfortableness" instead of being overly dramatic and thinking, "OMG I'M GOING TO DIEEEE" makes it a LOT easier.
Since I was already sweaty, I walked right into my office and set up my yoga mat to do No More Trouble Zones.  I had to do some modifications to get through it, but I finished it and felt soo good afterwards!
Prior to the workout and after church, my mom and I stopped off at Panera for some coffee.  I snagged a little of her bagel and soufflé to munch on.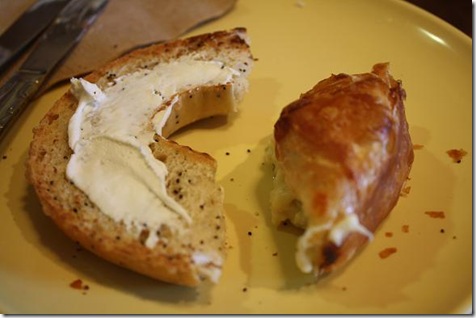 And I posted an Operation Beautiful note on the community board!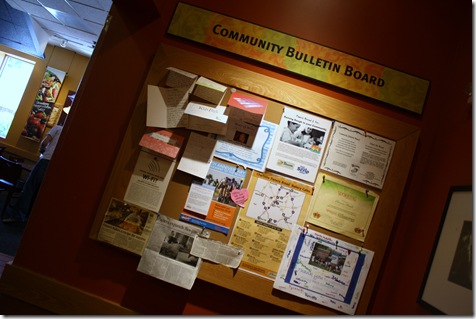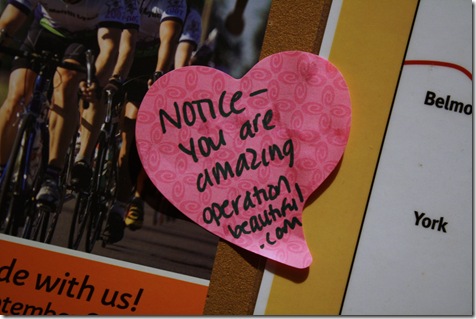 Post-run, pre-No More Trouble Zones snack was cinnamon bread with Earth Balance: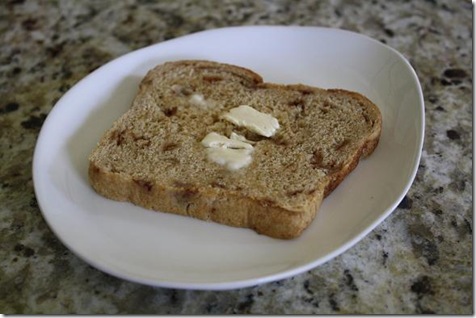 Lunch was an arugula salad with tomatoes, cucumbers, and vegetarian refried beans.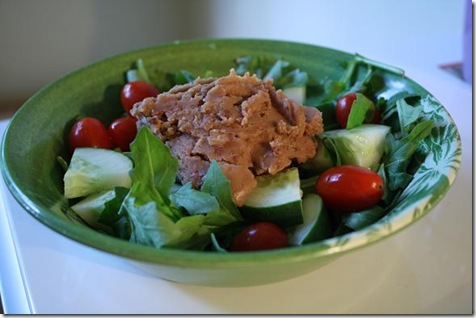 Off to enjoy the last bit of the WEEKEND!  🙁