I nearly forget to tell you – I spontaneously signed up for a race!  It's a 4-miler (which I've never done) and is next Saturday.
I've been having trouble with my "running MOJO" and, among other motivating tricks, I knew the best thing I could do for myself was sign up for a race!
Per my race-ready suggestions on the How To Get Your Game Face On post, I carefully studied the race map online, and I noticed several things.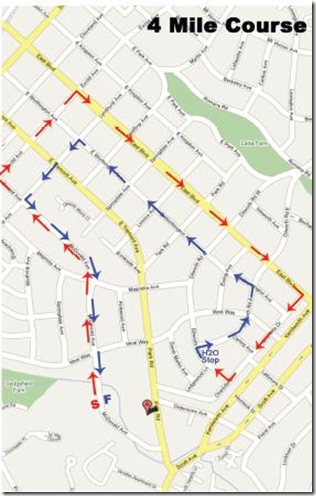 First of all, I'm pretty sure the race starts at a slight up-hill, switches to a downhill (sweet), switches back to an uphill, and then finishes strong downhill.  Awesome!  Due to these conditions, my goal is to finish under 35:00 – I'm going to try to run it fast!
Secondly, there is only ONE water stop – FAIL.  This means I'll definitely be carrying my own water bottle on the course.
Check out my other race-related posts:
Time for breakfast!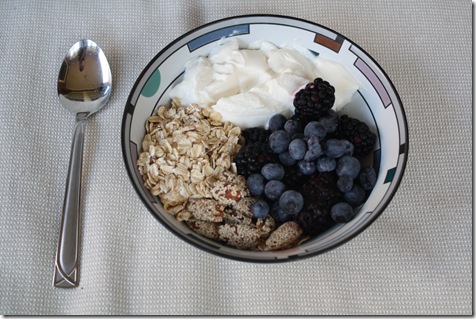 I actually created this mix and stuck the whole thing in the fridge last night.  My brother-in-law was sleeping on the couch, and I didn't want to disturb him.
Nothing like a cold bowl of yogurt + raw oatmeal on a hot day!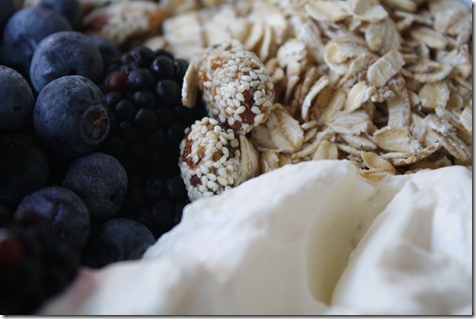 My mix contained:
1 serving Trader Joe's Honey Greek Yogurt
Blackberries and blueberries
TJ's Sesame Honey Almonds (so good)
1/2 cup raw oatmeal
Gotta jet! I've got a lot of book-launch related tasks to wrap up, and then I'm going to try to squeeze in a run before I show Nick around town!
PS – YES!  The Operation Beautiful book drops on August 3.  PLEASE pre-order your copy and help show the world how strong and big the movement to end negative self-talk is!  Check out Amazon, Barnes and Noble, Borders, and Indie Bound… It's less than $12 a book!
How do you prepare yourself for a race?  Do you drive or run the course? Study the website? Scour the Internet for course reviews?  Or do you like to show up and be surprised?