Oh, Pancake Truffles.  I have missed you!
Why have I not made Pancake Truffles in… months?!  This breakfast is so amazingly delicious.  I think I feared the time prep involved, but I actually timed myself today and it was only 6 minutes from countertop to oven.  Then I did some work, drank some coffee, and Ta-Da!  Pancake Truffles were consumed.
A Pancake Truffle is a piece of banana wrapped around a hard oatmeal and whole wheat pancake shell.  I rolled the mix in sunflower seeds instead of pecans.  I try to avoid the use of the phrase, "Nom nom nom" on the blog, but seriously…. Nom, nom, nom.  I think I actually uttered the sound "nommmmm" as I ate these delicious little babies.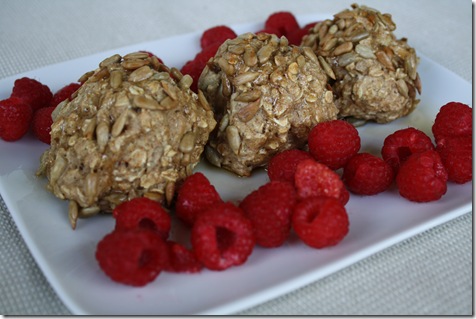 With raspberries!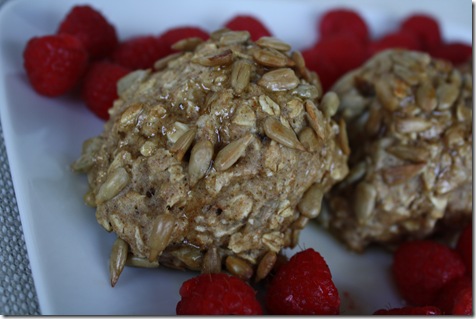 Here's the complete recipe. 
Things to do, people to see!
How long do you take to prepare breakfast in the morning?  Do you make more complex breakfasts on the weekends? It's my favorite meal of the day, so I'm willing to wake up a little earlier to make something fun. 
PS – Ball canning giveaway winner is Alison, who said: "Well, I admit, I would give this to my sister-in-law Kelly (my brother's wife) who is the most amazing cook/baker/whole foodie/dog lover, and generous to boot. A little bird told me she wants to get into canning."