These Pancake Truffles are by far the most amazing, decadent, and delicious breakfast recipe that I've ever dreamed up.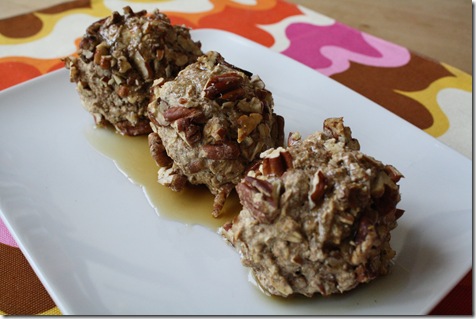 Ingredients (for 3 truffles or 1 serving):
1/2 cup raw oatmeal
1/3 cup whole wheat pancake mix
1 egg white
1/4 tablespoon cinnamon
1/4 cup almond milk
4.5 inches of banana (cut into three 1.5 inch pieces)
1.4 cup whole pecans, crushed
Maple syrup to taste
Directions:
Preheat oven to 350 degrees.
Combine first five ingredients in small bowl.
On a plate, spread out crushed pecan.
Grease cookie sheet.
Separate mix into three piles.
Take one segment of banana and coat in the pancake mix.  It will be kind of sticky and wet, but that's fine.
Form ball around the banana segment, and then roll in the crushed pecans.
Place on greased cookie sheet.
Repeat with other banana segments.
Bake at 350 for 15 minutes.
Remove, plate, and drizzle in maple syrup.
Enjoy!