If you're looking for a great way to give back to your community, inspire young girls to live a balanced and healthy life, and squeeze in some exercise in the process… I've got the charity for you!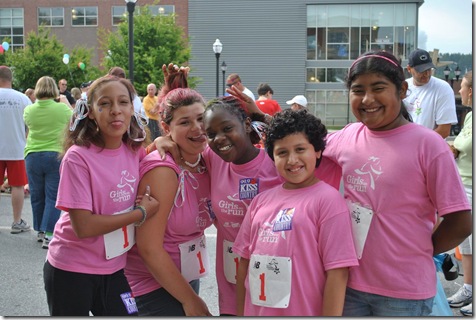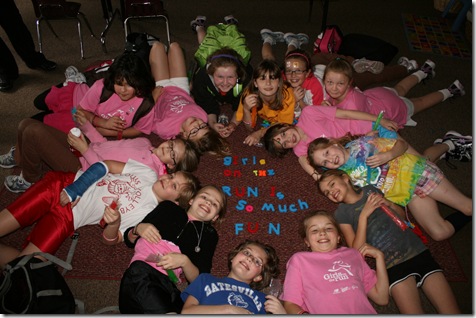 Girls On The Run (GOTR) mission is "to educate and prepare girls for a lifetime of self-respect and healthy living.  Girls on the Run, founded by Molly Barker in 1996, is a life-changing, experiential learning program for girls age eight to thirteen years old. The program combines training for a 3.1 mile running event with self-esteem enhancing, uplifting workouts. The goal of the program is to encourage positive emotional, social, mental, and physical development."
Today, I had lunch with Lauren, GOTR's Quality Director, and Katy, VP of Partnerships and Developments, at a little vegetarian-friendly cafe called Zada Jane's.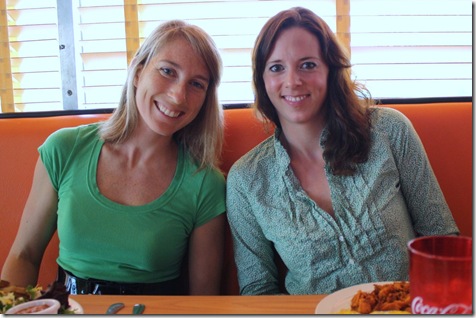 I love GOTR, and GOTR loves Operation Beautiful.  It's a match made in do-gooder heaven!
I ordered the East-Western, a tofu, egg, curry, and vegetable scramble with a biscuit on the side.  It was really good, and the flavors were divine, but it was a little light for lunch.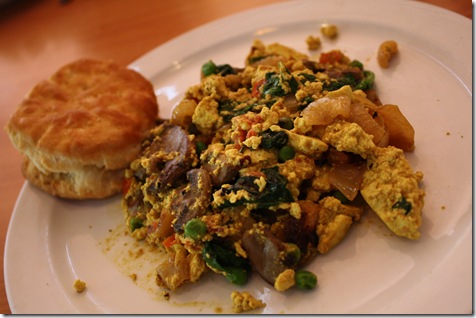 Our lunch meeting lasted an hour and forty-five minutes because we had so many different things to discuss!  The GOTR mission really speaks to me because I truly believe this organization is a great way to positively impact a young girl's life… It's the living, breathing version of an empowering Operation Beautiful note!
Here's how GOTR works (source):
There are about 160 chapters of GOTR in cities across America and Canada.  Each chapter follows the national ten- to twelve-week curriculum developed by the Charlotte office.
The first eight lessons are centered on the girls getting to know themselves.  They examine their values, their likes and dislikes, and who they envision themselves to be. As the girls get to know themselves, they are also sharing with each other. Lesson topics and learning goals include "fueling our healthy pace," "centering: the importance of slowing down," and "celebrating gratitude." 
The next eight lessons concentrate on team building, being supportive, learning to listen and cooperate, etc. Lesson topics and learning goals include "standing up to peer pressure," "gossiping hurts everyone," and "it's okay to choose my friends."
The last eight lessons relate to the world at large. This includes making a contribution to the community and learning to recognize and deal with the negative messages we often receive from the world (media awareness, negative peer pressure, etc.) Lesson topics and learning goals include: "learning about community," "tuning into a new message (media literacy)," and the development and implementation of a group community project.
At the end of the program, the girls run a 5K race with a buddy and experience the joy and pride of crossing the finish line!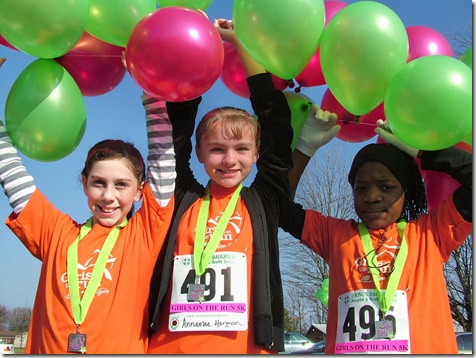 Here are TWO WAYS that YOU can get involved with GOTR.
Apply to be a coach or running buddy at your local chapter.  You can search to see if there is a chapter near you here.  If you're a coach, you need to be available in the afternoon twice a week so you can attend the coaching sessions.  As a running buddy, you meet your girl on the day of the 5K and run the race with her.
Join the SOLEMATES program.  I LOVE this program and just joined myself!  Solemates consist of male and female athletes who pursue individual goals, such as running a 5K, a marathon, or participating in a triathlon, to raise money for local GOTR councils. If you're already signed up for a race and want to make it about something bigger than yourself, this is PERFECT. As a Solemate, you pledge to raise $262, which funds two girls' participation in the GOTR program.  Learn more here.
I just signed up for the Solemate program for the Thunder Road marathon on December 11.  I was already going to do the race, but now I can do it as a Solemate and help two girls in need learn how to run, too! :)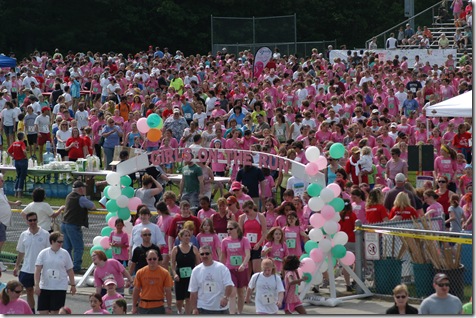 I love that the Solemate program isn't a huge commitment in terms of time (busy full-time workers can do it!) or money required for fundraising, but it can make a huge difference to two girls.
Anyway, it was quite the exciting meeting, and I'm excited to get involved with GOTR here in Charlotte (I might become a coach as well).  I gave Katy and Lauren copies of the Operation Beautiful book, too, and they asked me to sign them.  I was giggling the entire time.  😉
Have you participated in GOTR as a coach or Solemate?  Do you think being involved in such a program as a young girl would've helped your confidence? 
If you're doing a race in the Fall or Winter, please consider signing up for the Solemates program!  Your fundraising will provide scholarships for two girls to participate in the GOTR program.  Who knows what kind of impact you'll have!  If you register to participate in the program, indicate that you heard about it from "OTHER" and then type in Operation Beautiful as the source!