Extremely proud of myself for getting up and doing No More Trouble Zones!
I haven't been doing the DVD as much as I'd like because of the move and our trip to Pennsylvania (I forgot to pack the DVD and weights – durr).  I finally realized that if I want to do the DVD, I probably need to do it first thing in the morning.  I don't have issues running at night (I definitely prefer it, actually), but there's something about DVD workouts that I simply must get over with.
It was hard!  And I had to do some modifications, but I survived.  Whew!
In other news… we picked up a soy creamer for the Husband at Trader Joe's last night.  Neither of us drink cow's milk (for ethical reasons; it's the one dairy product I can easily give up because rice milk is such a good sub), but I cannot break the half-n-half habit and I'm not sure I want to (if half-n-half is wrong, I don't want to be right).  I try to limit my soy overall, but I'm not going to get worked up over some creamer in the AM.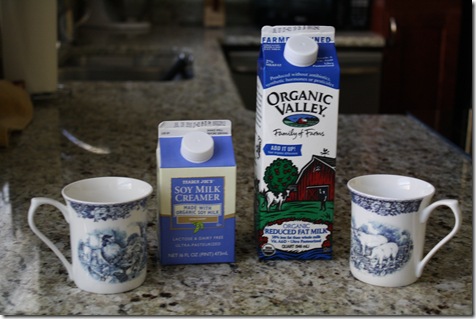 The soy milk resulted in a similar froth, and I used the same amount to create a nice, rich caramel color.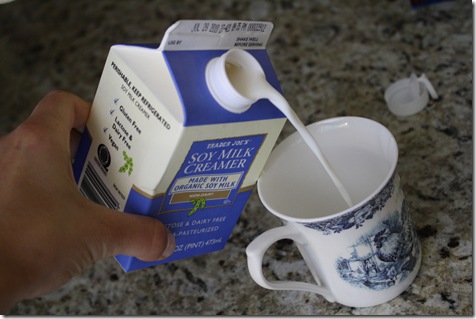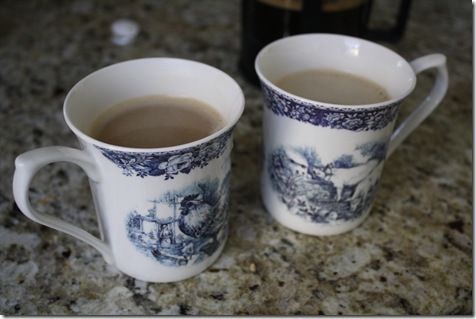 Verdict?  Half-n-half rules.  It was creamier, and the soy creamer felt a little off.   But, I think it would be like switching from Regular Coke to Diet… at first, it would be weird, but your palate adjusts eventually.  I still don't plan to change, though!
Breakfast: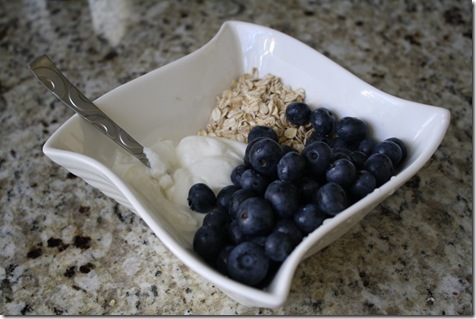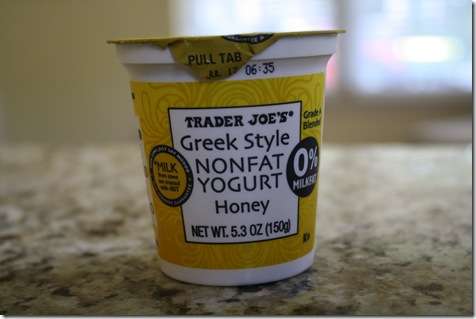 In the mix:  TJ's Greek honey yogurt, 1/2 cup raw oatmeal, huge handful of blueberries.
Very interesting discussion on Trader Joe's last night in the comments section!  Not really sure where I stand, but it's always good to be an educated consumer so thanks for sharing all your information!
And… I'm off!  I have so much work to get done!  🙂