Awesome breakfast, and now an awesome lunch!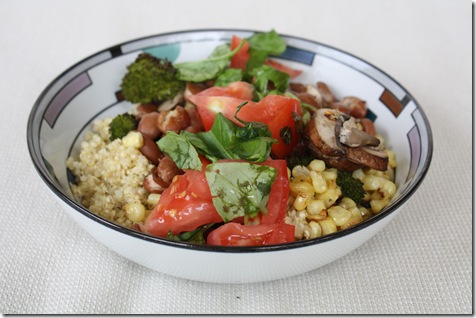 This Quinoa Bowl totally hit the spot!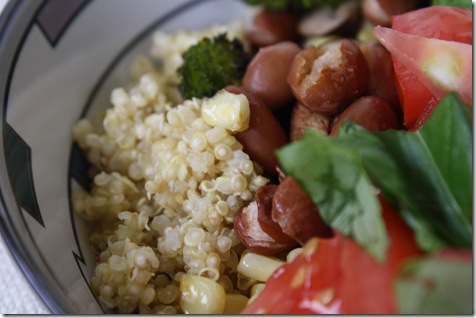 The ingredients:
Quinoa (with a tablespoon of hummus mixed in <—make it really creamy)
Roasted broccoli, corn, pinto beans, and mushrooms
Tomatoes
Fresh basil
Salt and pepper
I've been working on the remainder of this post for a while now – I'm so excited that it's complete!  Whenever I run, I tend to listen to pop music.  But I love to turn up some epic movie trailer songs when I feel like I need a dramatic boost.
I turn up the "Nara" song and dash around the corner, pretending I'm chasing a bad guy.  I blast "Escape" and imagine I'm sword fighting my nemesis.  These songs inspire me to run faster, longer, and with much more pizzazz. 
Here are my 10 favorite Movie Trailer Songs for running.  Enjoy!
"Lux Aeterna (Requiem for a Dream Theme Song)" by Clint Mansell
"Nara" by E.S. Posthumus
"O Verona (Reprise)" by Craig Armstrong
"Escape" by Craig Armstrong
"Immediate Music" by Serenata Immortale
"Arise" by ES Posthumus
"Clubbed to Death"  Rob Dougan
"Elba" by ES Posthumus
"Braveheart Theme" by Highland Orchestra
"Unstoppable" by ES Posthumus
Do you recognize any of these movie trailer songs?  Which is your favorite?  Do you run to classical or instrumental music?