Today was my first day of speedwork per my Speedy 5K training plan.  Not going to lie – it was rough!  But I think it was so hard because I ran outside in "feels like" 97 degree weather.  Doh!
Here's what my plan called for (400 meters = 0.25 mile; 800 meters = 0.5 mile):
400 meter warm up
4 sets of 800 meter sprints at 8:00-mile pace with 200 meter recovery jogs in between
400 meter cool down
In order to remember what I had to do, I wrote it out on my arm before leaving: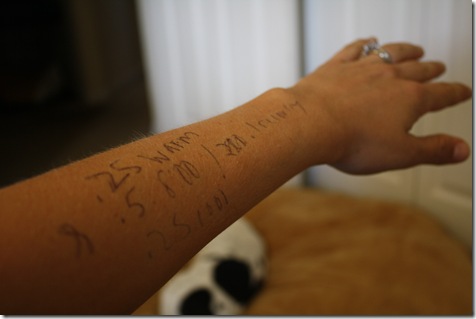 It worked. 🙂
So – speedwork is really hard!  I completed the first two sprints with ease, but the third and fourth KILLED me (probably due to the heat) and I ended up taking walking breaks in the middle of each.  I tried not to get discouraged about my breaks because I knew I REALLY needed them.  Hopefully, my breaks will decrease over time!  I'm also going to experiment with shorter sprints and "ladder" sprints where I sprint varying distances over the workout.
If you want to get faster… anyone can do speedwork!  Whether your sprints are at a 10:00-mile pace or a 7:00-mile pace.  Just adjust the times and splits to your own preferences and goals – trust me, you WILL get speedier!  I used my Garmin 305 to help me track my distance and pace (it has a GPS inside the watch), but you can also run on a treadmill or track.
In the end, I completed:
Distance: 2.70 miles
Duration: 23:54
Mile 1: 8:35
Mile 2: 8:51
Mile 2 – 2.7: 6:28
Average Pace: 8:52
Fastest Pace: 6:44
I did feel REALLY accomplished when I got home!  It was a nice feeling.  🙂
Post-workout snack was cherry juice: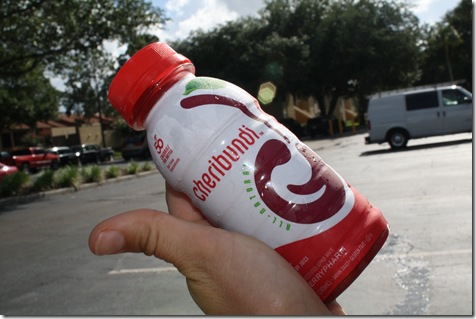 And then I drove to meet Ryan for dinner at our favorite vegan-friendly place, Infusion Tea.  Her new house is only 0.3 miles from the restaurant, and walking to IT from her place gave me a preview of what my new walkable lifestyle will be like in Charlotte!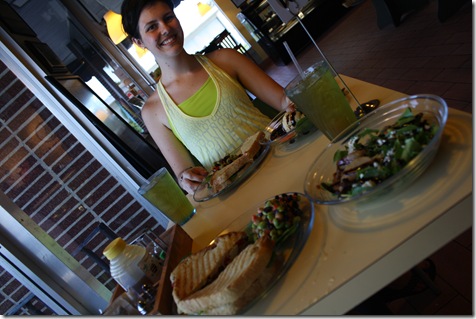 I had the 1/2 pear and gorgonzola salad: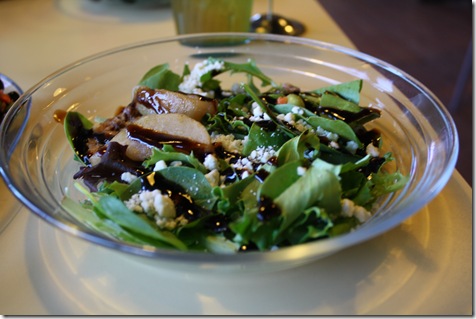 And a pesto panini sandwich: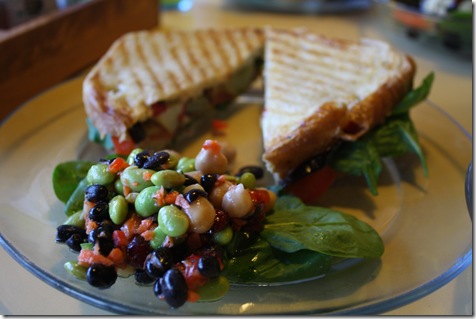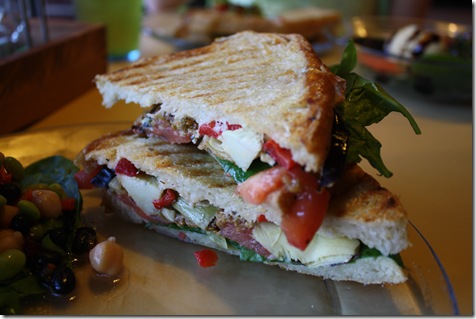 It was as good as it looks!
I hung out with Ryan's cute kitties for a while…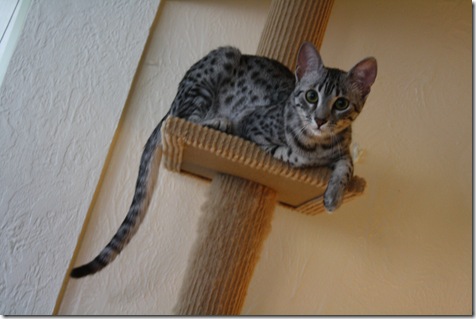 … And then I drove to Megan's to hang out with her and Meghann!   Yes, I'm trying to see all my Orlando friends one last time before we leave!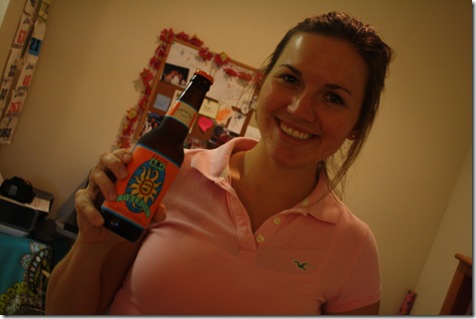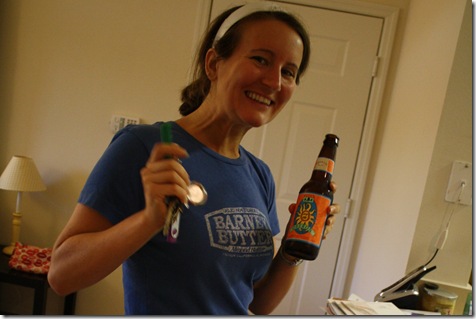 Obviously, we drank beers and gossiped about life.  It was the perfect end to a very full day!
Megan twisted my arm into agreeing to run with her in the morning… I better get to bed! I hope I'm not too sore from speedwork to keep up.  🙂