Dear Megan:
Thank you for being the best running buddy a girl could ask for.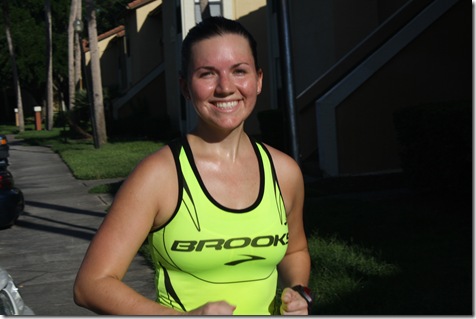 Thanks for always making me encouraging me to wake up early to get our run on.  I'll never forget the 500 + miles we've run together since meeting a year ago!  Thanks for being willing to take walking breaks and being my lookout when I need to pee in a bush.  It was much appreciated.  🙂
Love,  Caitlin
On that note – Megan forced encouraged me to wake up early to pound out 5.0 miles together!  By the time we left my house, it was already super hot out (91 degrees!).  We went slow and took a few long walking breaks to make it more bearable.  Now that it's over, I'm really glad I got my run out of the way!  I'm free now to work and pack for the big move!
Distance: 5.0 miles
Duration: 56 minutes
Pre-run snack was toast with cinnamon cherry PB: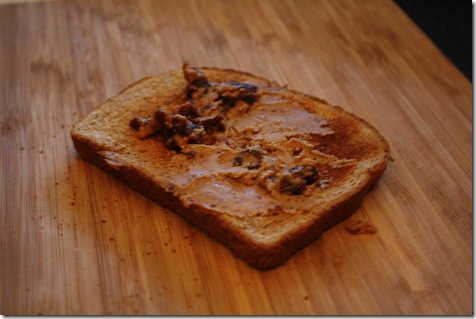 Post-run breakfast was delicious.  Consumed on the 'table of the day':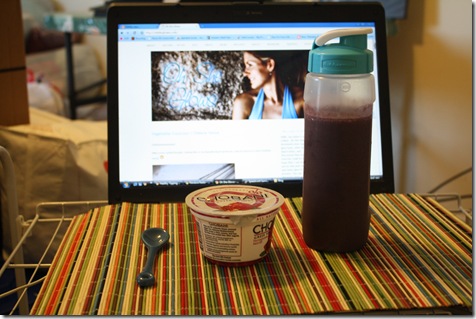 (A shoe rack!)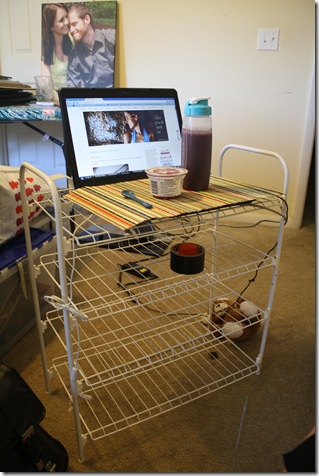 I had Chobani Pomegranate: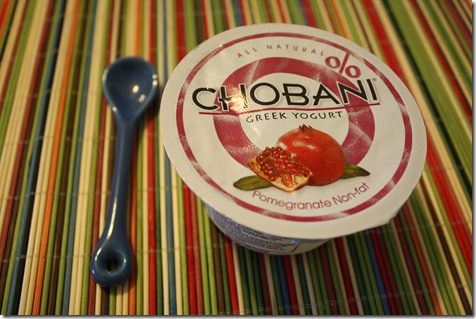 And a Green Monster, which contained 1 cup rice milk, 2 cups spinach, 15 frozen cherries, and 2 tablespoons of Vega Shake and Go.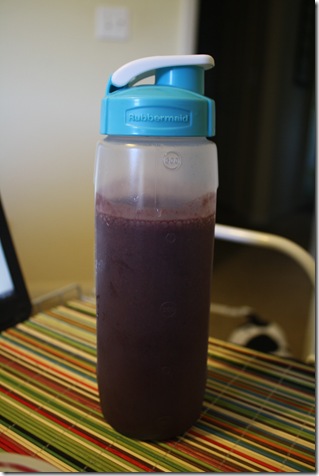 Go Out and Get Busy!
A few days ago, I wrote about the scar on my elbow from the bike crash during my triathlon.  I posted this video recap, which features a motivational quote by Dale Carnegie at the end.
The quote is: "Inaction breeds doubt and fear. Action breeds confidence and courage. If you want to conquer fear, do not sit home and think about it. Go out and get busy."
A reader named Ashley commented:   "Just watched your video of the recap from your tri. I've been reading awhile and I think this is my first time commenting… your video brought me to tears. A part of me was SO sad that you fell on your bike and so proud that you got up so quickly and finished with a smile on your face. The quote at the end of the video hit me HARD. Really hard. So hard that tears burst from my eyes.  
I have spent 95% of my adult life sitting at home and thinking about all the things that I could do to make myself healthier and make me like myself more. I am always thinking about how I could go to the gym right now and do _____. Instead of just getting up and doing it, I think about it until I can't (time won't allow).  Today is the day I will start making changes."
She wrote me back later that day to say, "I finally got off my butt and just did it. I went to the gym and worked out and it feels SO good."  To help her stay motivated, she printed off the Dale Carnegie quote, framed it, and hung it in her bathroom: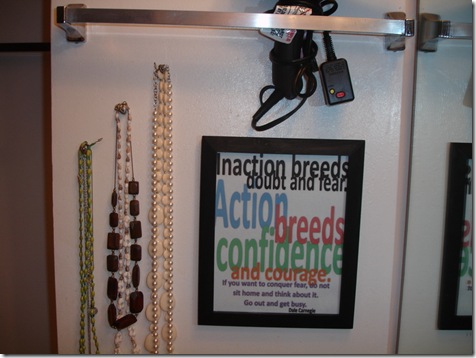 I love it!
What quotes help you stay motivated and encourage you to Go Out and Get Busy?