I'll admit… I've been struggling to get motivated to workout on this vacation (hey, I'm human, too!).  The combination of feeling stressed out + in a new city has tanked any desire to sweat.
The oldest trick in the book – laying out your clothes the night before – is also the most effective.  It's hard to blow off a run when you're alarm is blaring AND your sneakers are staring at you. 
I decided to run through the Uptown area + Fourth Ward to see how bumpin' the area was during the day.  It's so clean and pretty!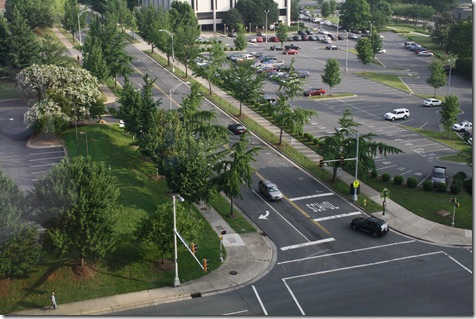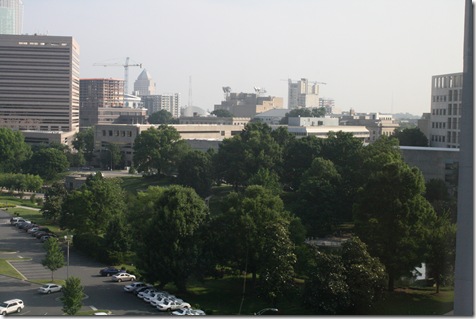 I ended up doing 4.0 miles or so in about 38 minutes.  I don't have my Garmin 305 charger so that's just a rough estimate.  I was really feeling it going up those little 'hills' too!  Guess my flat Florida ways are going to have to get used to the North Carolina terrain!
I didn't eat anything before I left because my stomach felt a little funny, and we didn't have much to choose from in the hotel room.  Normally, I always eat something before a morning run unless it's short (under 30 minutes) because I notice a significant decrease in my performance.
After all, if you ate dinner two hours before bed and slept for 8 hours, the last calories you consumed were more than 10 hours before your workout!  
I normally eat a slice of bread with PB or a banana with PB before a workout.  The combination of carbs/protein works well for me, and it's compact enough that my tummy doesn't feel too full when I start to run.  I can eat 15 minutes before a workout, although I know most people have to let the food digest a little more (of course, I have upchucked on the sidewalk before, and it's not fun).
When I came back to the hotel, I ate 1/2 of this Pro Bar.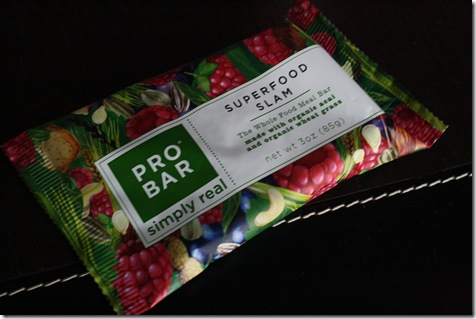 It's a 'meal replacement' bar so 1/2 of the bar = 170 calories.  It was delicious (I like all the Pro Bars).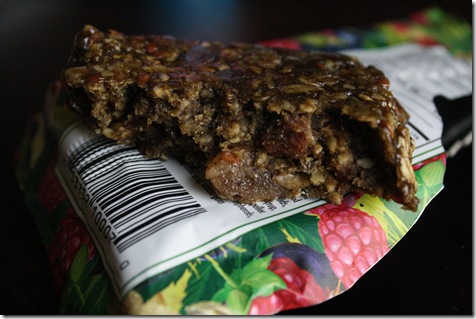 HOPEFULLY this will hold me over until we can get brunch.  I don't want to ruin my appetite!
Can you eat before an AM workout?  What do you have?  How long do you have to wait before exercising?