Meals taste even better when you put a little extra effort into presentation.  It's true.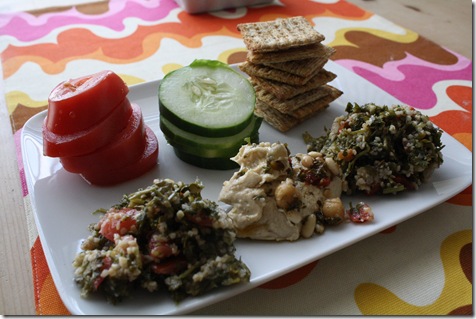 I had a platter lunch with some of  my favorites:  hummus, tabbouli, cucumbers, crackers, and tomato.
So many fun flavors and combinations!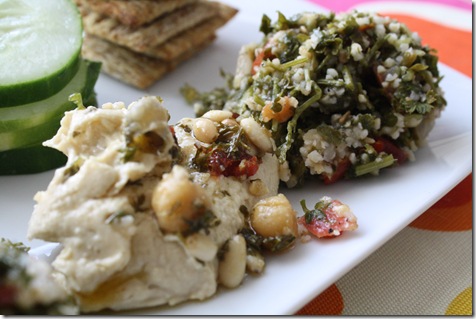 With a side of baked polenta: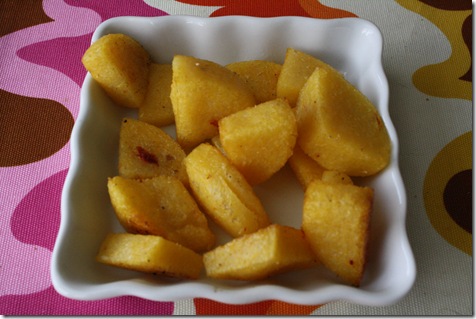 All together now, kiddies: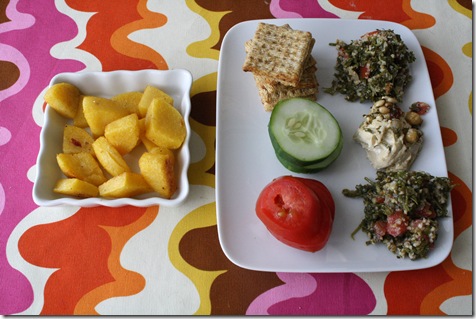 Sickness Update
I am feeling MUCH better all the sudden.  Only a hint of sickness is left.  Rest, wheatgrass, and homeopathic drugs are awesome.  Now that I'm clearly over the hump, I can confess to everyone:  I was seriously starting to freak out.  I feared I had strep throat and was so exhausted I couldn't even walk the dogs.  I am SO THANKFUL I feel better and will be ready for the bike race on Sunday.  Now… let's go to California already (I leave on Friday)!
Thoughts on Creativity
So, I'm plowing through my to-do list.  And I notice that I tend to check off the easiest/non-creative things first:  pre-writing Operation Beautiful blog posts, organizing stuff for the Healthy Living Summit, and other odds and ends.  Next, I move up to slightly more creative stuff, but tasks that I already had a vision for – like writing freelance articles (here's one my recent ones about saving money at the grocery store).
But the stuff I leave for last?  Well, it's typically the most difficult items, the ones that require the most creative thought.  It's also the tasks that I have no idea how to begin… like writing my book #2 proposal. 
So, my days end up looking like this:
Morning:  Blogs, emails, Twitter, conference calls
Afternoon: Stare at computer screen and try to complete more difficult tasks, sucked of all creative thought.
I really must remedy this situation because it's CLEARLY not working for me.  I can't necessarily swap all of the easier tasks for the hard tasks, but I can put some housekeeping items to the side for later.
Most importantly, I think I need a clear delineation between non-creative and creative tasks.  I often had this problem at my prior job as an Urban Planner, and I absolutely had to excuse myself from the office to go for a walk to clear my mind.  I need to stop implementing the same system now.  Another good idea might be moving my laptop to another room.  Sometimes a change of scenery really mixes it up.
Does your job or hobby require creativity?  When are you the most creative?  How do you elicit creativity during the afternoon (especially when you're fighting the 2 PM snoozies)?