I feel better than I did yesterday! Behold the power of wheatgrass shots!  🙂
A great bowl of oatmeal:  1/2 cup oatmeal, 1/2 cup rice milk, 1/2 cup water, 1 banana, and raspberries + coconut on top.  Mmm.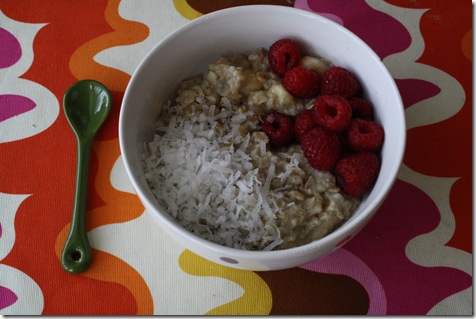 OK – onto the good stuff.
You may be asking, what the heck is the Healthy Living Summit?
In December 2008, Kath, Tina, Heather, Meghann, Jenna, and I were e-mailing each other back and forth about how bad we wanted to all meet in person.  We had been 'blog friends' for a long time, but we'd never actually seen each other.  The e-mails flowed back and forth, and then someone said, "But I don't want to just meet you girls, I want to meet all the bloggers – and readers, too!"  Everyone else agreed.  And then someone said, "Yea! Me, too!  We should organize a blog conference."
And that's literally how the Healthy Living Summit was born.
Last year's three-day event took place in Boston, and everyone had such a good time that we decided to do it again this year – but bigger and better!  This year, our host city is CHICAGO!
On Friday, we'll be hosting a cocktail party so the 200 attendees can get to know each other 'in real life.'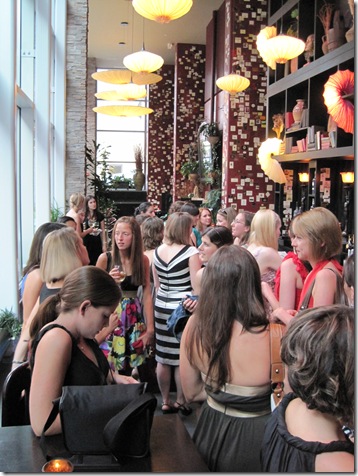 And Saturday will be filled with speakers, food, activities, and FUN.  More than anything, we don't want to spend our day in a conference room (and I bet you don't, either).  Check out the awesome schedule of events, which includes a two-track option this year.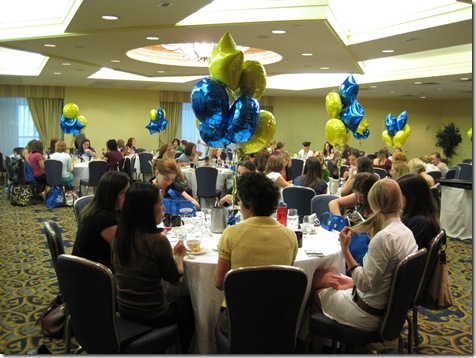 Sunday will include a unofficial 5K run/walk and a picnic, much like last year.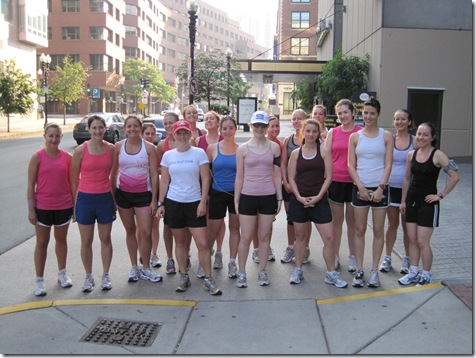 Here's all the essential details you need to know about the Healthy Living Summit.
WHO:  You! Me! A variety of bloggers in all ages, races, and hometowns.  Probably mainly female.  🙂
WHAT:  A chance to get together with your favorite blends (blog friends) and meet new people, too. 
WHERE:  Chicago!
WHEN: August 13 – 15
HOW:  Our awesome headline sponsor this year is Arnold/Oroweat!  Other sponsors include Stonyfield, Quaker, Frito Lay, and Open Sky.  Expect some EPIC swag bags!
Tickets are $75 and will go on sale TONIGHT at 9 PM EST.  Head over to this link at 9 PM to register. 
In the meantime… Want win a free ticket to the Healthy Living Summit?  The free ticket does not include transportation or hotel costs, which must be paid by the winner.  Please only enter the contest if you plan to attend the event if you win!
Simply leave a comment with your favorite motivational quote, and I'll randomly pick a winner at 8 PM EST and e-mail them directly.  I will edit this post to include the winner's name.
See you in CHICAGO!
THE WINNER IS SARAH AT LONG LEGS, HEALTHY LIFE!  She said: "I want to go so badly!!  My favourite quote is "Be who you are, and say what you mean, because the people who matter won't mind, and the people who mind don't matter."  I don't remember who said it, but it always reminds me to be true to myself, and not let anyone else drag me down."  CONGRATS!