Once again, we had some glitches last year with ticket sales for the Healthy Living Summit – but nothing like last year!  Last year was an epic disaster than required a 2 hour conference call (at 9PM) with the other blog organizers.  This year, we had the system say we were sold out before we actually were, but other than that… things went great!
Due to the hanging chads, there are still some tickets available as I post this – so check it out!  I'm REALLY excited to see everyone in Chicago in August!
Other than HLS stuff, I got some chores done and a smidge of work – but not enough.  Oh well, there's always tomorrow!  Right?
I also got outside and took James on a long run/walk.  I feel so much better and wanted to move my bod a little bit.  I have a lot of antsy pre-race energy.  I think we did about 2.5 miles in 36 minutes – James even ran for a little bit with me.  I threw in some sit-ups and push-ups at the house.
Pre-workout snack was Chobani Pineapple and brown rice crispes.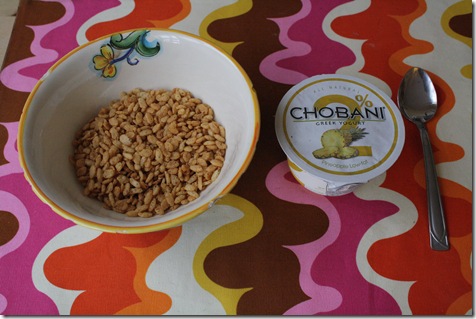 + then I did a lot of mindless grazing.  I had a few mini chocolate pretzel, a handful of cereal, crackers etc.  I don't mindless graze a lot, but I was definitely in the mood tonight!
Dinner: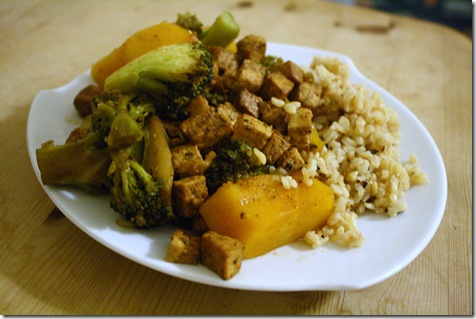 Stir-fry tofu, butternut squash, broccoli, and brown rice with a sauce made of honey, balsamic, chili powder, cinnamon, and pepper.
On that note… I'm off to bed.  I want to wake up and it be Thursday!  Then it's just one more day until I go to California.  Wahoo! 🙂