A comforting breakfast before a busy day: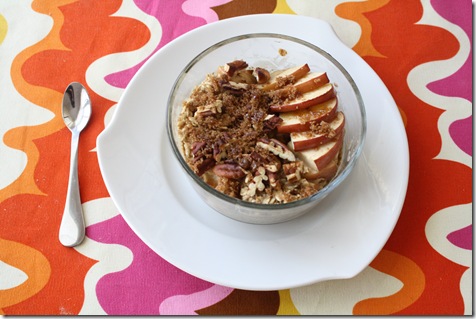 This baked oatmeal recipe recalls the flavors and textures of warm apple pie, but it's much healthier!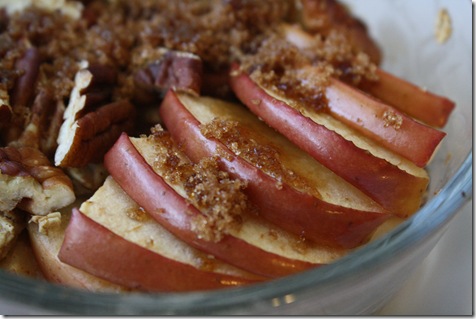 Warm Apple Pie Baked Oatmeal
Ingredients:
1/2 cup oatmeal
1/2 cup almond milk
1/2 apple (I used Gala), chopped
2 tablespoons whole wheat pancake mix
Sprinkle cinnamon, nutmeg, and cloves
2 tablespoons chopped pecans
1 tablespoon brown sugar
Directions:
Preheat oven to 350 degrees.
Place all but 1/3 chopped apple in microwaveable bowl and fill with water.  Microwave for 1.5 minutes.
Mix oatmeal, almond milk, microwaved apple, pancake mix, and spices and pour into mini casserole dish.
Top with reminding apple and pecans.
Bake for 20 minutes.
Remove from oven, add brown sugar, and broil at 500 degrees for 2 – 3 minutes.
Remove and enjoy!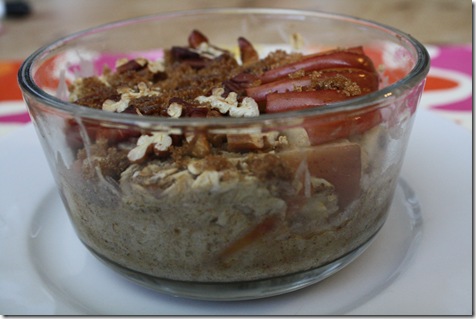 I think the thing that makes this baked oatmeal stand out is the addition of the pancake mix.  It gives the pie a firmer texture.  Loves!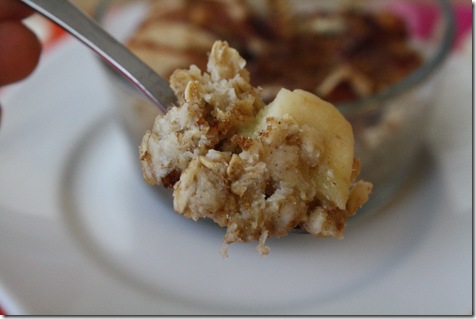 I have a busy day planned… I best get moving!
What's your favorite kind of pie?  We almost had key lime pie at our wedding instead of cake!