Yesterday, I had a major craving for a donut.  Lo and behold, at the conference I attended this morning, there was a breakfast spread featuring chocolate-covered donuts.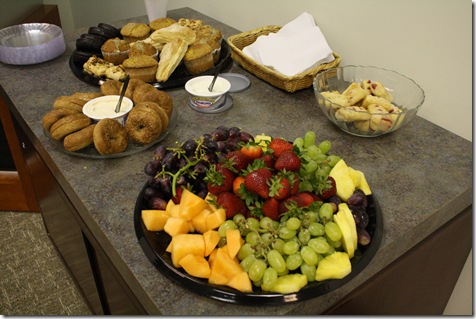 I had a sneaking suspicion that an entire donut would make my blood sugar go nuts, so I had half of one and some fruit.  It was perfectly satisfying!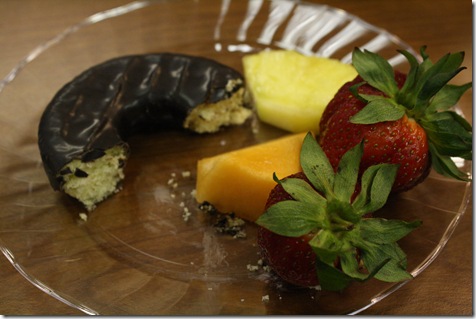 And then we got down to work!  I am participating in the Chevy Girlfriend Getaway promotion again.  In March, I test drove the Chevy Traverse for a month and blogged and tweeted about my experiences.  This time, we're test-driving the Chevy Malibu.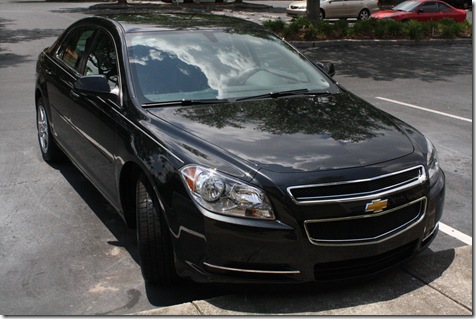 As always, whenever I do social media work, I give ya'll the full disclosure statement:  Chevy is giving me the car for a month + funding some outings in exchange for me giving my honest opinion on the vehicle on the Chevy Girlfriend Getaway website.  I'm not getting paid to say wonderful things about the car… if I say I like it, I really like it!
You might remember one thing I did not like about the Traverse is the fuel efficiency, but the Malibu is much better (33 mpg on the highway) so I'm super excited to try it all month!
After getting the car, the Chevy bloggers toured the news station…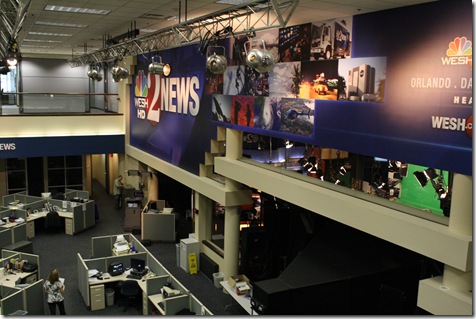 And then we filmed some web commercials!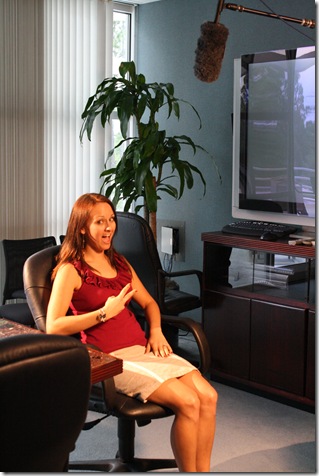 Don't worry, I didn't throw the peace sign or make the fishy face in my spot.
Meghann is also a blogger for Chevy.  She did a really good job on her spot!  Much better than me!
I came home and made the Husband and I a quick lunch: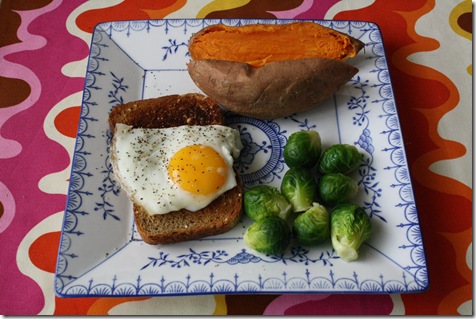 Just a sunny-side-up egg on toast, Brussel sprouts, and a sweet potato.  It was such a pure, simple, and satisfying lunch.  Three cheers for real food!
I was thinking on my drive home how powerful social media has become!  I think it's neat that Chevy wants to reach out to women this way, because I'm rather hear another blogger's thoughts than watch a commercial or get a sales pitch from a dude at the dealership.
I recently wrote an article about how to save money at the grocery store for Spark People.  I quoted fellow blogger Molly from Fuel Her Up as saying: "Follow your favorite companies on Twitter and Facebook – you'll be alerted to sales and giveaways! This past week, So Delicious let me know where So Delicious Kefir was on sale!"  I follow tons of companies and charities on Twitter and love hearing about their sales, promotions, or events.
Social media can also be great when you have a compliant.  Remember when Meghann had a bad customer service experience at a bakery?  A few readers e-mailed her blog post to the company, who made amends immediately!  I tweeted Stonyfield the time I opened a moldy yogurt (and got a coupon for a new one).  And I tried to get Shimano to fix my broken cycling shoes, but no luck (they're out of warranty).
Does the company you work for use social media? Do you follow companies on Twitter and Facebook?  What's your best social media experience so far?