Thank you so much for all the motivational mantras in Wednesday's morning post.  I was having a really tough run this afternoon, and one mantra in particular really made me pull through.
It was something along the lines of, "Commitment is what you do when no one else is looking."  I wanted to quit my run, but it was probably my last workout before Sunday's race.  I thought, "I'm committed to this, and even though I don't have a running buddy with me, I'm going to finish what I started." 
I did a 5K (3.1 miles) in about 32 minutes.  And honestly, it felt great at the end. 🙂 Sometimes you just gotta push yourself a little!
Pre-run snack of Cheerios + brown rice crispies + rice milk: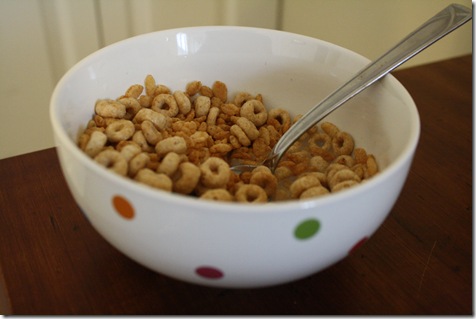 Post-run fuel was a Cherry Chocolate Bomb.  Best… smoothie… ever.  Try it!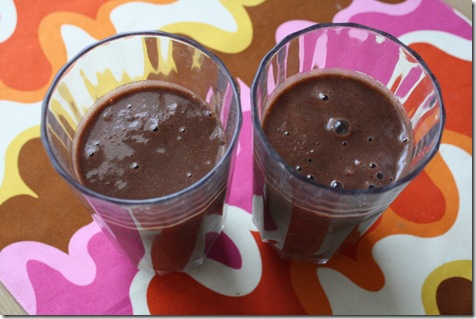 My smoothie contained:
1 banana
1 cup rice milk
15 frozen cherries
Nesquik (mmm!)
Couple slices of frozen peaches
Since the smoothie was pretty much part one of dinner (it was super filling!), I had an almond butter sandwich with honey for part two.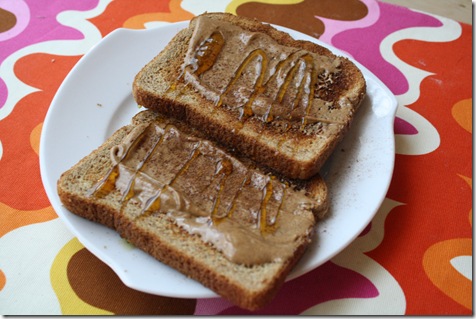 I bought Maranatha AB at Costco in bulk, and I totally regret it.  It does not even come close to comparing to Justin's Maple Syrup Almond butter, no matter how I dress it up.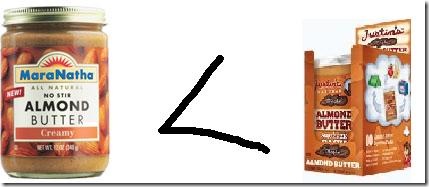 Justin's rules.  Worth the $9.99 insanity.
Who rules your nut buttah world?  PS – Does anyone else remember the direction of the 'greater than' or 'less than' symbol by pretending it's an alligator mouth that eats the bigger amount first?