Fact about the Husband:  He pronounces quinoa "kwuh-NO-uh," which is made infinitely funnier by the fact that he says it in a British accent.  Note:  it's actually pronounced "KEEN-wah."
Second interesting fact about my vegetarian Husband:  He has totally gone off of cow's milk and cheese lately.  I don't think he's had cheese for three weeks?   If you ever told me my Husband would lean towards veganism faster than me, I would've laughed in your face! I guess you never know, huh?
Due to his sudden dislike about milk/cheese, I've been struggling with casserole ideas because I usually use cheese as a base.
But this casserole is the perfect solution!  The most interesting part of this dish?  The quinoa is raw!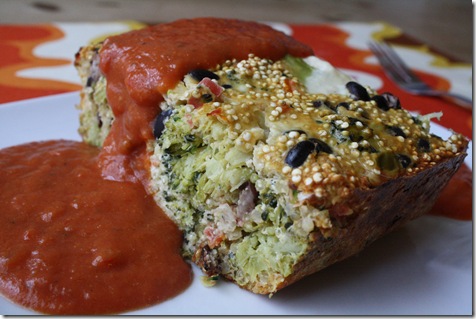 Quinoa Crunch Casserole
Ingredients (for three servings):
3 cups chopped broccoli
3/4 cup raw quinoa
4 eggs
1/4 cup hummus
1/4 cup salsa
1/2 can black beans, drained and rinsed
1 tablespoon hot sauce
Dash of pepper
Topping: Pasta sauce
Directions:
Preheat oven to 400 degrees and grease a loaf pan.
In a wok, stirfry the broccoli until it begins to brown.
In a mixing bowl, combine all the ingredients + broccoli except the pasta sauce.  Mix well.
Pour mixture into loaf pan and cook for 40 minutes.
Remove and slice.
Top with pasta sauce and enjoy!
The sauce is crucial because the casserole is slightly dry without it.  I don't like gooey casseroles as much as denser, firm dishes, so I really enjoyed this.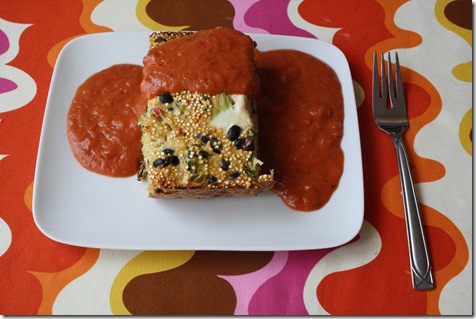 Mmm.  Casserole perfection – and healthy, too!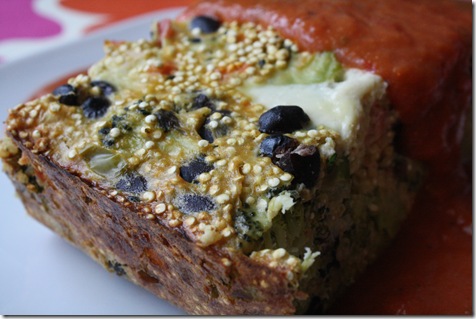 In other news…
I have packed for California!  I just want to get on a plane and GET THERE already!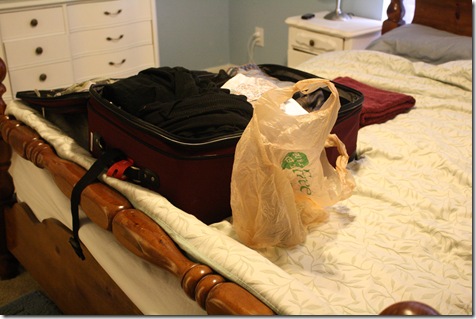 I am so excited to see Jenna again.  The last time we saw each other was in August 2009. 
We have plans to go on a winery tour the day after our ride!  Wahoo!  I'm REALLY looking forward to that – and those vegan chocolate chip cookies she made yesterday.