Keep calm and ride on – it's time to go to California!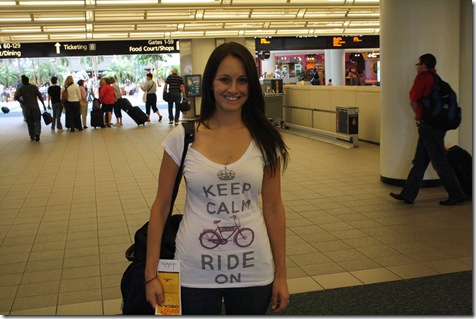 You might be wondering how I'm getting my bike across the country for my 100-mile race on Sunday.  Well, a bike requires a really big and really awkward case: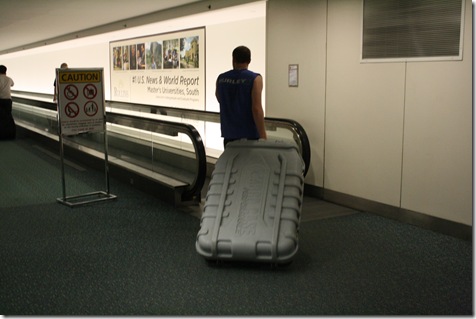 Here's how I dismantled my bike and put it in the case.
Thank goodness the Husband was with me to lug it into the airport! It is super bulky and heavy.  But it only cost $50 to check – three cheers for Southwest!
Airport lunch: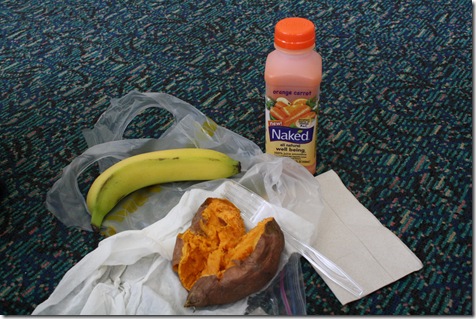 Orlando doesn't have the best food options, so I microwaved a sweet potato before leaving the house and bought it with me through security (which got me pulled for inspection, actually!).  I bought a banana and juice when I got to the terminal.
I really liked this juice.  It has the juice of 1 orange, 2 carrots, 1/2 a mango, 1.5 apples, and a banana.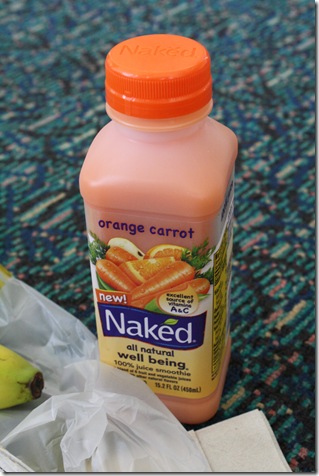 Unfortunately, I didn't read the ingredient list until I began to write this post, and I happen to be allergic to mango, so I'm kind of freaking out.  I'm only mildly allergic to mango, but I try to avoid it.  I'm going to go see if I can find some Benadryl to take to reduce the allergic reaction.
Um, let's hope the rest of the trip goes smoother!
See ya in California!