After returning home from today's race, I took a wonderful 2 hour nap.  When I woke up, I was starving!  I remember a fun recipe sent to me by Beth for Sweet Potato Ravioli and decided to try a savory version.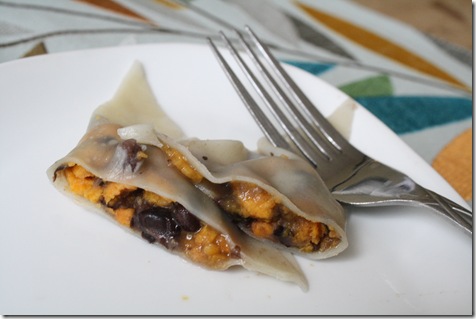 One of the things I 'miss' since reducing my dairy intake is those stuffed pastas you buy in the freezer section.  I used to eat them all the time when I was short on time for cooking, but now that I'm trying to limit dairy to once a day, the ravioli doesn't look so appealing.  I've been on the hunt for cheese-less ravioli, but these serve as a nice (if labor-intensive) substitution.
I've never made pasta from scratch.  I used these won ton wrappers as "pasta":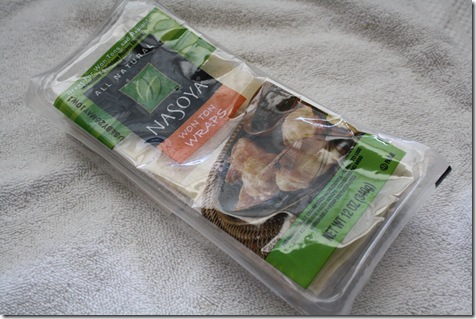 The stuffing was simple:  mashed sweet potato and mashed rinsed black beans.  For two servings, I used an entire potato and 1 cup of beans.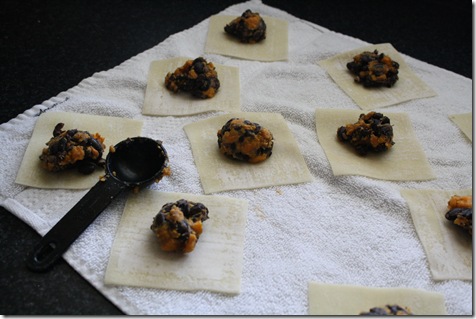 All that will fit in the wontons is 1 tablespoon of mix.  Be careful not to overstuff!
I sealed each wonton with a little bit of water.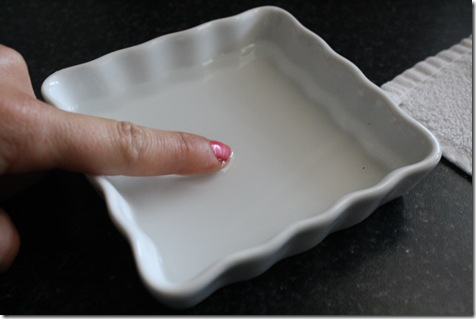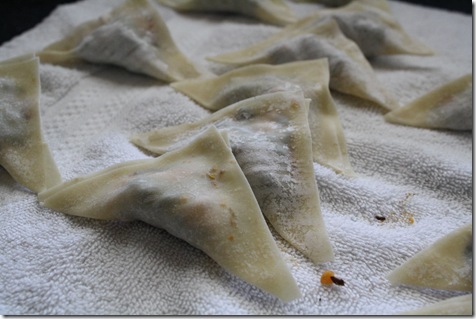 And then I boiled them for 5 minutes with a little olive oil.
I topped the ravioli with regular red pasta sauce.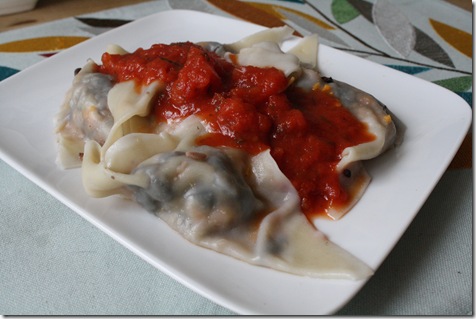 It was good, but a little slimy.  :)  Maybe I cooked it too long?  Honestly, I think wonton wrappers are best for frying.  I bet the sweet potato and black bean mix would taste AMAZING in fried wontons.  Obviously, not the healthiest way to prepare them, but it would be a nice change!
With a big arugula salad on the side.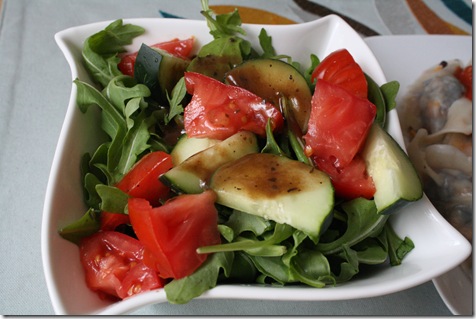 All together now: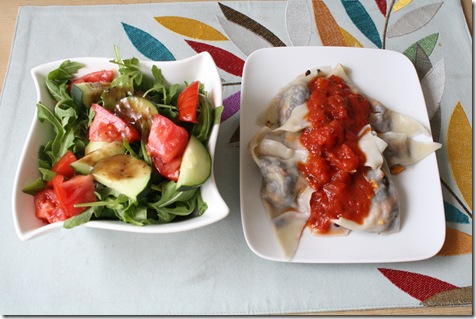 Plus, an orange for dessert: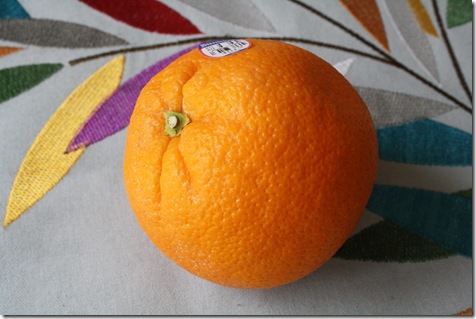 Well, my friends, I'm off to be Caitlin at Unhealthy Tipping Point and get my dance on at the downtown Orlando clubs.  ;)  Hardy ha ha.   We rarely go out because it's so expensive, but Orlando has an excellent nightlife.  I'm pumped!
Have you ever made pasta from scratch?  Got any recipes?