I think this is my favorite breakfast, ever.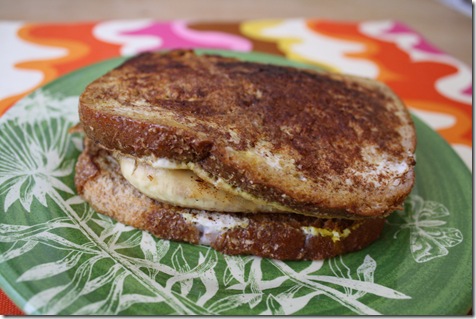 Grilled Banana Sandwich – what's not to love?
It's sweet, warm, and filling.  It makes my house smell like cinnamon buns!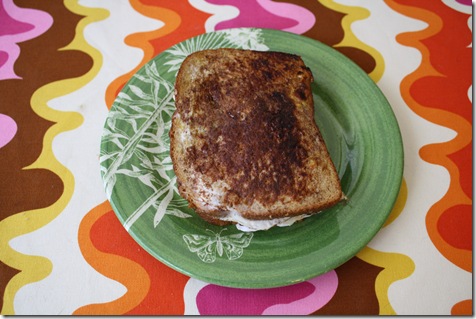 And there's caramelized bananas on the inside! *Drool*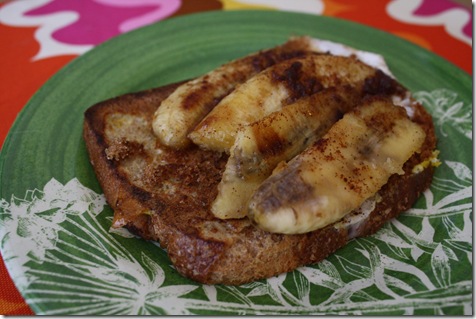 Healthy Living Summit Update
Some information about the HLS is available on the website, including date and location of the conference.  Tickets will go on sale in a few weeks.  We're putting out a call for speakers for this year's Mind, Body, and Soul tracks.  If you or your company would be interested in presenting, please check out this link.
Push Up Challenge
I know I'm never going to be the kind of person who does her strength routine at the gym; I've tried to get into it but I just can't.  If you're a long-term reader of the blog, you'll know I used to do "10 minute strength" routines in the morning before starting my 9 to 5 job.   The routine usually consisted of push ups, squats, sit-ups, and other at-home moves. 
Kath and I even teamed up to do a total body C&K 10 Minute Strength Routine that was really fun and easy to follow.
I think I fell out of the habit of doing push ups and the like when I began training for the marathon.  I have trouble balancing more than one fitness goal at once – like endurance and strength.  I was just too tired and busy to do my 10 minute routine.
I tried to do push ups this morning and could still do 15 in a row!  I was pleased (but I used to be able to do 20 at once).  I think I'm going to try to bring back the morning strength moves, especially push-ups.
How many push-ups can you do in a row right now?