Today is not only my birthday, it is also my vegetarianversy!  I realize it's kind of weird to celebrate a style of eating, but the last year has been so yummy, and I've learned so much.   Here's why I went vegetarian.  The Husband's vegetarianversy is in a few weeks!
In the last year, I've discovered that you don't miss meat (often) if you get a little creative in the kitchen.  Eating out isn't so hard, as long as you plan ahead.  And I LOVE VEGETABLES!  Never thought I would say that, but I do.  And you know what else?  It's possible to be a No Meat Athlete!  🙂 I've run further, biked longer, and shaped up like never before as a vegetarian.  Veggie power…. What's not to celebrate!
In honor of this special anniversary, I had an amazing vegetarian dinner!  The Husband and I made Vegetarian Sloppy Joes.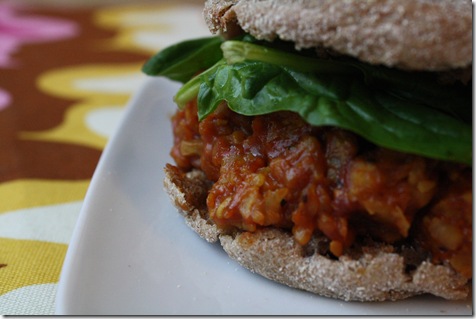 Vegetarian Sloppy Joes
Ingredients (for 2 burgers):
1/2 cup organic ketchup
1/4 cup organic yellow mustard
3 tablespoons honey
1 tablespoon soy sauce
1 tablespoon apple cider vinegar
Sprinkle of cinnamon, chili powder, and pepper
2/3 packet of organic tempeh, chopped and crumbled
Spinach for garnish
Bun of English Muffin
Directions:
Preheat oven to 350.
Combine first 6 ingredients in a small pot on the stovetop. 
Turn on low and heat for five minutes, until it starts to bubble.  Stir thoroughly!
Add in crumbled tempeh and stir.
Pour into oven-safe casserole dish and place in oven.
Cook at 350 for 30 minutes, stirring occasionally.
Spoon onto bun and top with spinach.
Enjoy!
To be honest, I don't remember what Sloppy Joes taste like, but this was AMAZING.  :)  The Husband really liked it, too!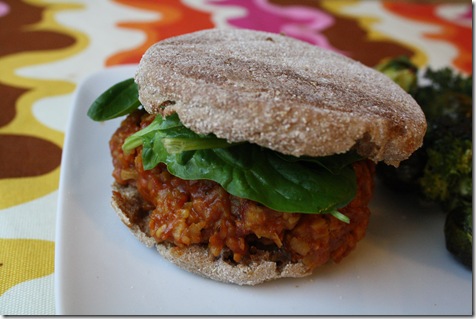 In addition to the sammies, we had roasted veg and a salad: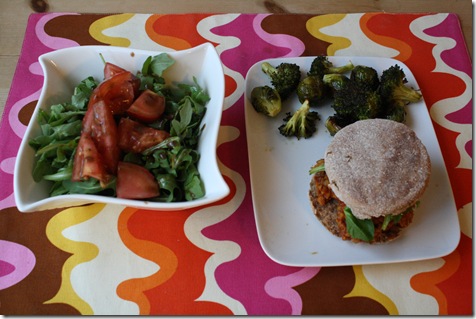 For dessert, I had three of the baked wonton cookies: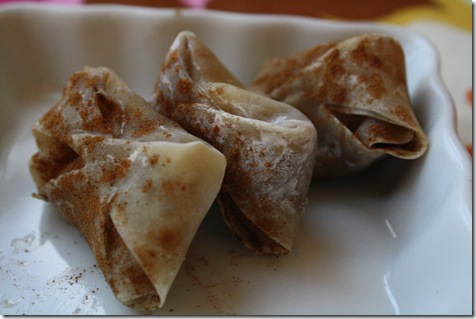 I skipped the brown sugar garnish on these cookies, and it tasted just as good!  I also added shredded coconut to the almond butter + banana stuffing.  HOLY YUM.
Earlier, the Husband and I split this cheese, cracker, and apple dish while we watched TV. I had about 6 crackers and cheese and 1/2 the apple.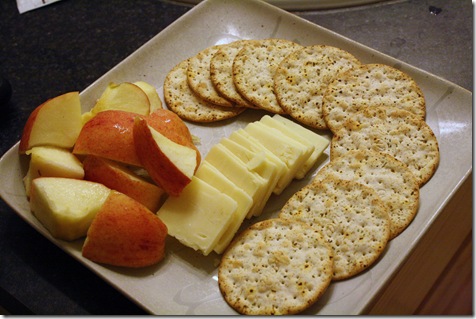 How am I spending the rest of my evening?  Reading a new book, of course!
I finally picked up Eating Animals, the New York Times Bestseller about vegetarianism.  Pretty appropriate book for today, don't you think?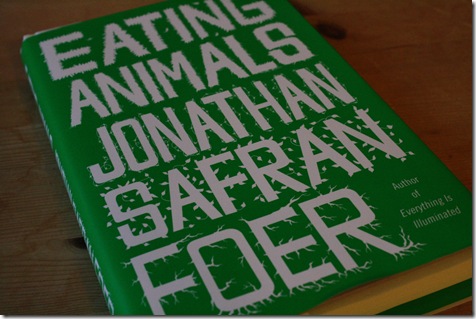 It's funny – I see books in a totally different way now that I'm an author (haha, that made me giggle to type out).  I look at the cover differently, read the dedication in a new light, and study the endorsements on the back of the jacket.  A lot of work goes into a book, by the author, publisher, agent, designers, publicists… plus, probably a ton of other people that I don't even know about yet!  Yay, books!
Thank you again for all the sweet birthday wishes! You made my day feel so special. 🙂 🙂 🙂