A-maz-ing lunch!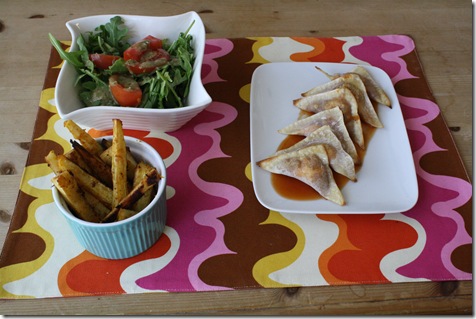 The star of the show was the Sweet Potato and Baked Beans Wontons!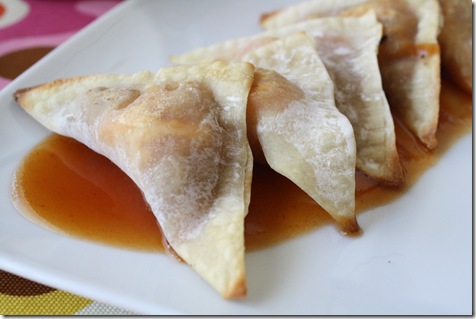 Recipe will be up on the Lunch/Dinner page shortly!
On the side, I had Orange Zest Parsnip Fries.  I used the same recipe as my Orange Zest Yucca Fries, but subbed out parsnips.  It was SO good.  Parsnips might be my favorite veg.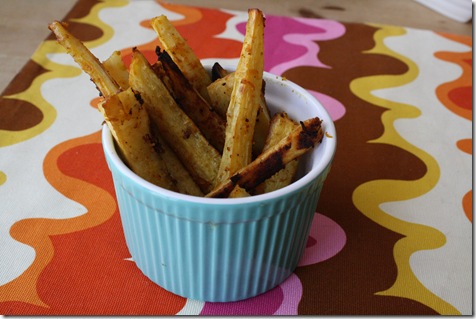 Plus a side: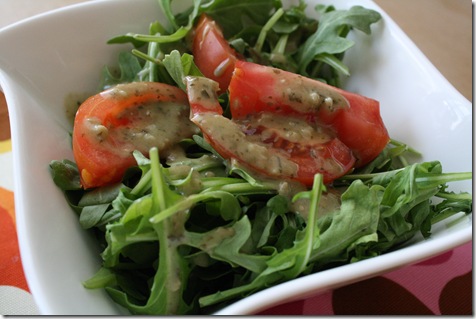 How Can You Distinguish Between Normal Pain and Injury Pain?
This morning, I received an e-mail from one of my favorite readers, Michele!  She had been having some foot/leg trouble while training and wanted to send me an update on her condition, as well as a question that is relevant to us all.
Michelle wrote:
It's official that I tore my Achilles tendon at the insertion point at the back of my heel.  When I saw that on the ultrasound, I suddenly saw concrete evidence of what I had already known.  I was doing too much.  I was only doing between 15 and 20 miles per week, but I was doing hills and working on speed and increasing distance at the same time.  So now I'm in Physical Therapy and am not supposed to walk/run on hard surfaces until the end of May.  I'm also supposed to do serious strength training and cross-training.  So I joined a gym and anticipate many Hot Dates with Mr. E (Mr. Elliptical, that is).
Anyway, my point is this:  I didn't know… and perhaps a lot of people don't really know… how to judge the difference between acceptable "no pain, no gain" kind of pain and the unacceptable "something's wrong and I should STOP what I'm doing" kind of pain.  How do you judge the difference?  I pushed through way too much because I thought that anyone couldn't go out for 10 or 12 miles without pain.  So I just sucked it up and kept going… until I literally couldn't walk without tears from pain the day I finally called the doctor.
This is a GREAT question, and I want to share my own thoughts, and then I'd love to hear your opinions, too. 
As you may have heard, I ruled over a little kingdom called Injury.  Yes, I am the Queen of Injuries.  Athletic tape everywhere bows down to me.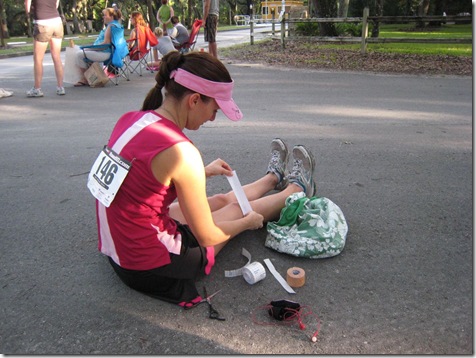 Here's my background:
Whoa!  Typing it all out makes my injury list look crazy – but it's really not.  None of these injuries (except the knee issue) were enough to keep me off of exercise or daily activities for more than a week or so.  A lot of my "injuries" were really "UH OH!" moments when I could tell my body was trying to tell me something.  They never became full-blown problems because I noticed something was wrong and took immediate action (or inaction… in the form of rest) to give my body a chance to heal.
Whether you're training for a 5K, Half Marathon, or Triathlon, injuries can flare up simply because you're doing something NEW. 
Here's how I distinguish between normal workout strain (also called "uncomfortableness") and an impending injury:
If the sensation is generalized (i.e. normal = "My legs are killing me!") vs. if the pain is localized (i.e. injury = "There is a certain spot right above my ankle that hurts like a little biatch!")
If the sensation is uncomfortable (normal) vs. painful (injury)
If the sensation is present during normal, everyday activities such as walking to my car, it's an impending injury.
If the sensation does not respond to exercise in a gradual manner (i.e. normal = "I just ran 10 miles and my feet hurt." vs. injury = "I ran two steps and now my ankle is screaming.")
If your gut thinks it's an injury, it probably is.
Here's how I prevent injuries in the first place (or try to!):
If you're starting a new activity, gradually intense intensity.  Just because you can run 2.0 miles on your first go does NOT mean you should.  The rule of thumb for running is not to increase your overall mileage by more than 10% each week.
If you've been lazy and are getting back into an old activity, the first rule still applies.  Pretend like you're new again.  When I came back from my 2.5-month hiatus this Spring, I started off with 1.5 mile runs two times a week!
Don't try to achieve multiple training goals at once.  You're either looking to increase your distance or your speed.  Doing both at one time is possible, but it's usually a recipe for disaster.
Mix up your activity.  Running 5 days a week is not a good idea.  Cross-training (swimming, yoga, biking) is important, as is strength training.
Get properly fitted shoes at a running specialty store.
If something is sore, generally it's a good idea to ice it (but ask your doctor first).
Don't fall prey to the female athlete triad.  Not fueling properly can wreck havoc on your body and make you prone to injuries, especially stress fractures.
If something even kind-of-sort-of hurts, TAKE TIME OFF (and get checked out by a doctor).  One or two weeks off your training plan will NOT ruin your race.  You can always re-adjust your goals – here's how to set race goals (and not drive yourself crazy).
How do you distinguish between "uncomfortableness" and "injury"?  What techniques do you use to prevent injuries?