This morning's 15K (9.3 mile) race was a tremendous success!  I beat my September 15K by 5:36 and technically set a new personal record (PR) – but not really.  :)  Wahoo!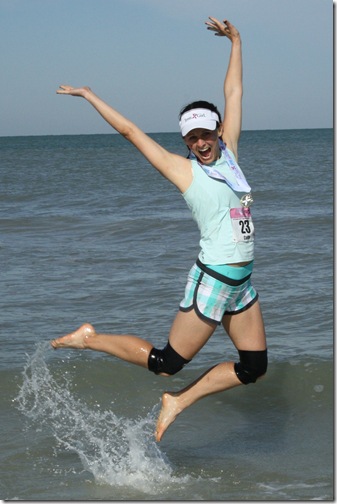 (Very stylish shorts from Lululemon – they were comfortable, too!)
The race was in the lovely town of Clearwater, which is famous for its lovely blue ocean and perfect white beaches.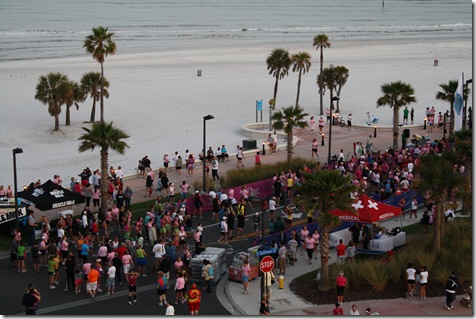 All races start bright and early, but this one seemed especially bad because Ashley, Kelly, Sara, and I had to drive 2 hours to the west coast of Florida. 
My alarm went off at 3:45, and the girls met at my apartment at 4:15.  Before I left, I put together breakfast for the road.  My standard pre-race breakfast:  PB sammie with a banana and coffee.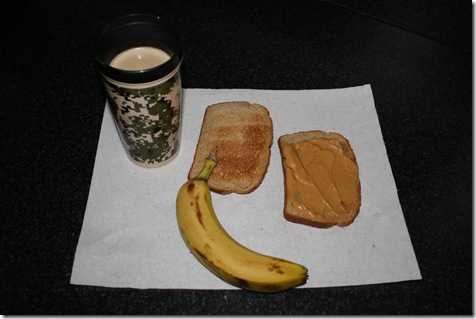 Then we got our drive on…  We only got lost once.  A small miracle!
We parked the car and arrived at packet pick-up.  It was very organized and the t-shirts were cute tech t's.  I loved the pink and flower theme running through the event, even the bib numbers.  Also – GREAT bibs with our names on them!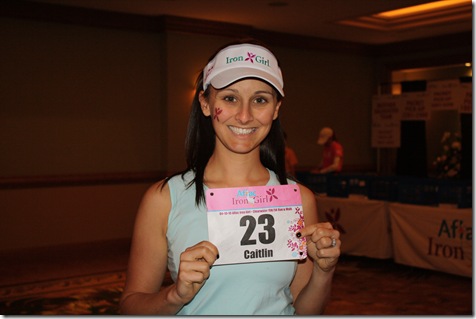 We lined up at the start, and we each began to discuss our goals.  I really love running with a group of friends who are at different levels because it gives us all something to cheer for.  Sara is insanely fast (she finished in 1:11) and Kelly was striving to set a new PR (she ended up finishing in 1:18, a PR).   Ashley wanted to shave time off her old 15K as well.  I just wanted to beat September's disastrous race!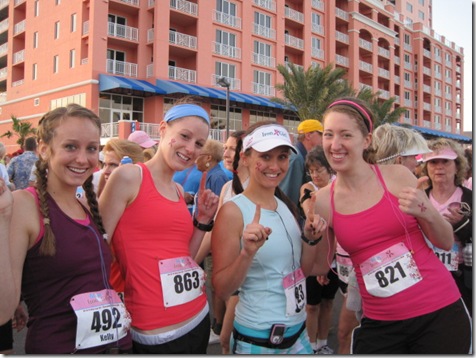 Right before the start, I ate a packet of Sport Beans.
Ready, set, GO!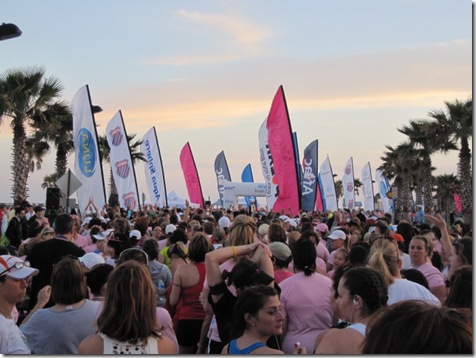 My single focus on today's race was using my Garmin 305 to my advantage, not disadvantage.  Because there's a GPS inside, I get real-time updates on my average pace.  One of the reasons I burnt out during September's race was that I paid WAY too much attention to my pace vs. how my body felt.  I also pushed myself too hard coming out of the gate.
I focused on having FUN, enjoying the scenery, and paying attention to my body.  I tried not to look down at my watch too often, especially when I felt like I was already pushing myself.
I strived to keep a 9:15/mile pace at the beginning, but I began to speed up when I saw the massive causeway right before Mile 2.0.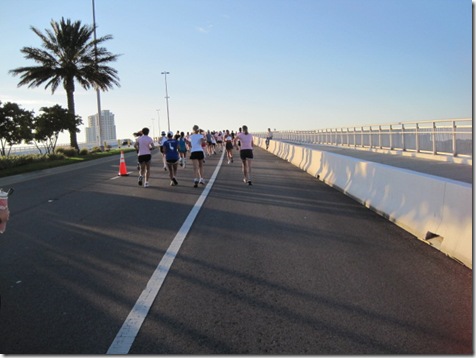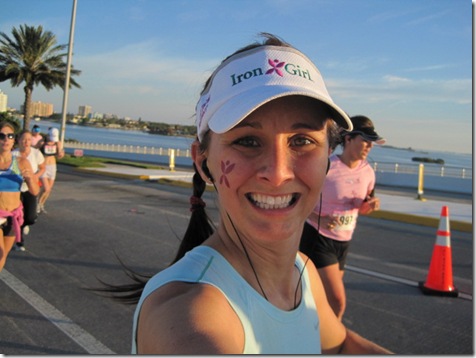 Running up the causeway was BEAUTIFUL, but it was KILLER on my legs.  However, I really did not want to stop and draw the experience out any longer than necessary.  I just attacked the incline!  I started out at 9:00/mile and slowed to 9:30 before reaching the top.  Not bad!
Coming down the causeway was FUN!  I just leaned slightly forward and tried to use the downhill to my advantage and make up some of the time that I had lost.
We then began to run through the beautiful neighborhoods near the ocean,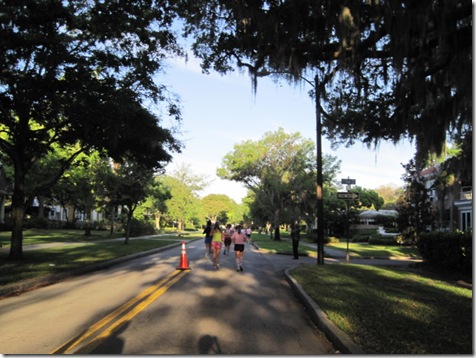 There was lots of on-course entertainment, like silly costumes and musicians!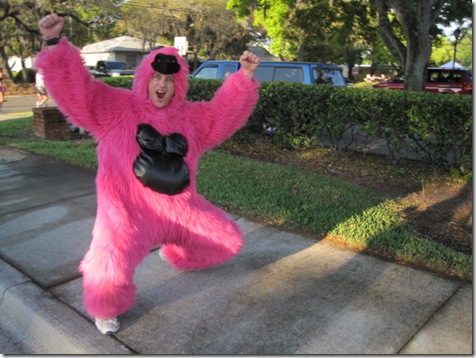 I did not stop to walk ONCE!  I really felt like I would lose so much momentum if I took any breaks at all.  I even ran through the water stations (with a drink in my hand!). 
At the turn-around point near Mile 4, I started to realize the course was long…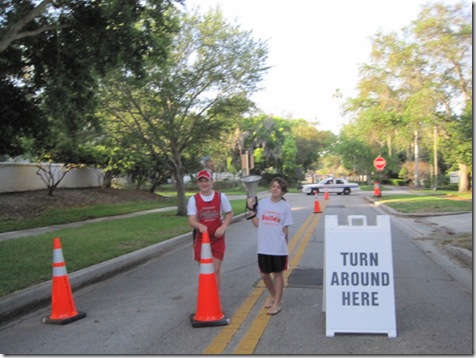 All courses are somewhat longer than the actual distance (I think they are measured on the inside of all the curves), but this race was WAY off the 9.3 mile distance.  As we passed each mile marker, I would look at my Garmin and watch the gap widen from 0.1 to 0.2 to 0.3 difference.  I got a little frustrated because I knew I was going to be VERY close to a PR!
We had to make two loops through the neighborhood, which I actually loved because I knew all the hills, turns, and water stops.
At Mile 7, we made a left turn and ran back up the causeway!  I knew it was coming and tried to mentally prepare myself for a speedy climb.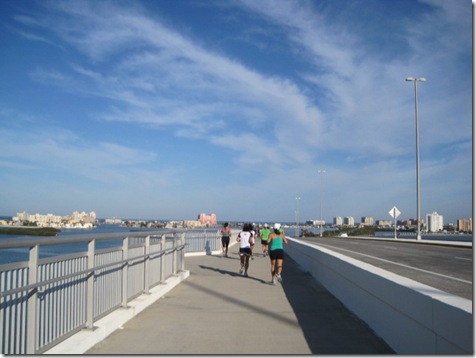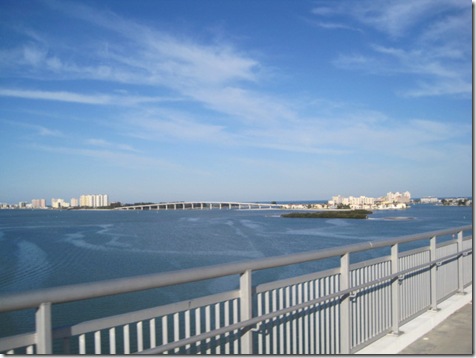 I felt so emotional when finally got to the top!  I actually sobbed a little bit.  There's something so powerful about pushing yourself to the limit.  I was VERY proud of myself for making it so far, so fast, and without any walking breaks.  I knew I was VERY close to my PR of 1:23:30!
At the Mile 8.0 marker (8.3 on my Garmin), I started to really push it, dropping down to a 8:15 to 8:30 pace.  I picked off the women in front of me one by one, passing them each as we turned down the final sprint.
At the 15K (9.3 miles), I hit the lap button on my watch and realized that I had technically set a new PR by a full minute – I clocked in right at 1:22:30.
But unfortunately, I still had 0.3 miles to go.  I finished STRONG and HAPPY though!  I was just SO pleased to improve my time by 5:36 in just seven months.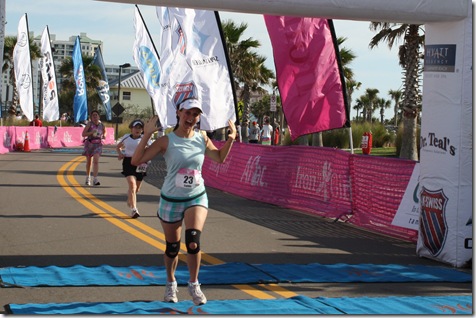 My Garmin stats:
Distance: 9.6 miles (+0.3 over)
Duration: 1:2439
Mile 1: 9:04
Mile 2: 9:09
Mile 3: 8:59
Mile 4: 8:53
Mile 5: 8:48
Mile 6: 9:00
Mile 7: 8:52
Mile 8: 8:47 (YAY!)
Mile 9: 8:27 (DOUBLE YAY!)
Mile 9 – 9.3: 2:33 (a 8:15 pace)
Mile 9.3 – 9.6: 2:04 (a 7:22 pace)
I grabbed my lovely medal: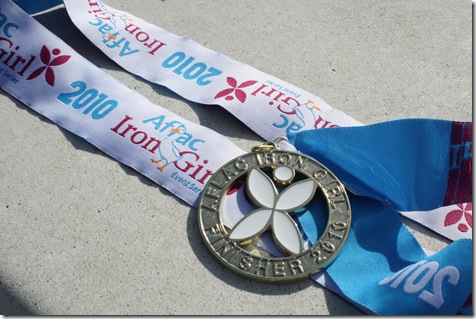 And a Gatorade: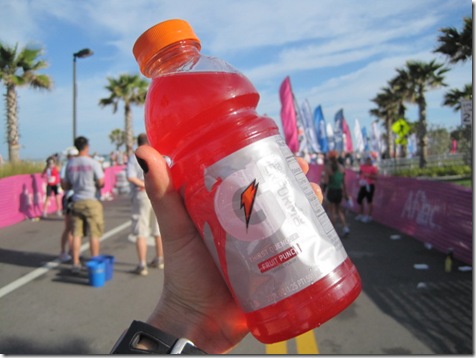 And then I met up with the other girls (who all made their goal times!) on the beach: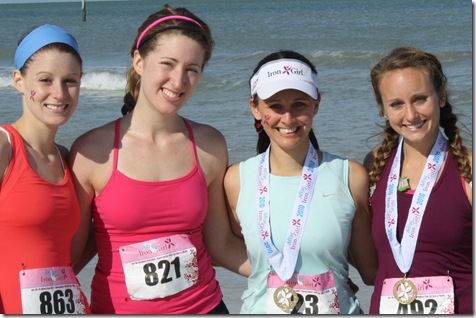 Post-race model sesh: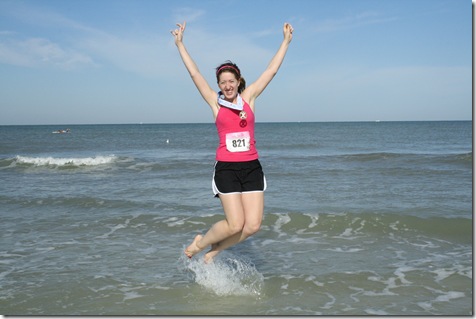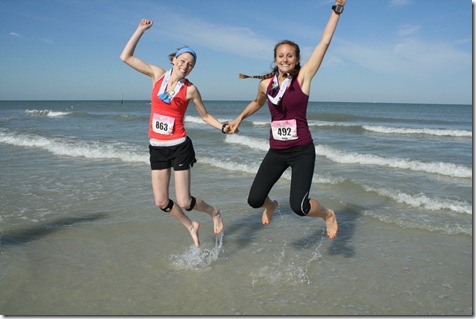 And slow-motion Baywatch running.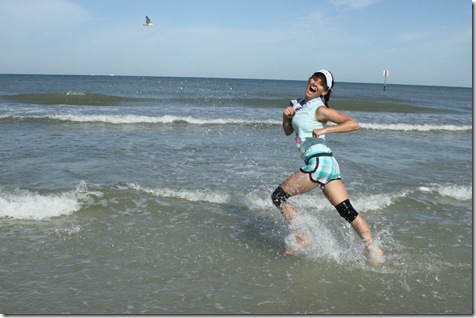 And beachside yoga.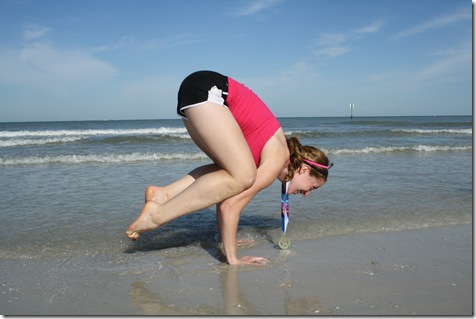 Tons of fun!
IronGirl was a great event.  It was fun to do a women's specific event and feel the girl power spirit!  However… I just wish the course wasn't so off.  Lots of people were complaining at the finish line.  An extra 0.3 mile is a HUGE distance over.  I can't count this in my heart as a PR because the only time that counts in the one when you cross the finish line.  Ah well – Just an excuse to continue to get faster! 🙂
On a positive note… MAJOR lessons learned at IronGirl:  Trust your body, NOT your watch!  Start off at a comfortable pace, and give it everything you've got in the last few miles.  'Tis better to finish strong than burn out!  No matter how many races I do, I learn something new at each one.
Post race eats: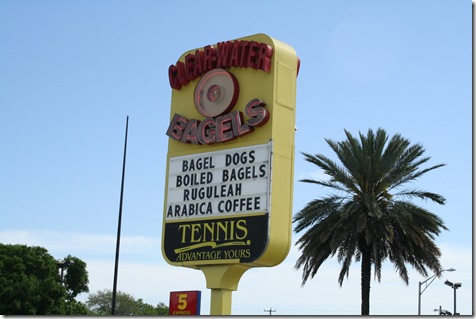 Bagel with veggie cream cheese: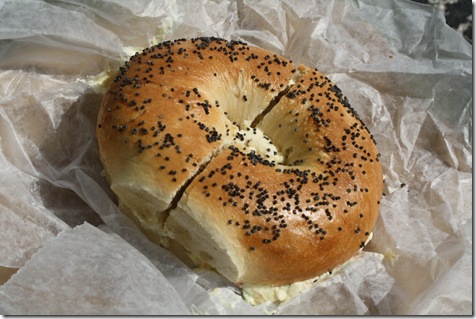 And when I got home, toast with an egg, two Morningstar vegetarian patties, and 1/2 an orange.   More food to come after a nap!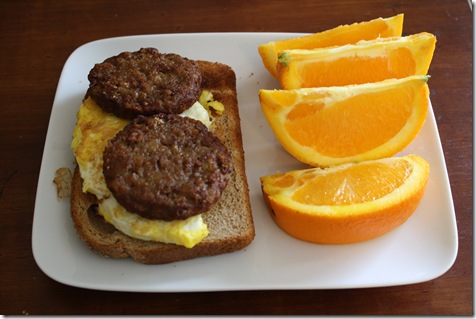 All in all…
Another wonderful day to be alive!  Can't wait for my next races… I'm doing one every weekend in April.  I  might actually squeeze in TWO next weekend so I can run 26 races before my 26th birthday on April 26!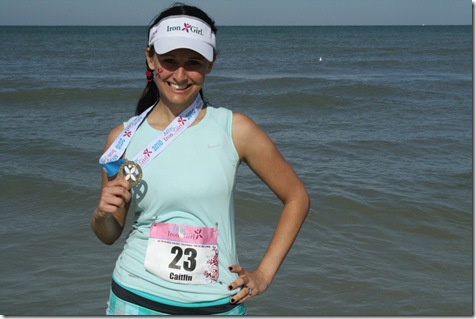 Have a wonderful day!
If you do races, too, what lessons have you learned over time?