Hello from the air!  :)  I'm blogging from the friendly skies.  Apparently, AirTran does not offer free Wifi anymore, but I'm willing to cough up $4.99 to be connected to the rest of the world.
This morning was a whirlwind of driving from Williamsport to Harrisburg, returning my rental car, and searching the airport for a healthy "first lunch."
When in doubt, go to Starbucks!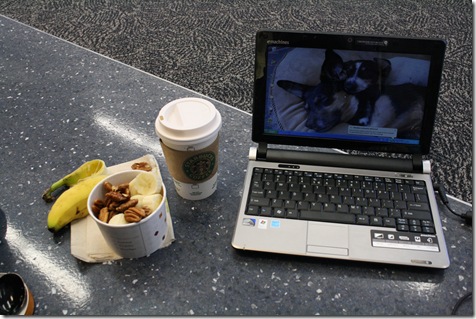 I bulked up their regular Perfect Oatmeal with my own banana and pecans.  I also added some brown sugar and cinnamon from the Starbucks condiment bar!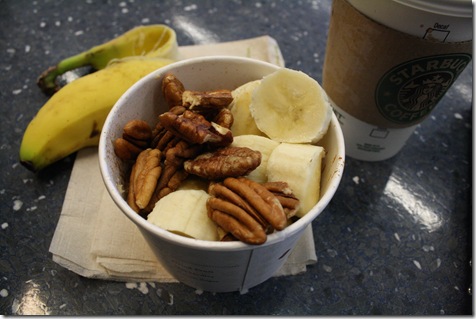 I also had a latte.
I'll need to eat something else when I land, but hopefully this will hold me over until I arrive in Orlando!
I'm happy to report that the Operation Beautiful note I posted in the bathroom at the beginning of the flight is still up!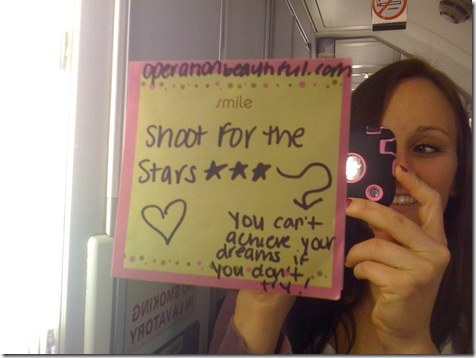 Corny, but true.  🙂
Goal Getter
With the PCT presentation behind me, I've finally reached a point in my work schedule that I can BREATHE.  As in, I have nothing to do, which is a good thing and a bad thing.  It's bad, of course, because that means I have little money coming in (I'm not worried; I have faith something will come up).  But mostly it's a good thing because I really needed a break to do some goal setting, planning, and business upkeep.
I just became self-employed in September, and I've been on a wild rollercoaster ride ever since.   A lot of the last few months has just been me reacting to others' requests, but I need to start getting out there and making things happen.  I need to be PROACTIVE with my vision.
I set fitness-related goals all the time.  Here's the approach I use to set fitness goals:
Identify a goal.
Determine if it's realistic or what steps I need to do to make it realistic.
Plan a path of small milestones (training plan) that will move me closer to the goal.
Make the commitment to put in the effort to achieve the goal.
Get my goal!
I think goal setting for other aspects of life (like a career path) are pretty similar.  I'm trying to identify my "big picture" goals and what steps I need to take to get there.  I'd like to move forward in a methodical, logical manner so I don't waste my time or energy on endeavors that won't help  me reach my ultimate goals.
Right now I'm just making a list of my thoughts, but it's pretty scatterbrained.
What tools or methods do you use to set, track, and achieve both fitness and life goals?  What goals have you recently achieved?