These cinnamon-sugar wontons are stuffed with an amazing surprise.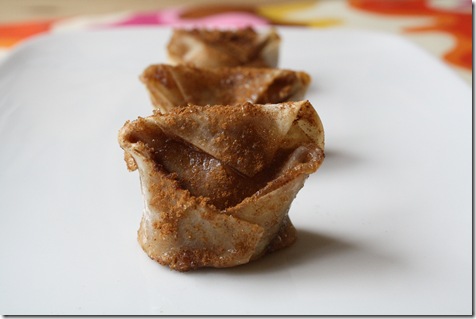 Definitely eat these baked wonton cookies fresh out of the oven.  The outside is crispy, and the inside is a delicious, warm mix of banana and almond butter.
Baked Wonton Cookies
Ingredients (for one serving):
3 Nasoya wonton crisps
1/4 of a banana, cut into three small pieces
1 tablespoon of almond butter, separated
Cinnamon
Brown Sugar
Directions:
Preheat oven to 350 degrees
Lay out wontons on a plate
Fill inside of wontons with small piece of banana and drizzle of almond butter
Sprinkle with cinnamon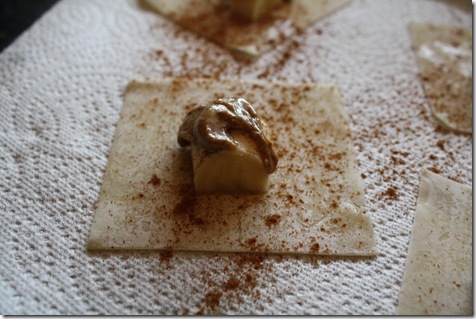 Using a wet finger, seal wonton into triangle.  Then, fold in each of the ends
Wet outside of wonton and press on cinnamon and brown sugar
Place on generous cookie sheet and bake at 350 for 5 minutes.
Serve and enjoy!
These wontons were the perfect way to cure my post-dinner sweet tooth!  And they were pretty healthy, too.  🙂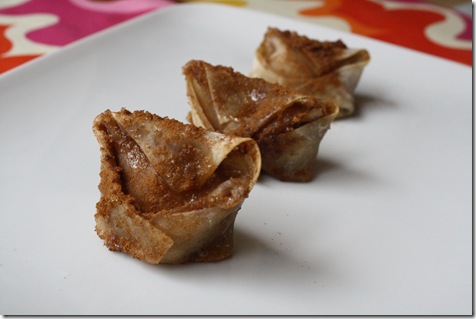 All we did today was lay on the couch (well, I laid on a yoga mat on the floor) and watch TV.  We also took the dogs on a short walk.  :)  But that was pretty much the extent of my movement!
Mid-afternoon snack was a Greek yogurt, pumpkin, Grape Nut, oatmeal, and strawberry bowl.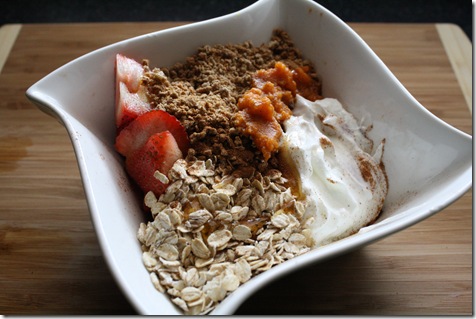 And dinner was a huge pile of roasted veggie and potatoes.  The mix included Brussel sprouts, broccoli, and carrots.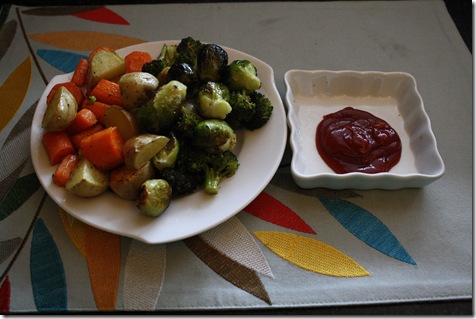 There is something so satisfying about a huge pile of roasted veg.  The Husband commented the other day that it feels like we make roasted veg every Sunday night, and that he loves it.  Reminds him of a traditional English roast!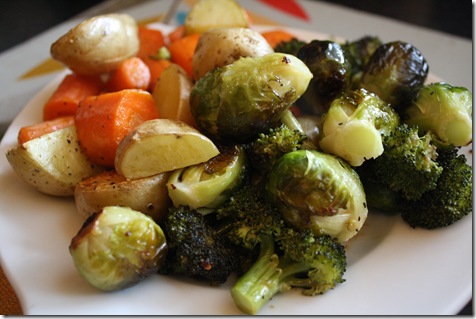 Of course, we had those amazing baked wonton cookies for dessert.  🙂
Quote for the day: Growing old is mandatory; growing up is optional. (Chili Davis)