Meghann and I hit up Orlando Power Yoga tonight.  They've re-vamped the studio from a traditional bikram studio to a Baron Baptiste style of power vinyasa yoga.  It was so great that I bought a 40 day pass! Soooo… expect to see a lot of yoga in the next 40 days while I attempt to get my money's worth. 🙂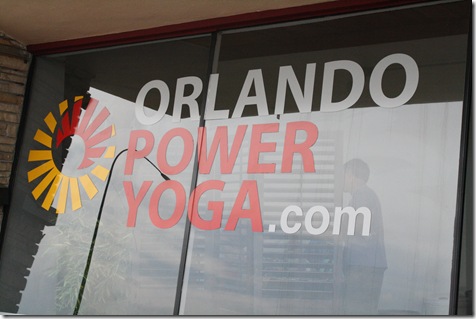 This yoga practice is heart-thumping, cardio yoga… not the relaxation kind (which certainly has its place!).  It's practiced in a 90 degree room and the sweat was literally dripping off of me.  I made a huge puddle at the front of my mat!
I can't hold all the poses (or even get into them) but it was so fun to TRY.  Yoga isn't about showing off or impressing the teacher… it's just about you!  Which is one of the reasons that I really like it.
I'm planning to swap some run days for yoga days on my schedule in hopes of better preparing my body for May's 100 mile bike ride.  I think it will be a good swap!
Pre-yoga snack was Pumpkin Yogurt with Grape Nuts.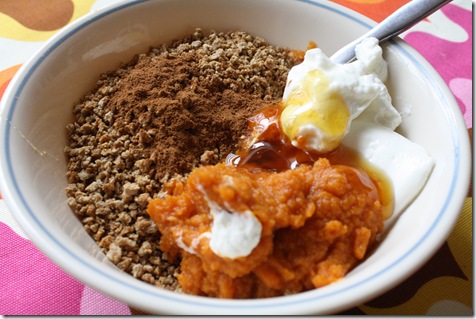 And after the yoga class, I hit up the grocery store so I could make exactly what I was craving!  I wanted pasta so bad!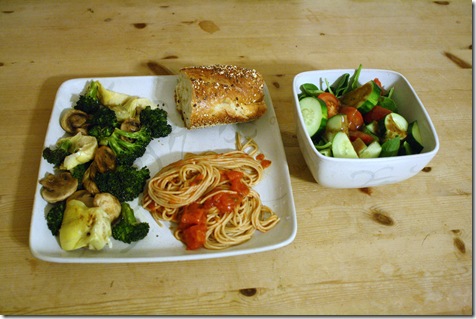 I had a serving of whole wheat angel hair pasta with red sauce.  I also had a chunk of baguette (and I ate a similar sized piece in the car on the way home).  And I also had a huge pile of roasted broccoli, mushrooms, and artichokes.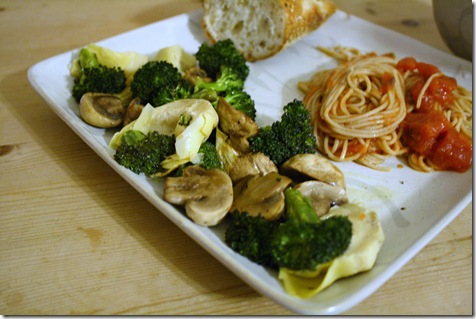 Plus… my latest obsession.  Arugula salad.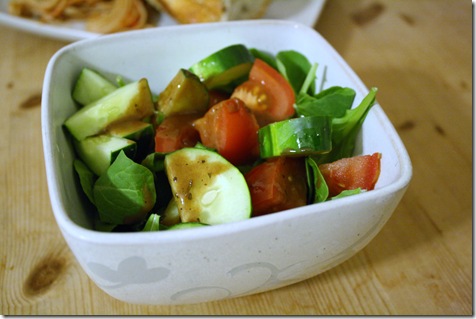 I am thinking about curling up on the couch with a little coconut ice cream… Mmm.
Do you practice yoga?  How regularly?  How did you get into it?  Any runners or cyclist out there have success with yoga and training?  Share your stories!
Namaste!