Too big for a spatula!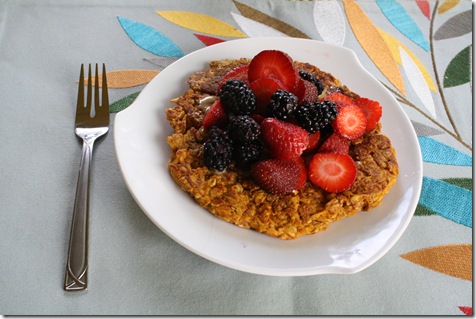 I used a plate to flip this HUGE oatmeal pancake.  It threatened to crumble on me!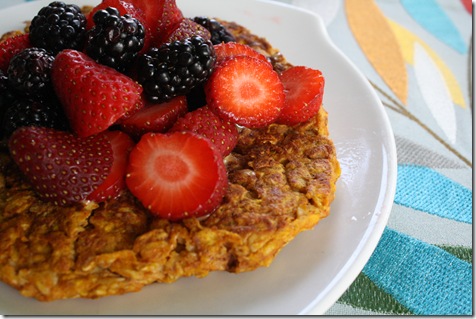 My oatmeal pancake contained:
3/4 cup oatmeal
2 tablespoons almond milk
1 egg
1/4 cup canned pumpkin
Cinnamon and nutmeg
2 pinches of baking powder
And I topped it with maple butter, strawberries, and blackberries.  So delicious!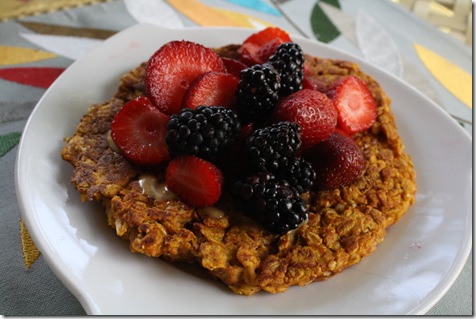 I think the canned pumpkin is what makes the oatmeal pancakes work… I love the flavor it infuses, especially when you generously dump cinnamon into the batter!
Push Up Challenge
Per my goal to get back into push ups, I banged out 20 push ups (2 sets of 10) this morning.  Wahoo!  Did you do your push ups, today?
26 Races Before My 26th Birthday on April 26
In my quest to do 26 races before April 26, I recently signed up for:
GR8 to DON8 8K Race for Organ Donation Awareness (Next Saturday, April 17)
Breakaway to Sugarloaf Metric Century Bike Race (Next Sunday, April 18)
Melbourne Beach Arts Festival 5K Race (April 24)
Next Saturday's 8K is going to be an easy, just for fun run.  And for the upcoming 5K, I'm running it with my brother-in-law Nick.  It's his first race!  He was going to do a 10K with me this past fall, but fell down the stairs and sprained his ankle.  I'm excited to race with him.
You can read the recaps of my 23 other races on this page.
Lots of excitement coming up – but it's weird because after May, I have NO race plans.  I'm moving to Charlotte and haven't really figured out the race scene yet.  I don't even know when their "season" is (ours is in the Fall and Winter).
I'm getting pretty nervous about moving and adjusting to a new life, but for now… I'm just going to enjoy the next 2 months in Orlando!