Is it just me, or is the week flying by?  I can't believe it's already Thursday – AKA deadline day (which means I better get to writing).  Plus, Angela and her husband are coming to stay with me tomorrow! I'm so excited to meet the woman behind Oh She Glows!
Un-overnight oats: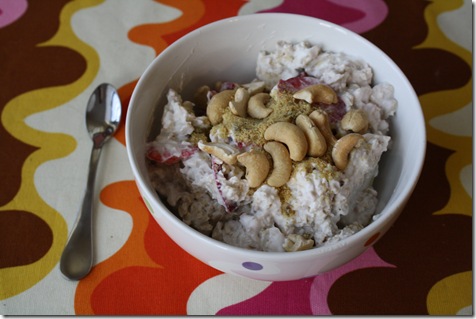 I'm really enjoying swapping high-sugar granola for just regular, raw oatmeal in my yogurt.  It tastes delicious and is so much healthier.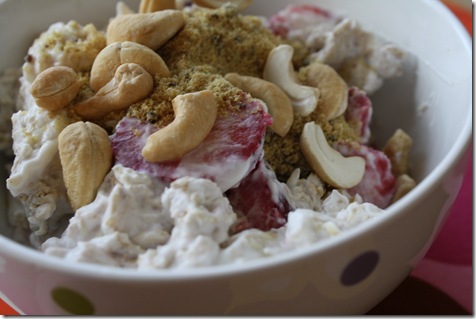 My mix contained:
3/4 cup oatmeal
1/2 cup Greek yogurt (approx? I just piled it in)
Strawberries
1/2 a banana
Cashews
Ground flax
I just mixed everything up and let it stand for about 10 minutes.  Delicious and chewy!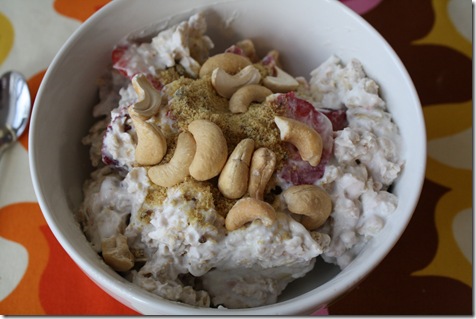 Do You Have a Rebellious Side?
Today's fun question of the day is:  Do you have any tattoos?
I actually have a tattoo of my middle name/my mother's name (Joy) on my hip.  I purposely got it in a place that you can't really see, even if I'm wearing a bikini.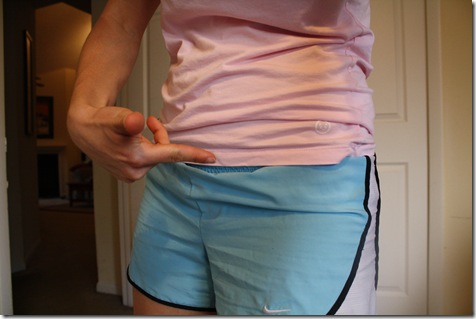 I got it when I was 20 years old, and the Husband actually bought it for me!  We had just started to date, too, and I told him I wanted a tattoo.  So, we drove to this creepy tattoo parlor near the beach and I got inked within 20 minutes.  :)  His spontaneous nature really appealed to me!
Often, I forget I even have a tattoo.  It kind of just becomes part of your skin, and you stop noticing it after a while.  But I really love it and have no regrets about getting a tattoo.   I actually kind of want another tattoo, but I can't decide what or where. 
Do you have a tattoo?  What's it look like?  Do you want one? Or are tattoos not really your thing?