I had the BEST day of eats!  I feel like I ate gourmet all day, especially for dinner, which was a special FoodBuzz event hosted by Ryan and Lindsey.
First things first – an amazing, veggie-packed lunch. I think I'm turning a corner on vegetables, by the way!  I used to not be the biggest fan of veggies (yes, a vegetarian who didn't like vegetables!).  The key was figuring out how I liked to prepare veggies (mostly roasted), finding some "new" veggies (like parsnips and Brussel sprouts), and actually BUYING the veggies.  If it's in my fridge, I'll eat it!
Lunch: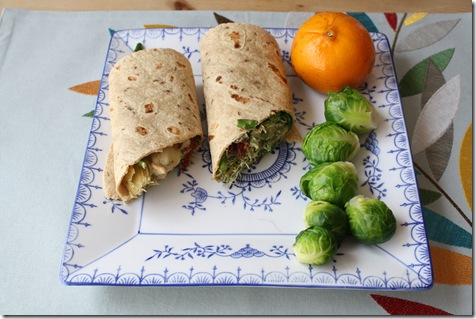 I had a whole wheat wrap with jarred artichokes, sundried tomatoes, sprouts, steamed asparagus, and hummus.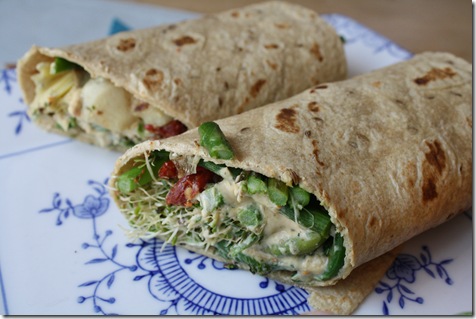 Plus, steamed Brussel sprouts and an orange from Angela: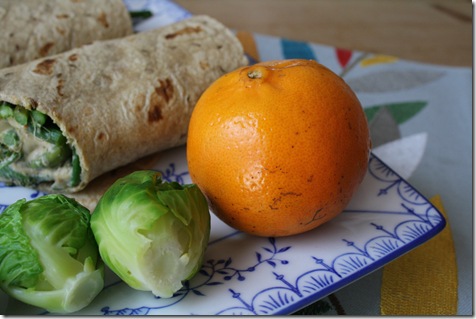 As an afternoon snack, I had a Chobani Pineapple: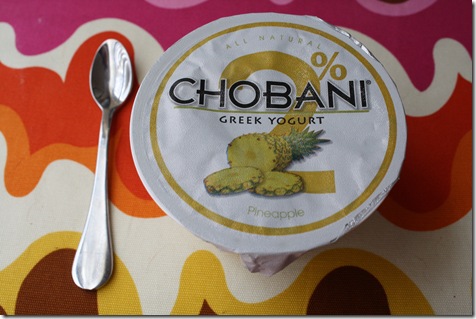 As mentioned, dinner was SO amazing.  FoodBuzz hosts a special event called 24, 24, 24 every month, and my friends Ryan and Lindsey were selected to host a "World Tour of Vegan Eats" for a group of about twenty people.
Can you believe these amazing chefs served everyone 7 courses?!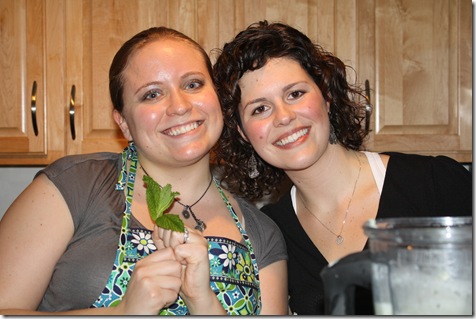 The Husband and I made a serious effort to try a little bit of everything, and we both ended up STUFFED.   I also drank a beer while I munched.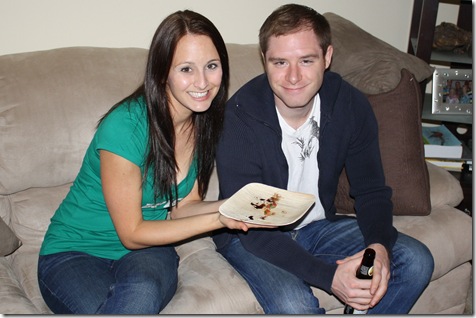 The first course was from Italy.  We had bruchestta with tomato, white kidney beans, and balsamic vinaigrette.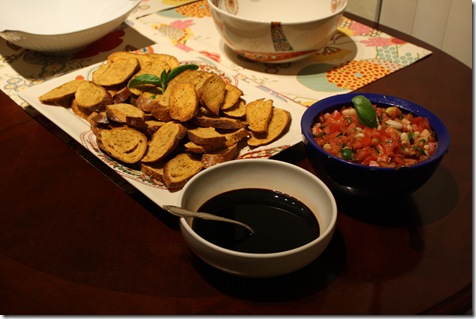 I had one bruchestta.
Second course was from France.  It was a delicious mixed green salad with potato, green beans, and olives.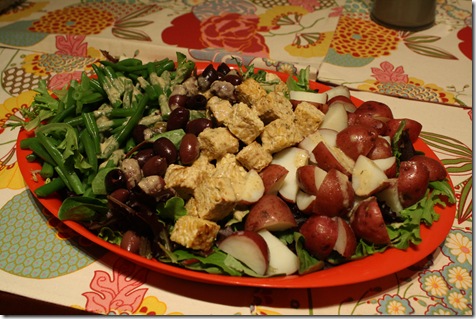 My portion: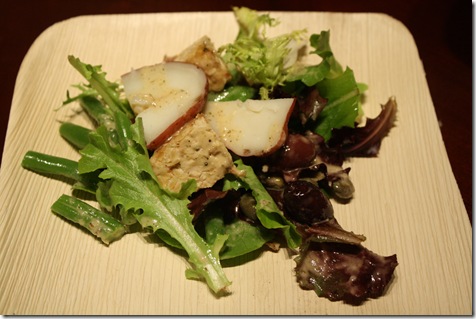 Third course was from Africa.  It was a peanut sweet potato soup.  I must try to recreate it at home!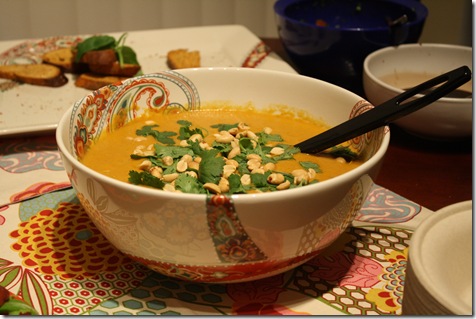 At this point, the Husband muttered, "OHMIGOD, VEGAN FOOD IS SOOOO GOOD."  🙂
Fourth course was a palette cleanser.  It was a mint sorbet. 
Fifth course was from Mexico.  We each had corn-wrapped tamales stuffed with black beans, corn, and verde salsa.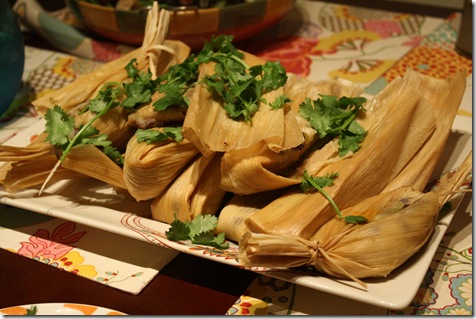 Sixth course was from Jamaica.  We had jerk-flavored seitan with dehydrated plantain chips.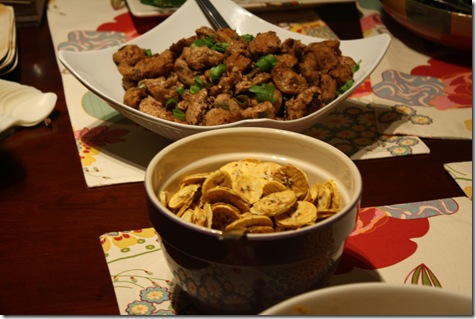 I just tasted the seitan and had a bunch of plantain chips.  The seitan tasted a little too much like meat for me!
And the SEVENTH course was raw smores with coconut milk "marshmellows", dehydrated graham crackers, and cocoa and agave chocolate syrups.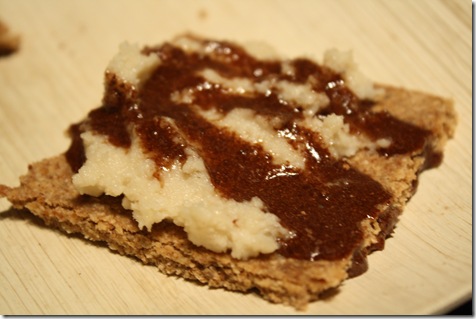 All that vegan food was so amazing, delicious, and satisfying.  It felt like I was eating at a real restaurant!
Hanging out with everyone was so fun!  It was such a great coincidence that Angela was in town for this amazing party.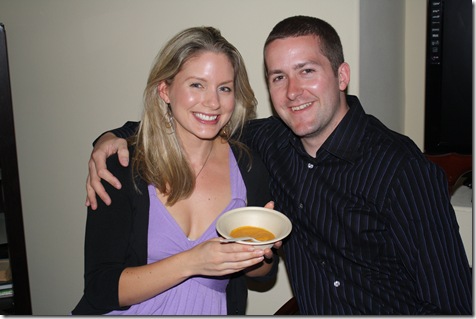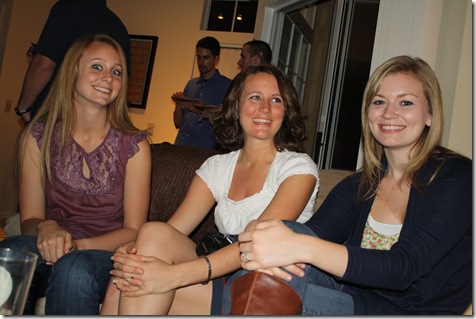 Ashley is a representative for Bondi Band, headbands for active ladies (slash men?).  She brought a ton of headbands and hats for everyone to try out.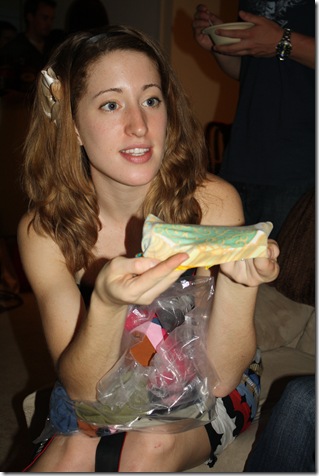 Mine says "Will run for beer" (so true) and the Husband's says "Endurance." Haha.  I can't wait to wear it under my helmet when I go biking tomorrow!  I think it will wick away all the sweat and keep me from getting that awkward red helmet imprint.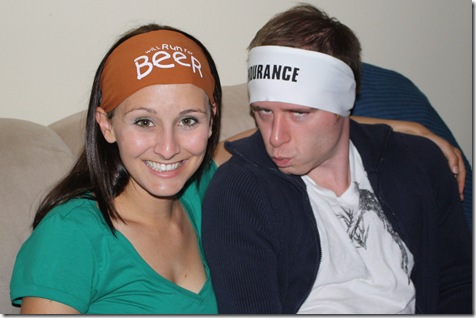 Whew!  What a night.  We had so much fun.  Thanks Ryan, Lindsey, and Foodbuzz for an incredible meal!
Last, but not least, HAPPY BIRTHDAY TO KATY!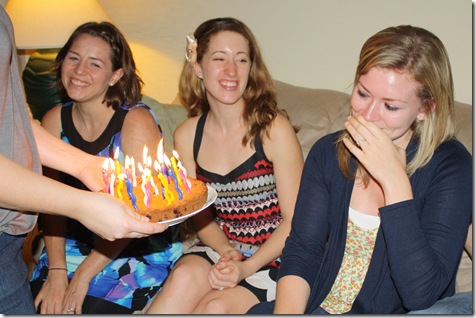 Currently, Angela and I are sitting on the couch, side by side and blogging.  <3  Aww.
Angela and Eric are leaving early in the morning, and then I have a 40 mile bike ride!  We better get to bed!