Fun post coming at you! :)  First, the Breville Juicer raffle.
This raffle is for the Breville BJE510XL Ikon 900-Watt Variable-Speed Juice Extractor, courtesy of Amazon.com.  This amazing juicer retails for $179.  Think of all the delicious, healthy drinks you can make with this bad boy!
I am training for the Echelon Gran Fondo Century bike race, which raises money for the Livestrong Lance Armstrong Foundation, as well as local cancer research programs and hospitals.  I'm running a series of awesome raffles on the blog in hopes of raising more than $3,000 for these charities.
Here's how the raffle works:
$5 gets you ONE raffle ticket.
$10 gets you TWO raffle tickets.
$15 gets you FOUR raffle tickets!  What a deal!
The contest will run until Tuesday, March 9 and I'll contact the winner at lunchtime.
I will list everyone's name on an Excel spreadsheet (one entry per $5, two entries per $10, and FOUR entries per $15), and the Husband will draw a winner using the Random Number Generator.
Amazon.com will then ship out the juicer to the winner.
Up next:  Lunch! 🙂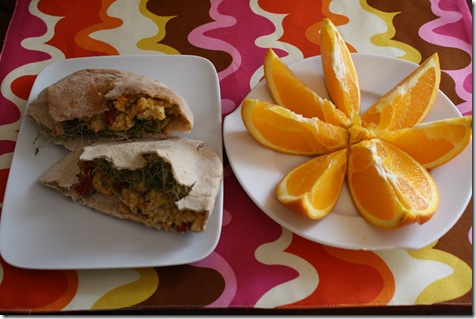 I stuffed last night's leftovers (the Baked Polenta Pie) into a whole wheat pita and added some hot sauce and sprouts.  It was delicious and FAST!
Plus, an orange: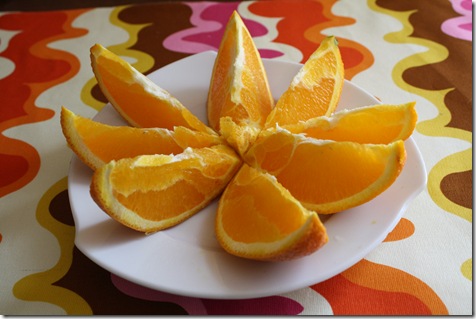 And last (but not least)…
The Bib Transfers / Race Banditing Debate
I've been having an interesting internal debate with myself over the past few days.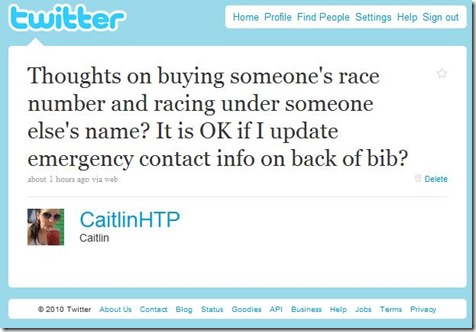 This weekend is the Disney Princess Half Marathon, and I've had not one but THREE offers to buy someone else's bib number.    I've done 20 races, but I've never raced under someone else's bib or bandited a race (which are two separate issues).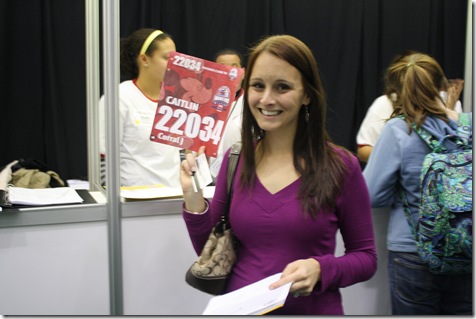 Let's tackle the bib transfer issue first. 
The reason illegal bib transfers take place (i.e. one runner selling their bib to another runner without notifying race directors) is that many races do not allow official bib transfers. 
If there were official bib transfers, many races would end up overbooked.  Race directors know that a certain percentage of people will not show up on race day and accommodate that percentage in bib sales.  So, if the 10% of people who won't show to the Disney Princess Half Marathon transfer their bibs to someone else, the race directors would be screwed.
There are administrative costs and time associated with official bib transfers.  Race directors have more things to worry about on race weekend than transferring a bunch of bibs.
However, illegal bib transfers have issues, too:
If a young woman wears an old man's chip and bib, she will skew the results for that age group.
If someone has a medical emergency and is wearing someone else's bib, the race directors will have trouble getting that person the help they need.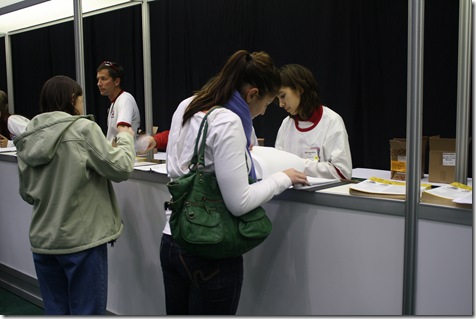 I'm tempted to say that illegal bib transfers are not a big deal IF:
You update your emergency contact info on the back of the bib.
You don't place within the age group you're running in.  If I ran the Disney Princess Half Marathon, there is NO WAY I could skew the age group results in any significant way.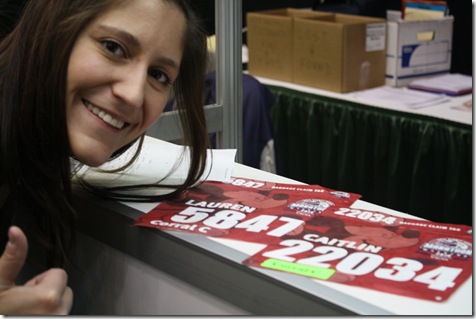 Race banditing is another issue.  Race banditing is when you run a race without an official number (meaning you did not pay for your entry).  It's also called "race jumping," and the practice is actually REALLY common.  Whether it's because races are too expensive or sold out, banditing happens all the time.
The Boston Marathon and the Chicago Marathon have SEVERE banditing problems.  Organizers are really strict and will kick you off the course if they catch you banditing.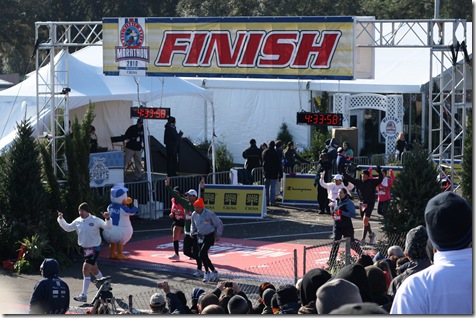 Banditing is frowned upon for all the same reasons as bib transferring is looked down on.  Also, it's just not fair – other people paid for the race, and you should, too.  Plus, you're probably taking amenities that cost money (like water and Goo from aid stations), and maybe even grabbing a finisher's medal. 
In the end, I decided not to buy an illegal bib for the Disney Princess Half Marathon.  I really wanted to do it, but something felt "off" in my tummy about it – probably that I would have to report to 1,000s of strangers than I wore an illegal bib in a race!  :)  I'll admit it…  If I thought no one would ever know, I might do it. 
What's your thoughts on bib transfers and race banditing?  Have you ever done either one?  Is it not that big of a deal to bandit if you don't take aid station supplies – after all, it's a public street and the race is happening regardless? 
Remember, enter HERE for the Breville raffle.  Happy raffling!