In September, I decided I was going to run a 1:21 15K (2:30 faster than my personal record/PR).  This was a very lofty goal.  I was training for a marathon at the same time (i.e. going for distance and not speed), and on race day, it was unusually hot outside.  As a result, I crossed the finish line in 1:30:15, feeling PISSED OFF.
Mad face:
In January, I ran a 4:53 marathon.  In my heart, I know I have a 4:30 marathon in me.  It was a very cold morning (19 degrees!) and not the ideal conditions to do a 'personal best.'  I crossed the finish line feeling elated and proud.  I didn't even think twice about my time.
Happy face: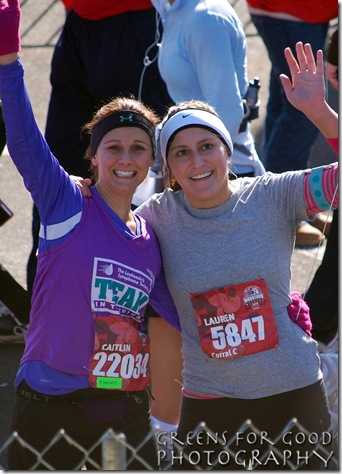 The difference in these two races was HUGE.  The reason?  I approached goal setting in a new way.  Not every race or workout can be your very personal best. 
Here's the tricks I use to set realistic, achievable goals:
Set your goals based on what YOU are capable of at the CURRENT time.  First of all, I know it can be hard when you're not the fittest or fastest of your friends (Megan, Meghann, and Kelly can crush me in races), but it's important to focus on doing YOUR best.  The race is just against yourself, so set your goals based on your own abilities.  Also, look at your current situation to set goals.  Maybe last year you were faster.  Maybe you're coming off an injury.  Cut yourself some slack and stop comparing to what you've done before.
Adjust your goals during your training and on race morning.  Look – life happens.  Maybe you get really sick and lose two weeks of training.  Or maybe it's busy season at work.  Also, be willing to redefine your goals on race day.  Extremes in weather conditions really impact your time.  Or you might feel sick.  Adjust accordingly! 
Set goals based on other factors, not just time.  Going for a new distance?  Make it your goal to "finish strong."  Or just do a race to have fun with friends.  Make a race about raising money for a charity.  Get your mind off time; races are much more enjoyable that way!
On that note, I'm adjusting my goal for my upcoming 15K accordingly.  A few months ago, I said I wanted to set a new PR, but I'm not sure that's possible because I haven't been training accordingly (i.e. speedwork).  My NEW goal is to just try to beat the 15K I did in September – under 1:30.
If today's 9.0 miler is any indication, I can do it!  🙂
I ran 9.0 miles in 1:25 in the hot, hot sun.  It was a good run!  I started to take some walk/run breaks in the last two miles because the heat was really getting to me, but I'm proud of my time!  🙂
Pre-run snack was toast and almond butter:
During the run, I had a packet of Goo (100 calories).
And afterwards, a late lunch:
A lovely black bean burger (Morningstar brand) with cheddar cheese, spinach, and ketchup:
Sweet potato: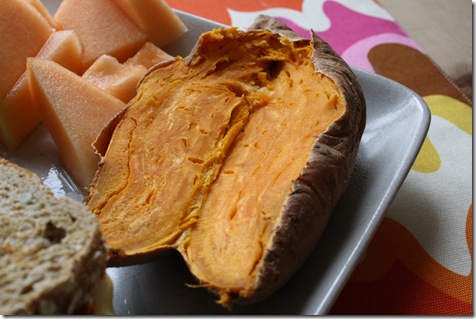 And melon: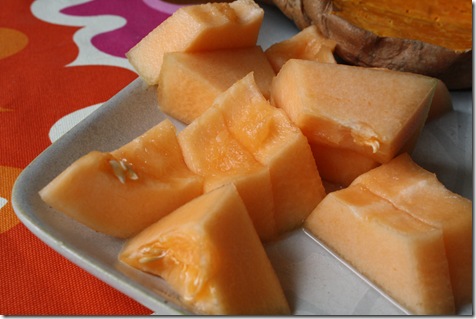 Mmm.
I have a conference call to rush into!  And lots of writing to do.  Whew.
How do you set and modify race goals?  What are your current race goals?