Morning!  I have a feeling today is going to be a GREAT day, so let's get crackin'!
Breakfast: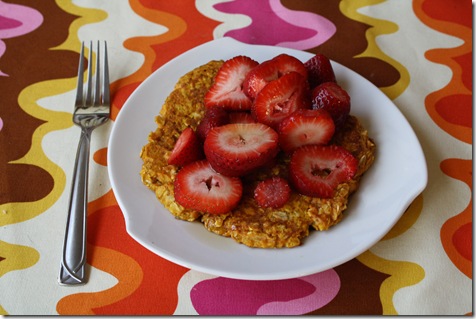 I made a big, yummy oatmeal pancake.  I wanted real oatmeal but I was out of banana (and only really like oatmeal with banana!).  This was a nice change, though!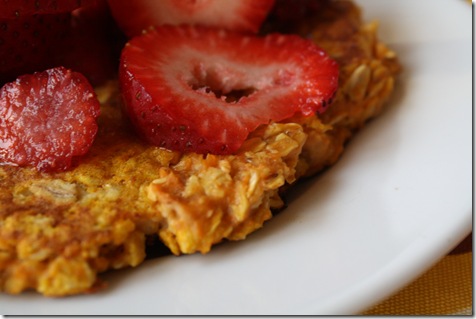 Ingredients:
3/4 cup oatmeal
2 tablespoons almond milk
1/4 cup pumpkin
1 egg
Topping:  strawberries and a drizzle of maple syrup
Directions:
Heat and grease griddle.
Mix first four ingredients.
Pour onto griddle and form pancake shape.
On Medium Low, cook slowly and then flip when golden brown.
Cook other side slowly.
Plate, top with fruit and syrup, and enjoy!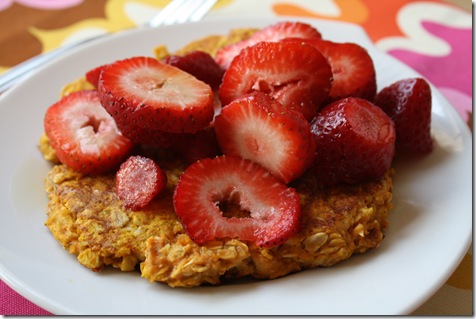 Winner of the Blendtec Raffle
Thanks to everyone who contributed to the Blendtec Raffle for the Livestrong Foundation!  In total, we raised close to $1,000 and surpassed my fundraising goal by $300!  I'm now at $3,300, and my team (appropriately named Team Awesome) is at $4,095!  I've contacted the winner (Jaclyn) and want to say THANK YOU to everyone who donated to a great cause.
Rock Climbing Video
My friend Stef made this video when I went rock climbing with her last Friday.  We didn't realize that your can't rotate a portrait video in You Tube – whoops!  But that kind of makes the video even funnier.
Did you catch my nickname? 🙂
Century Training Plan
I finally put together my Century Training Plan!  You can view it here.  Thoughts:
Yes – this is intense.  But it's a pretty intense race – 100 miles on bike through Napa Valley!  It's a MUCH bigger time commitment than a marathon.  By the end of it, I'll be spending 10+ hours a week on the bike and cross training.
Yes – I plan to work out most days of the week.  That's just how my body works.  However, as I did with my triathlon plan, I plan for the best and expect to be more realistic. So, I might have 6 days a week down, but if I do 4 or 5 every now and then, I will still be OK for the race.  I have legit rest days, but certain cross training days (swimming) also function as "rest my legs days."
Yes – I am extremely excited to eat tons of healthy, awesome natural food (and beer) to fuel me through these workouts!!!
I am running a lot more in the first 3 weeks because I have two races.
I have greater flexibility in my schedule (i.e. longer workouts on weekdays) because I'm self-employed.  That doesn't mean I don't work 55+ hours a week (because I certainly do).  So, no – this schedule might not work for you and your work habits.  But mid-week workouts make for more interesting blog reading for you.  🙂
No – not everyone needs to work out for double-digit hours a week or do a Century bike race (or a marathon) to be fit and healthy.  It's just what I like to do and what this blog is about.  Don't feel pressured – just enjoy the ride with me!
And… I'm off!