Whew!  I finished my article before my deadline.  I think it's pretty good.  Starting an article always seems so daunting, but I just keep writing and writing and then suddenly – WHAM – it's done!  Same with the book.  🙂 Writing is funny that way.
I went for a lovely 18.0 mile bike ride this evening with Megan and her friend that is a boy, Mark.  It took me about 1:20.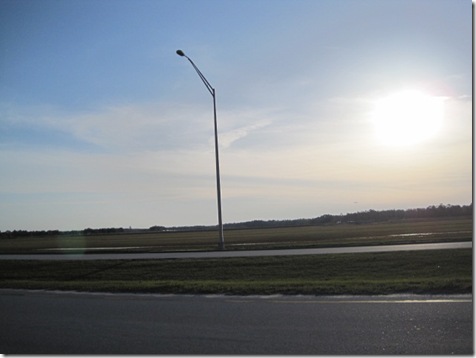 I was suppose to do 25.0 miles, but the sun started to set and I hate riding in the dark, even though I have a light.
Pre-ride fuel was a big Green Monster: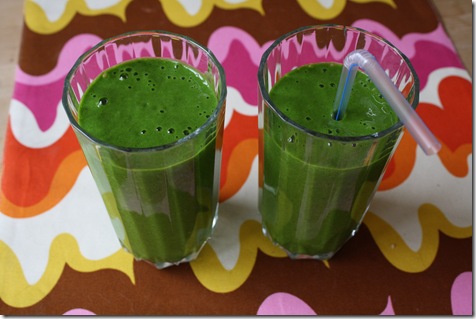 SUPER thick!  I had about 3 cups of spinach, 1 cup almond milk, and 1 banana.
And a slice of whole wheat toast with almond butter and sunflower seeds: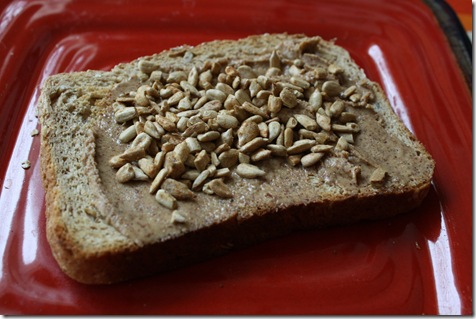 For dinner, I made an excellent stir-fry.  The Husband actually inspired this idea!  On his way out the door, he yelled, "You should make a veggie stir-fry with honey tonight!"  So I did.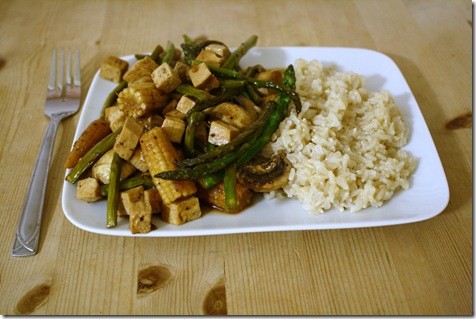 My stir-fry contained:
1/3 block pre-cubed extra firm tofu
Baby corn
Asparagus
Mushrooms
Soy sauce
Ginger sauce (a mix)
Honey
Pepper
Dash olive oil
I cooked all the ingredients together on low on the stovetop in a wok for about 30 minutes.  Served along with brown rice, it was great!
Well friends, I'm off to bed.  I am meeting Kelly and Sara for a long, long trail run in the morning.  We're aiming for 13 miles I think?  To be honest, I'm not exactly thrilled, but I'm trying to get pumped. 
And thanks for all the advice about opening my coconut!  I'll let you know how it turns out!
PS – Angela arrives tomorrow!!! Eck!!! 🙂