Have I mentioned yet that I am a very, very nervous flyer?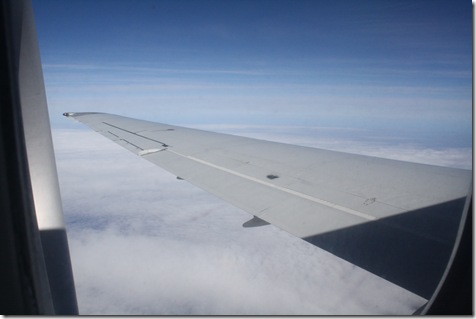 Today's flight was HORRIBLE.   There was about 45 minutes of intense turbulence, and the woman next to me threw up over 10 different times.  I thought I was going to lose my mind at some points in the flight.  My hand hurts from gripping the seat!
I did have in-flight Internet (love Airtran!) and two great magazines to keep me company.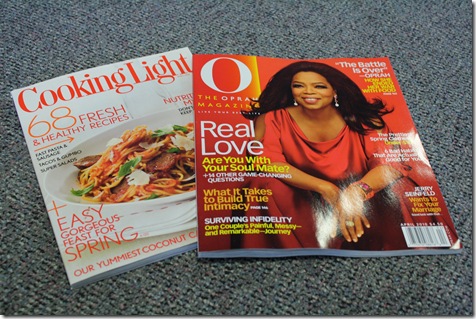 Oprah has an interesting article about factory farming, and Cooking Light had an entire section on fun ways to cook tofu.  Score!
The Husband picked me up from the airport and had a copy of New Moon waiting for me.  Thank you, wonderful Husband!  We're going to watch it now. 
Earlier, we watched some basketball: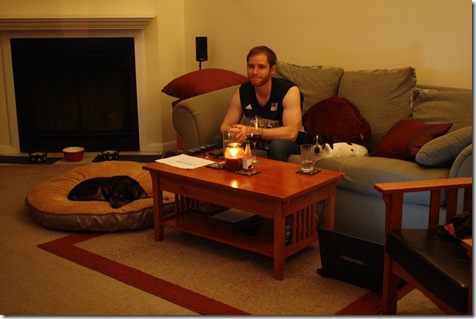 And I drank a Green Monster.  I missed GMs while I was away so much!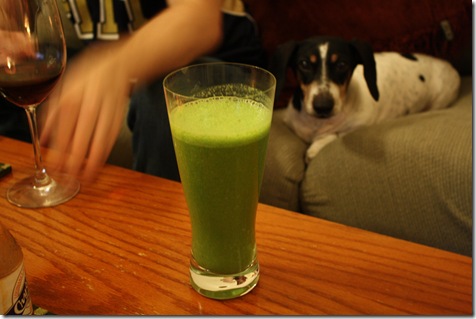 My GM contained:
1 cup rice milk
2 cups raw spinach
1/2 a banana
It tasted SO good!
Dinner was veggie-packed, too.  I think my body was craving nutrients after this weekend of fun!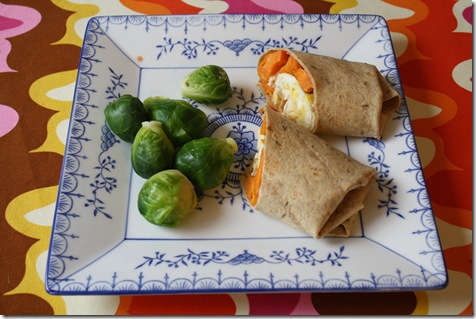 I made a two-egg, cheese, and 1/2 a sweet potato wrap.  Plus, loads of hot sauce sprinkled in.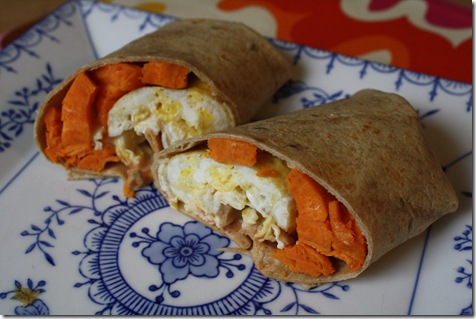 And steamed Brussel sprouts.  I do love Brussel sprouts roasted with maple syrup and pepper, but I also love them plain.  They are so flavorful naturally.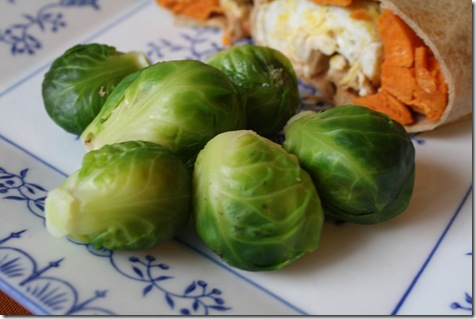 Tomorrow is the beginning of CENTURY TRAINING!  I have to get ready to bike 100 miles through hilly Napa Valley by May 23.  I am very excited to spend loads of time in the saddle.  I don't have an official training plan yet, so if you have any suggestions, please speak up!
I plan to ride 3 days a week and continue to cross-train with running and swimming.  I loved the total-body effect of triathlon training!
Have a wonderful night…