Oatmeal, glorious homemade oatmeal!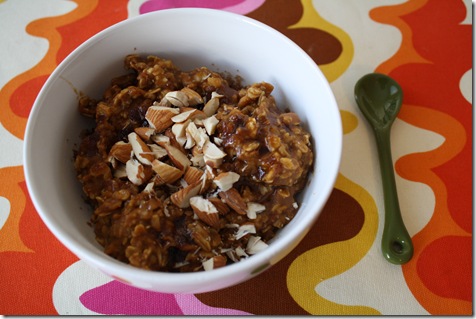 The Husband let me sleep in (and boy, after 4 straight nights of sleeplessness due to an Operation Beautiful presentation, visiting friends in DC, and Fit Bloggin' in Baltimore, I needed it).  When I woke up, I practically ran to the kitchen to make Pumpkin Spice Oatmeal.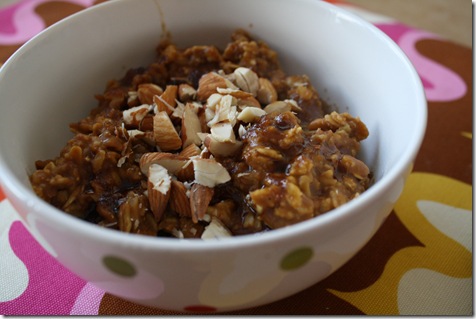 My oatmeal contained:
1/2 cup oatmeal
1/2 cup almond milk
1/2 cup water
1/2 sliced banana
1/4 cup canned pumpkin
1 tablespoon instant coffee
Toppings: brown sugar, cinnamon, almonds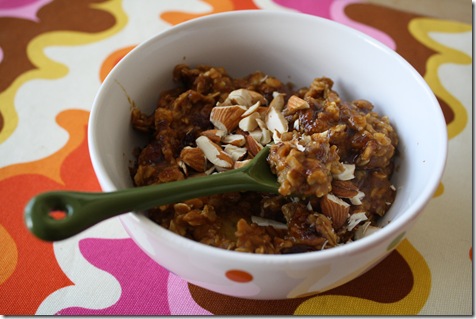 Perfect is an Addiction, Guilt is a Drug
There was a product at the Fit Bloggin' conference called the Gruve Solution.  Basically, it's a small device that clips to your belt buckle and indicates with a red, yellow, or green light whether you've moved enough (AKA burned "enough" calories for the day according the weight and height information you enter into the system).  If you are still for too long, the Gruve buzzes at you to "alert" you to go walk around or something.
Reviews at the conference on the Gruve were VERY mixed.  And I can see both camps.  Maybe if you're just starting to be active, wearing such a device can help alert you to your habits.  But in general, I felt totally obsessive wearing the Gruve (i.e. checking the light, getting anxious when it buzzed).  It buzzed during my panel presentation and made me feel SOOOO guilty for being still (it's not like I could stand up!).  I feel like the product emphasizes that we need a machine to "do healthy right."
Last night, I was trying to sleep, but I couldn't stop thinking about the Gruve, guilt, and other topics I had discussed with women at the conference.
Do you keep a notebook by your bed to get your ideas out?  I do!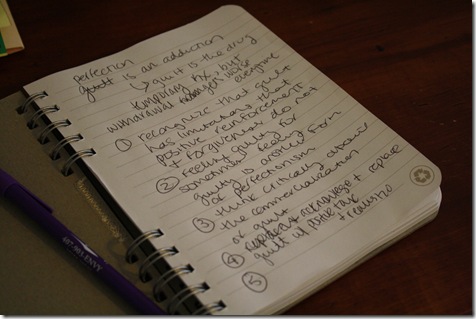 For so many people, the pursuit of perfection is an addiction.  For a long time, I felt addicted to being "perfect" with my diet and exercise.  That doesn't mean I actually ever was perfect, but it does mean that I spent a lot of time feeling guilty.  Guilt is a drug.  When I wasn't "superwoman," when I blew off my workouts, when I ate late-night drunk pizza, I got a fix for my perfectionism by feeling guilty.
When we're focused on the idea of being perfect, guilt serves as our temporary fix.  No one can be perfect, but we can punish themselves mentally and emotionally for their "bad" behavior.  And that makes us behave better next time… right?
Wrong.  So wrong.
When I stopped pursing perfection and stopped believing it was OK to beat myself up for transgressions, I freed myself.  I became HAPPY.  I never realized how unhappy I was (in the areas of health, fitness, and body image) until I stepped back and realized what guilt was doing to me.
Want to break the addiction?  Here are the 4 simple steps I used:
1)  Think critically about the commercialization of guilt:  Where do these feelings come from, anyway?  The longer I'm involved with Operation Beautiful and a part of the blog community, the more I realize that guilt is a commercial product.  Companies want to SELL you on feeling guilty – because then they make money.  Clothing companies want to make you feel unpretty so you buy their products, and diet pills want you to believe you need to suppress your hunger.  Many areas of our society profit off of your guilt. 
2) Recognize that guilty has limitations that positive reinforcement and forgiveness do not:  Sometimes, guilt does have positive, short-term effects.  You overeat at dinner.  You feel guilty.  So you hit the gym extra hard that night.  So guilt worked, right?  In my opinion, it did not.  You hurt yourself emotionally and mentally by berating yourself into a healthy activity.  Fitness and healthy eating should be FUN, not punishment.  Forgiveness and positivity have the same short-term impact of guilt, but without the other consequences. Guilt is a self-fulfilling prophecy.  In fact, forgiveness and positivity makes it unlikely that you will repeat self-destructive behaviors in the future, thus breaking yourself of the perfection addiction.
3) Replace guilty thoughts with positive, realistic talk:  When I guilt myself (and it does occasionally happen still), I consciously acknowledge that I am engaging in a negative behavior and replace my guilt with positive, realistic talk.  This is similar to how I feel with Fat Talk, which are closely related.
4) Realize that feeling guilty for feeling guilty is just another form of perfectionism:  This is the big one for me.  Sometimes, I feel bad for guilting myself – don't I know better?  But it's OK to have irrational thoughts and feelings… it's not OK to let them take over  your life.  There are lots of things at play here – societal pressures, your own background and history, and other deep-set behavioral patterns.  I don't think the goal is to NEVER feel guilty; the goal should be to recognize that it's not the answer or a part of a healthy lifestyle.
What are your thoughts on guilt? Do you think the Gruve Solution would make you feel guilty? Why do you think we use guilt as a drug?  Were you/are you addicted to perfectionism?