I am in love with grilled veggie sandwiches.  We have a special connection.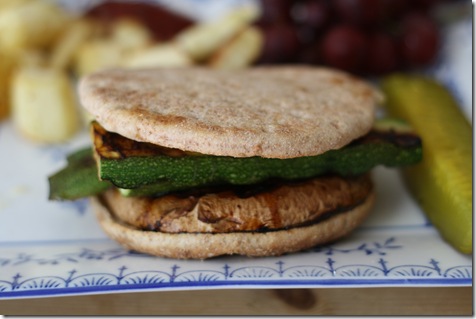 I used to eat SO much deli meat, but between hummus, bean, and veggie sandwiches, I don't miss it at all.
Lunch: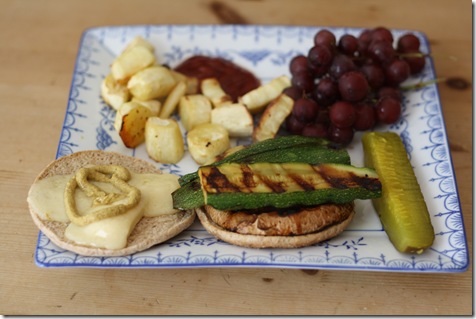 I had grilled zucchini and mushroom (I marinate the veggies in low sodium soy sauce before grilling) with melted cheddar cheese and mustard on an Arnold Sandwich Thin.  
Plus, parsnips: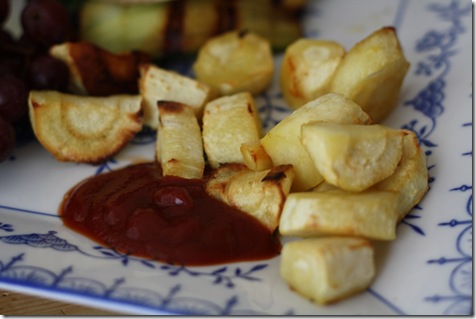 And grapes: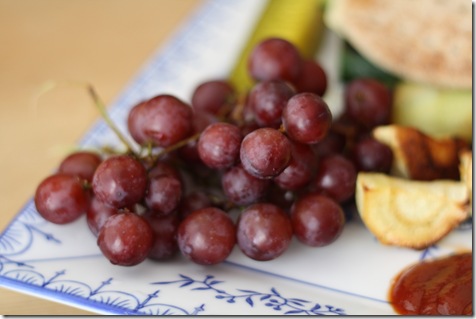 Should I Exercise When Sick?
The most common e-mail I receive from readers are some variation of the following topic:
Should I workout when I'm sick?
Should I workout when my knee/foot/arm/hip hurts?
In my opinion, Question #2 is easy to answer.  My answer is always, "You should not work out when your injured or feel an injury coming on," because (in my experience) it only leads to further damage and more time off your feet.  I ask the e-mailer if they would rather take one week off or two months off.
Whether or not you should workout when you're sick is so much harder to answer!  Experts say that you shouldn't exercise is the cold is "below the neck" – meaning, in your lungs.  It's probably safe to exercise if the cold is "above your neck," or just nasal congestion. 
I try to gauge whether I feel too exhausted to work out.  When I'm sick and feel exhausted, I know my body is using all it's extra energy to fight off the illness, and pushing myself on the treadmill or in the pool is going to take valuable resources away from that fight. 
(Similarly, from a Chinese medicine perspective, the Husband says it is absolutely terrible to work out when you are ill, regardless of whether it's above or below your neck.  Your qi – AKA vital energy force – is depleted and exercising will just make the situation worse.)
Separate of the physical ramifications – let's talk about the emotional ramifications of taking time off because you're sick.  Look, I totally get why people who are used to working out on a regular basis freak out when they can't exercise.  I had an emotional MELTDOWN when I couldn't work out due to my knee injury.  For me, it was and continues to be important to remember that fitness is one aspect of my life, it does not define who I am.  I'm not going to lose a massive amount of endurance or muscle tone because I take a few days (or even weeks) off.  Although I may really HATE sitting still, it's important to do it sometimes.  🙂
In summary, working out when sick is a complex issue (well, at least is to me!).  There's a lot of physical and emotional factors to consider in the decision.  In fact, I'm still trying to decide if I feel good enough to workout tonight – we shall see!  🙂
What are your thoughts on working out when sick?
PS – New Puppy Pictures are up!  Silly ones.  🙂