Today is National Pancake Day, and since I missed pancakes for breakfast, I figured I'd make some for lunch.
Introducing… Savory Pancakes!  I don't know how my brain came up with this recipe.  I know the ingredients look strange, but trust me – it was SOOO delicious.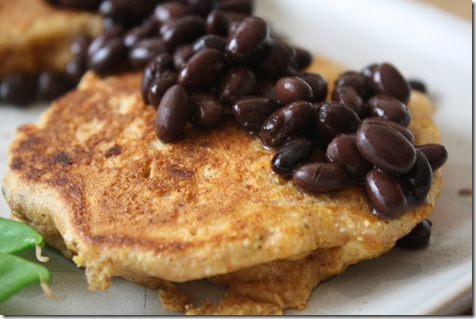 The Savory Pancakes pack a veggie, protein, and fiber PUNCH – hidden inside are goodies like sweet potato, tomatoes, and feta cheese, and they are topped with black beans.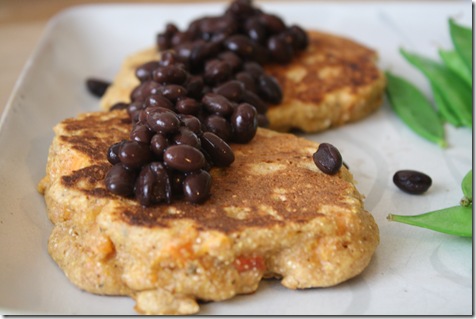 Ingredients (for 4 pancakes / 2 servings):
1 small sweet potato
3/4 cup whole wheat pancake mix
1/3 cup milk
1 egg
2 tablespoons canned sundried tomato
1/4 cup crumbled feta cheese (I used a basil and tomato flavored feta cheese)
2 dashes pepper
4 dashes chili pepper
Sprinkle salt
1/2 cup black beans, rinsed, drained, and warmed
Directions:
Wash sweet potato, stab with fork, wrap in paper towel, and microwave for 4 – 5 minutes until soft.  Remove and peel off skin.
Chop softened sweet potato into tiny chunks.
Mix potato and all other ingredients (except black beans) in a medium bowl.
Heat and grease a pancake griddle.
Scoop out pancake mix into 4 medium-sized pancakes.
Cook on both sides, plate, and top with black beans.
Enjoy!
I INHALED these pancakes.  You will definitely be seeing them again!  Sometimes, experiments in the kitchen just work.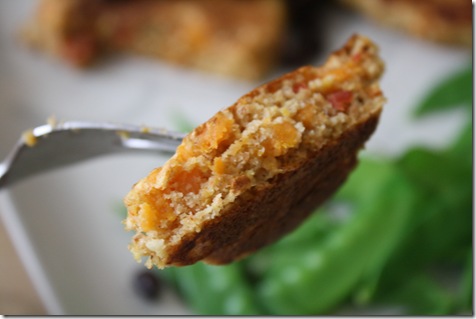 I had my pancakes with a side of snow peas: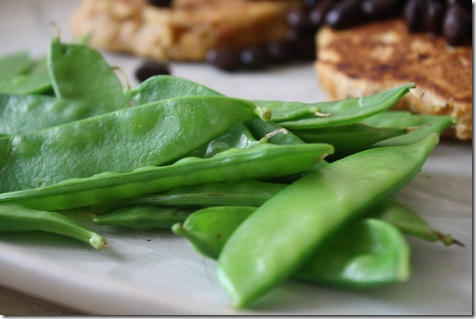 Yum!
Caffeine Confessions
I rarely blog about my drinks (unless they are really caloric and/or alcoholic), but I have a cup of french press hazelnut coffee with half and half every morning, and a few cups of tea throughout the day.
The Husband and I are obsessed with tea.  OBSESSED!
We have all sorts of neat tea gadgets: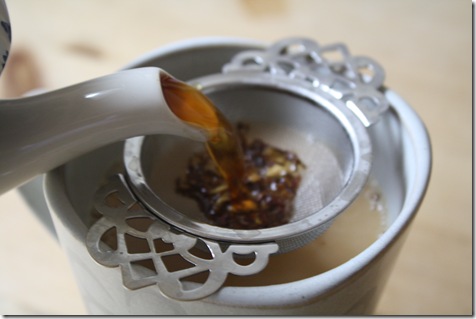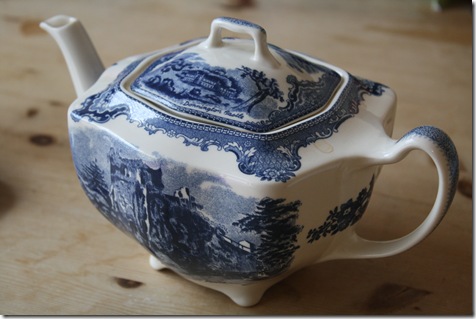 As well as six different flavors of tea in our pantry.  I love Rooibos Chai the most, but English Breakfast, Earl Grey, and Peppermint are other favorites!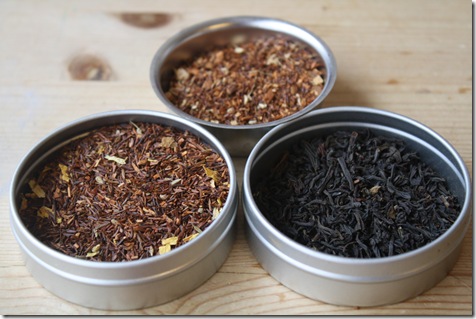 I tried to give up caffeine once on the blog, and it was a DISASTER.  I went off coffee and switched to tea only for three days, and then I cut everything out for the rest of the week.  I was MISERABLE.  I practically attacked the coffee maker on Day 8.
Not only do I love the jolt of caffeine, but I love the rituals of coffee- and tea-drinking (I prefer loose-leaf tea over the bagged stuff).
Additionally, caffeine can help your athletic performance, which is why I never have an early morning workout without drinking a cup of coffee first. 
Are you a coffee or a tea drinker?  Could you give it up?  Would you want to!?  Have you broken the caffeine habit and how did you do it?