Morning! Sorry for the delay – email suckkkkkkkkkkkkkkkkked (imagine a vacuum sound) me in.  🙂
Today was a Double Shot Oatmeal kind of day: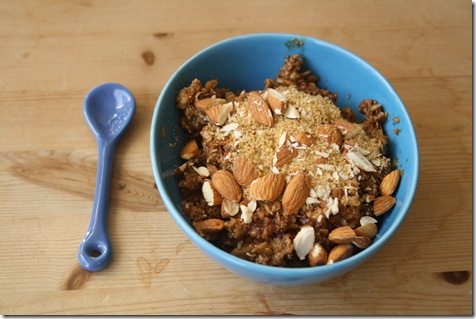 My oatmeal contained:
1/2 cup oatmeal
1/2 cup rice milk
1/2 cup water
1 sliced banana
1 tablespoon instant coffee
Toppings: almonds, flax, brown sugar, and cinnamon.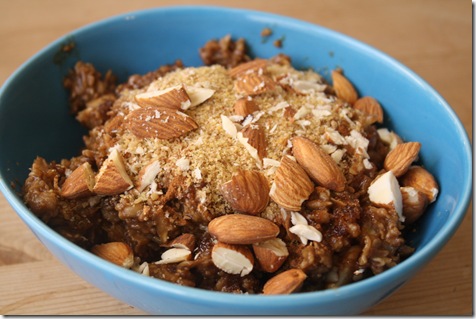 I can never get over the fact that I was "afraid" of oatmeal for the first 22 years of my life!  What a waste!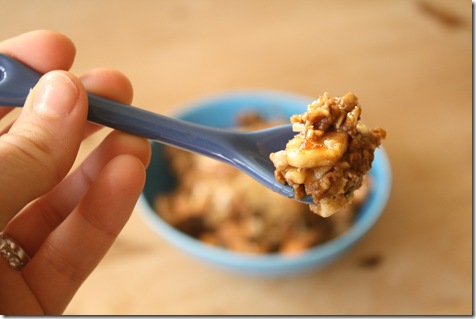 Change of Plans…
I was planning to race the Gasparilla Half Marathon in 10 days, but I've decided to back out.  I'm simply not trained properly (the longest distance I've done since the Disney Marathon on January 10 is 6.0  miles).  Although I'm sure I'm fit enough to run/walk the 13.1 miles, I don't think it would be a very pleasant experience, the entry fee is expensive, and I don't want to leave the Husband for yet ANOTHER weekend.
That means my upcoming race schedule is now as follows: 
Olympic Triathlon in Orlando – March 14
Crooms Fool's Run 15 mile trail race in the Middle of Nowhere, Florida – April 3
IronGirl 15K in Clearwater – April 10
Century Bike Ride in Napa Valley – May 23
I do need to start stepping up my mileage and plan to get in a few long trail runs ASAP. 
For everyone who is running Gasparilla, GOOD LUCK!  I had a lot of fun running it last year – I did the epic Bud Light Challenge, which is when you run the 5K, 15K, and Half Marathon (recap: Part 1, Part 2).
Meghann (who is obviously insane!!!) is doing the full marathon challenge this year, which means she'll run the 5K, 15K, and then the Marathon!  Nuts, huh?!  But in a good way.  🙂