I am obviously becoming obsessed with parsnips.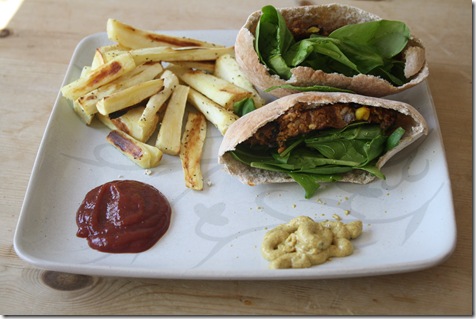 Did you know parsnips are richer in vitamins and minerals than carrots?  The veggie is especially rich in potassium!  Here's a whole article on why potassium is important for athletes – basically, "potassium is a mineral that works with sodium (also a mineral) to balance the fluids and electrolyte levels in your body. And since steady fluid levels help to regulate your heartbeat and prevent muscles from cramping, potassium is of particular importance to runners."
In fact, 100 grams of parsnips has more potassium than the average banana!  But handing out parsnips after a race doesn't quite work.  🙂
I coated sliced parsnips in olive oil and pepper and roasted them at 375 for about 30 minutes to make parsnip fries: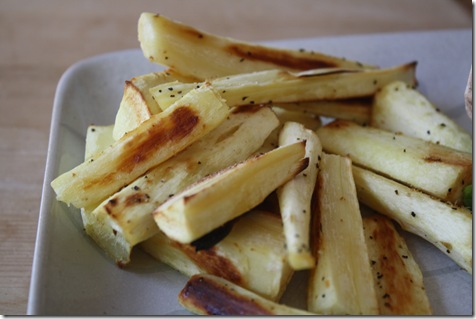 Parsnips taste kind of "woody" – they are GOOD!
Although the star of lunch was parsnips, I also had a Morningstar Black Bean burger with feta cheese, spinach, and mustard in a whole wheat pita.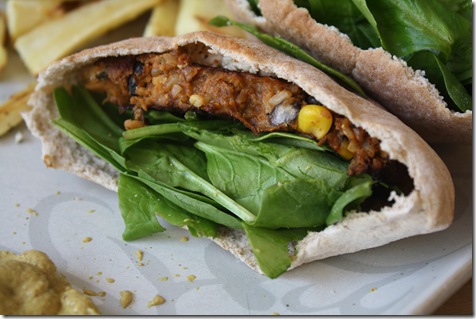 Plus, ketchup and mustard for dipping!
Body Image Awareness Week Walk in Washington, DC
Jacquie from The Sweetest Thing asked me to spread the word:  There will be a Body Image Awareness Week Walk hosted THIS Sunday at American University.  Please go here for details about the event or here to register.  The walk is hosted by American University's Office of Campus Life, Office of Dean of Students, Student Health Center, and Wellness Center and is supported by The F.R.E.E.D. Foundation and The Eating Disorders Coalition.  If you are in recovery (and have a doctor's OK to exercise), know someone with an ED, or just want to support the case, please consider participating in the event!
More NEDA News
Operation Beautiful is collecting stories about how positive self-talk and/or Operation Beautiful post-its have helped girls, women, and men recover from their eating disorder.  The stories will be included on Operation Beautiful during NEDA Week.  If you have a story (one paragraph or so) to share, please e-mail it to me at seebriderun@gmail.com.  Please include your name (or state you want to be anonymous), age, location, and blog address (if you have one).
And Some Thoughts on Race Entry Fees…
This morning, when I was suppose to be writing an article on time management, I was goofing off by browsing the Internet to learn more about the Charlotte running scene (oh, the irony).  I had a small freak out because it appears that Charlotte's running scene is not quite as organized (to put it lightly!) as Central Florida's.  If anyone knows any good Charlotte races (for the entire year), please let me know about them!
Anyway, one thing I did notice about a few of the Charlotte events was that entry fees are RIDICULOUS.  Like, $70 for a super sprint triathlon. 
I've run 20 races.  If each race cost me an average of $40 (which might be a low estimate), that means I've spent $800 on races!  I've raced a total of 239 miles (on the nose!), which works out to $3.34 per mile of racing.  Racing is an expensive habit!
I was also thinking about how I determine whether a race is "too expensive" to do.  I think a lot of it has to do with distance.  I wouldn't pay more than $30 for a 5K, but I paid $95 for my upcoming Olympic Triathlon.  I need to get my money's worth, I guess!  (I know races are expensive to organize and some money goes to charity, but come on… you gotta be realistic in what you charge people.)
How much is "too much" for a race?  What swag do you need to receive to consider a race entry fee "worth it"?  I really love those tech t's!