Morning!  Happy Sunday.  :)  Today is my last day in Tennessee.  I'm making the 10-hour drive back to Orlando tomorrow morning, with a pit stop along the way to see my grandpa.
My mom and I made a special breakfast: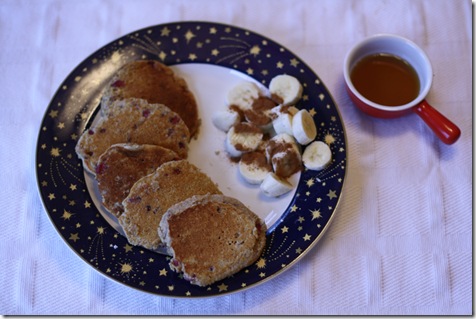 My mom froze two pomegranates worth of arials earlier this fall, and we thawed out 1/4 a cup to add to our whole wheat pancakes (she also uses the Hodgson Mills mix).  We also added some pecans.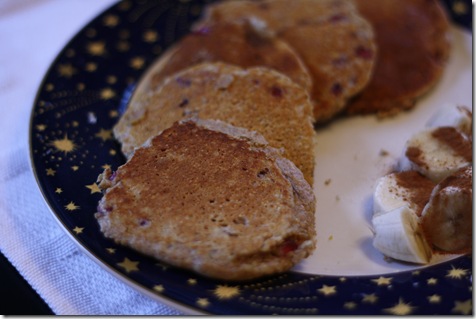 Plus, a cinnamon-covered banana and a little cup of maple syrup.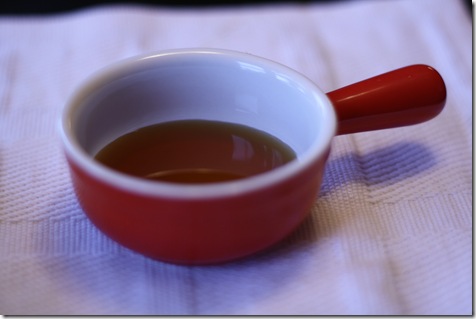 My mom wants me to show everyone the little banana and dried fruit lady she made for herself while I cooked the pancakes: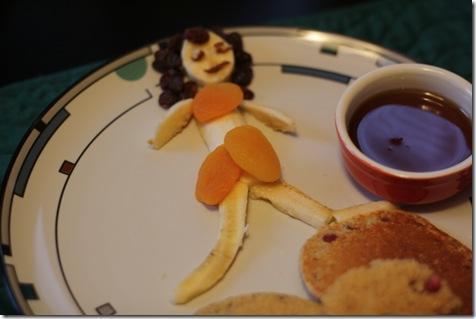 Major LOLs.
Well, I'm off to church with my mom!
One of the scariest moments of my life was in July 2008.  I was at the airport, coming back from a trip with my friends, when I looked up at the television and saw my mom's church on CNN!  A conservative extremist had entered my mom's church (it's a Unitarian church) and shot at the congregation… two people died.   I immediately called my mom, and she had randomly decided to skip church that day. 
I consider myself to be a spiritual person (I believe in a higher power and pray when I feel compelled to), but I don't belong to a church.  We got married on a golf course by my father-in-law!  I'm glad I can go to my mom's church with her and pay my respects.   My mom's church is also very interesting because Unitarians are very open-minded and liberal and tend to use a lot of source material – the Bible, Torah, and Koran – in the sermons.   This Sunday's lecture is on the meaning of marriage (you can see a preview here).
This is a personal question, but you guys know I love to ask them!  :)  Are you a spiritual or religious person?  Do you go to church?  Did you find faith later in life or were you raised that way?