Meghann and I had such a good time on our trail run today!  The weather was gorgeous.  I love knowing I'm deep in the woods, with no civilization around for miles.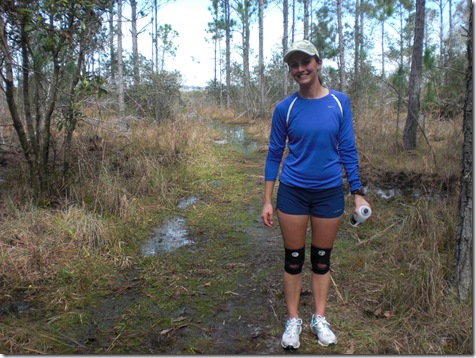 From the park's website:  "The largest of Orange County's parks, Moss Park is an oasis of nature well secluded from the encroaching development of houses and strip malls in the area.  Natural Florida is at its best in the park, with plenty of heron, rabbits, and other family-friendly critters in plain view."
It's been a while since I ran with Meghann, and it was really fun to catch up!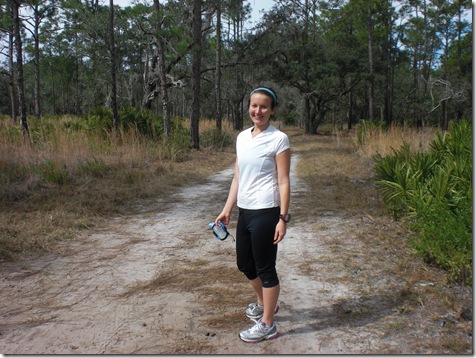 Before we left for Moss Park, I had a BIG bowl of my normal Pumpkin Oatmeal (but with 2/3 cup oatmeal):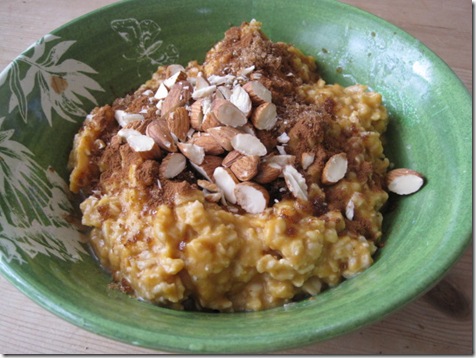 So, Moss Park actually is the location of my Olympic Triathlon (in 3 weeks!).  Before we started running, we walked over to the beach to check it out.  Staring at the dark, cold water kind of freaked me out.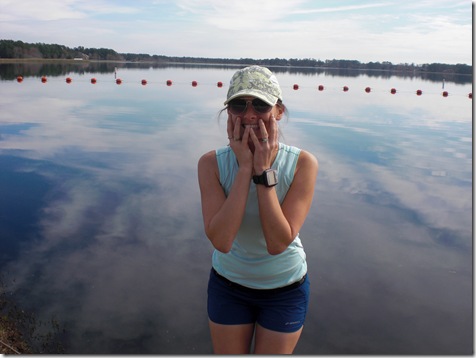 Not really – I'm excited.
Can't wait to bounce out of that lake like a BALLER and sprint down the beach towards the transition for bikes!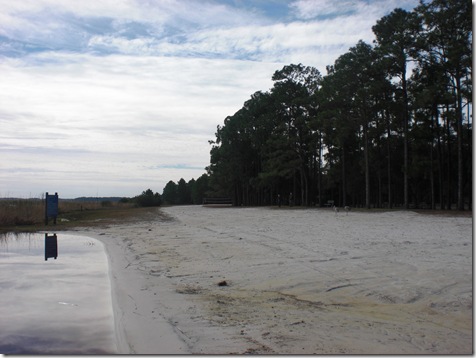 Meghann and I then proceeded to bang out 10.0 miles.  Our trail run took us through fields of sawgrass palms, through pine forests, and by several lakes.  We ran on rocks, mud, grass, and SAND.  SO MUCH SAND.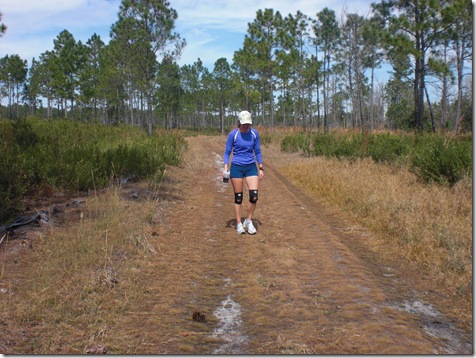 The trails in Moss Park are NOT very organized.  They aren't marked clearly at all, and it's really easy to get turned around in the preserve.  There's a very loose map, but there are TONS of side trails that aren't on the map.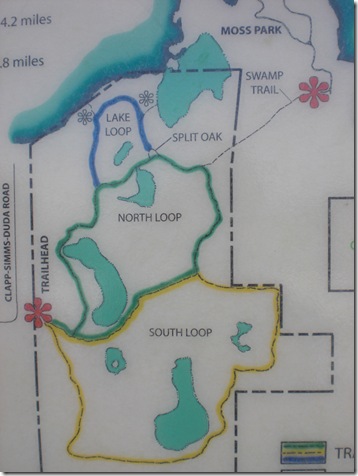 We came in from that trailhead on the top right and looped all the way around the outside of the trail. 
We got lost around Mile 7.0 in the South Loop.   This was Meghann's first time in the preserve, and I felt kind of responsible for getting us off track since I've been so many times! Ahhh! 
This was NOT a segment of the trail that goes anywhere: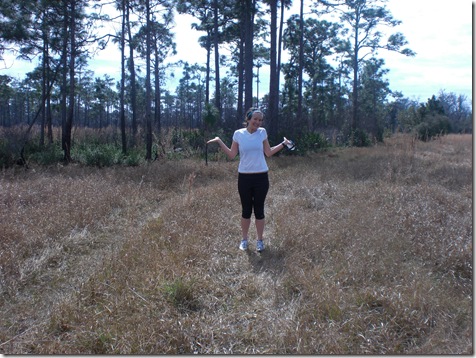 Luckily, my Garmin 305 has a navigation feature, and I was able to use the compass to get us out!
We didn't see any wild animals, but we did see lots of PAW and HOOF PRINTS!
Here are our statistics:
Duration: 1:45:20
Distance: 10.0 miles
Mile 1: 10:10
Mile 2: 10:11
Mile 3: 10:17
Mile 4: 11:12
Mile 5: 10:10
Mile 6: 11:16
Mile 7: 10:19
Mile 8: 11:53
Mile 9: 10:06
Mile 10: 10:10
Afterwards, we drove back to the beach and had a picnic: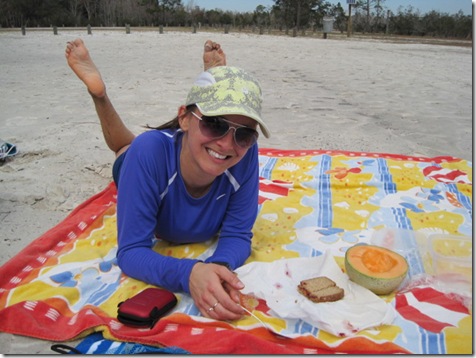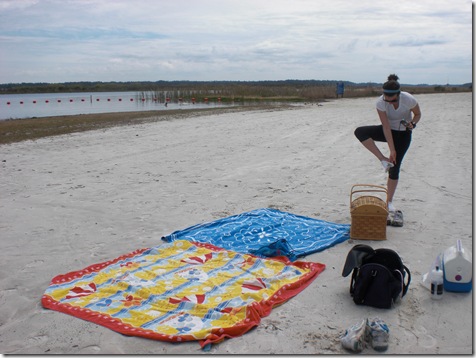 I brought a PB and raspberry jelly sandwich and 1/2 a cantaloupe: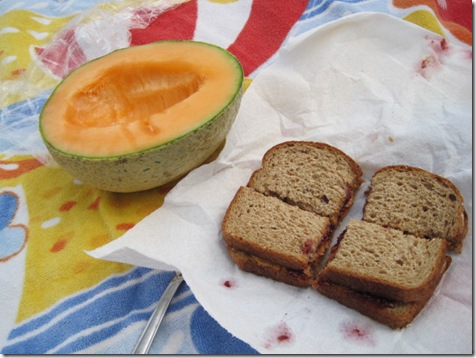 Meghann gave me some of her Sin Dog cinnamon roll for dessert: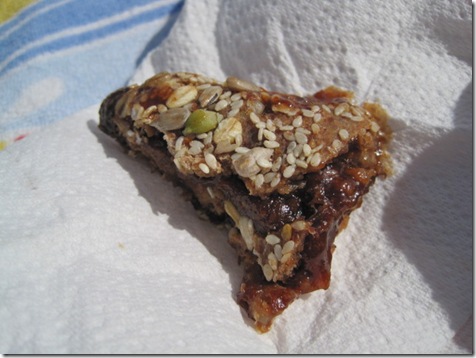 We had a two little visitors with us!  These are sandhill cranes.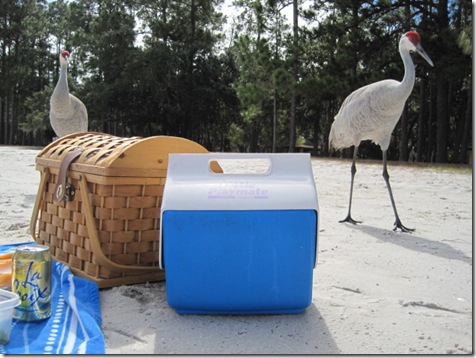 Don't worry, we didn't feed them!  🙂
When I got back home, I had Greek yogurt and an orange.  I also had a handful of almonds.  My body was craving protein after that run.  I usually want carbs after a long run – strange!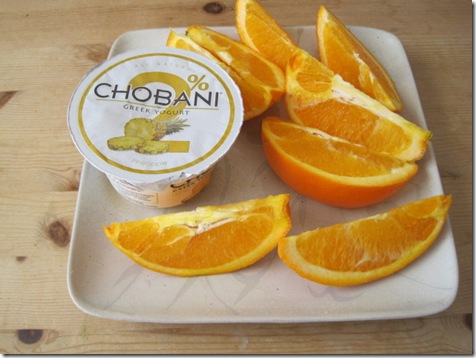 Now – I'm going to RELAX.  I hope you're having a fabulous Saturday, too.