Sometimes, I hear about new recipes through the blog world and think, "There is NO WAY that can taste good."  But, then I try it and – low and behold – and DOES taste good!  (Case in point: spinach in smoothies!)
On Wednesday, Ryan and Meghann were discussing mixing almond butter in marinara sauce to create a vegan version of cream sauce.  I had my doubts!  And I was concerned about using up precious Barney Butter on a recipe that might not work.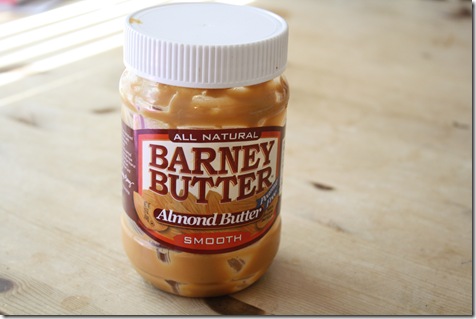 I took a leap of faith…
And I'm so glad I did!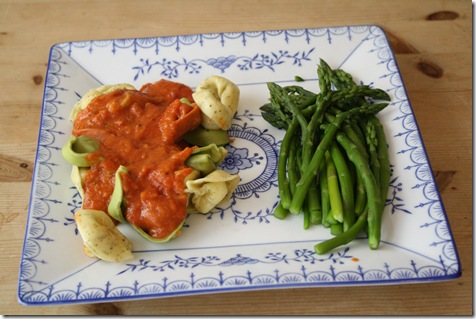 While it definitely did not taste like cream sauce (and ya'll know I love my cream sauce), it was flavorful, rich, creamy, and delicious.  It did kind of taste nut buttery, but in a good way!
I mixed 1.5 tablespoons of Barney Butter to a regular serving of red sauce (I cooked it on the stovetop – it involved a lot of stirring).  And then I poured it over a serving of cheese tortellini.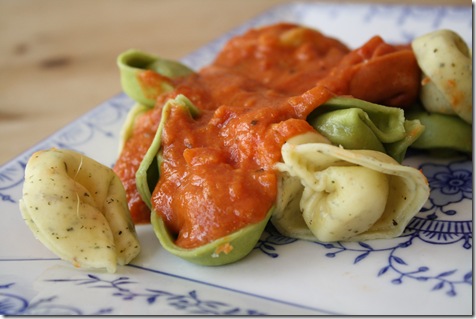 Plus, asparagus on the side.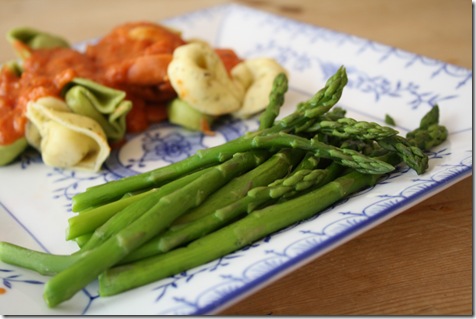 Maggie Update
Little Maggie is doing fine.  I took her to the vet this morning because she's been yakking and itching her ears.  I always feel so guilty at the vet because I never get the dogs' shots updated; their nails are long; and their teeth are dirty.  I'm a good fur mom, I just don't like spending tons of money at the vet (obviously).  I'm also not a huge believer in vaccinations for dogs or people (but that's another post) and only get the shots I legally have to do to board the dogs.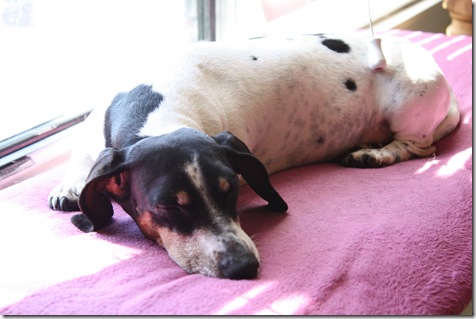 However, the vet did finally talk me into getting Maggie's teeth cleaned.  She really needs it!  They have to put her under to clean her teeth, so I'm really nervous.  That's on Monday – get ready for pearly whites, Maggie!  🙂
What to Wear to My Triathlon?
I've been grapping with an issue for the triathlon, so I figured I should for some advice!
I'm going to wear the wetsuit for the swim, but what do I wear underneath?
If I wear a bathing suit underneath, I will have to put on bike shorts during T1 (transition 1).
If I wear a bathing suit, I will also have to put on a sports bra during T2 before the run.  My girls are too large to run 5.6 miles without a sports bra. 
I could put the sports bra on over my bathing suit (which would be fine) but I can't completely change during transition (there are no changing rooms in transition).
If I wear my bathing suit under my wetsuit, I'm concerned about the bathing suit chafing my lady bits during the bike ride.
Alternatively, I could wear a sports bra and bike shorts under my wetsuit, which would eliminate the need to change clothes, thus cutting down on my transition times and preventing chafing.
However, that means that my bike shorts will be wet for the ride, and I might chafe my lady bits anyway.  I have a pair of not-so-thickly-padded bike shorts that I could wear, but then I'm sacrificing comfort.
I cannot afford to buy a trisuit right now.  So… if you were in my shoes, what you do?