It feels so good to get back to long-workout weekends!  Although I'm trying to develop a weight-lifting habit with the Intro to Iron Pumping Challenge, I really am a cardio queen at heart.
My foot was feeling a lot better today, so I decided to test out my new shoes and orthotics (I wear Spenco insoles for my knee issues).  I haven't bought new shoes since marathon training began and had over 500 miles on my old sneakers!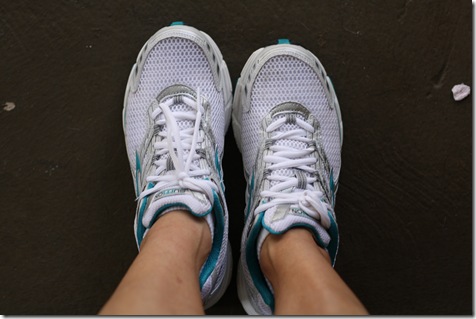 These new shoes aren't really "new" as I've bought Brooks Summons three times in a row – I don't mess with something when it works!
I did 3.0 miles outside (my first outdoor run and my second run period since the marathon) and achieved a negative split:
Distance: 3.0 miles
Duration: 27:40
Mile 1: 9:29
Mile 2: 9:20
Mile 3: 8:52
I felt AMAZING.  My foot didn't hurt, either!  Hopefully, the pain doesn't creep up on me later today.
It was a really satisfying run. I came home and crashed on my yoga mat: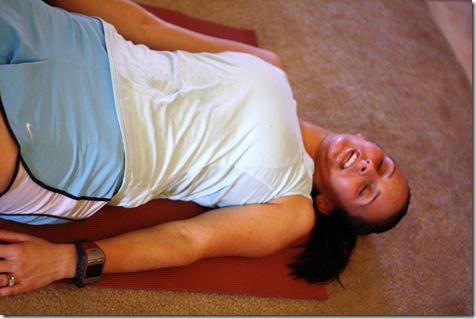 And I iced my knees and foot.
Lunch: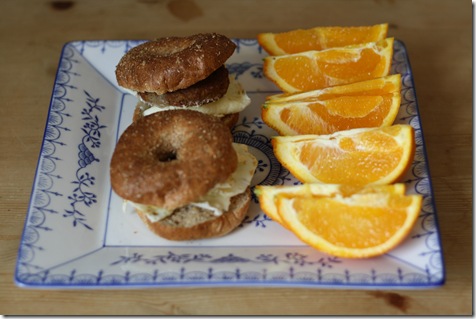 I made two mini whole wheat bagel sandwiches with Morningstar fake sausages and egg whites.  Plus an orange.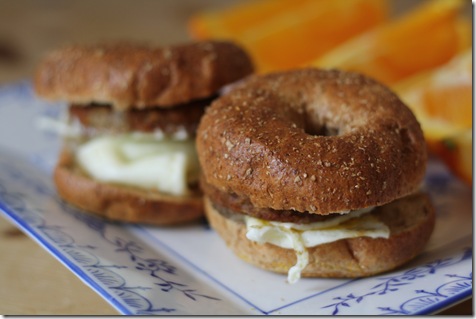 And then I was off for my second workout… a bike ride!  I really need to start preparing for March's triathlon (a 25-mile ride) and May's Century in Napa Valley (a 100-mile ride).
My bike was FINALLY ready at the shop.  I had to replace the chain ring and get a general tune-up.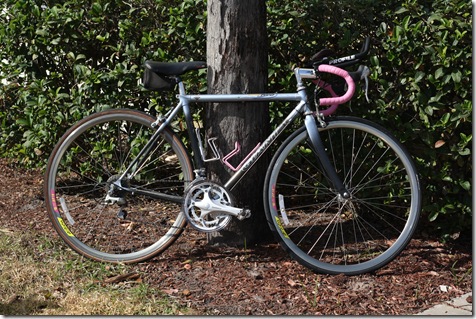 I love gear!  So does James.  🙂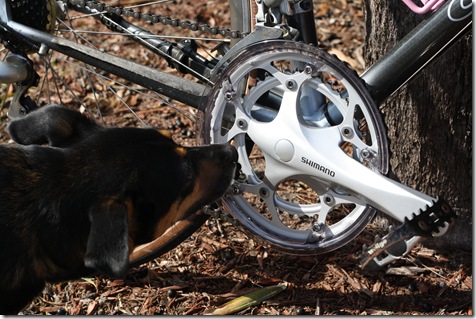 I also replaced the bike tape… a pink-er pink than before!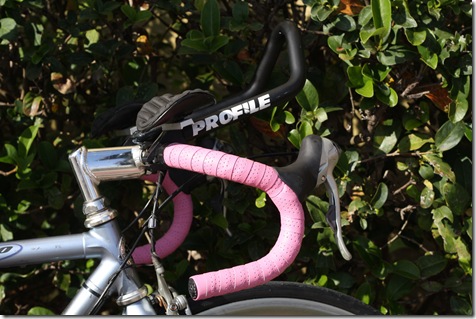 I did a straight back-and-forth ride out on a deserted highway near the Orlando International Airport.  I'm working really hard on maintaining a consistent, quick pace, but I think I need to get clip-in shoes and pedals to really go much faster.  I struggle to maintain 15 mph!
Distance: 13.83 miles
Duration: 57:47
Average Pace: 14.4
Best pace: 20.4 (downhill, obviously)
I'm off to rummage up a protein-rich recovery snack, clean the house, and then we're meeting up with our friends Lisette and Danny for an evening out.  I can't wait!