The first thing I thought when I got out of bed this morning is, "I need a new goal." :)  I am too goal-oriented and internally competitive for my own good! I am still very happy with my marathon, but I need something NEW!  I just love to challenge myself physically and accomplish new things.
What's on the menu for the upcoming months?  Here are the races that I've set in stone:
The Wildman Triathlon – March 14, 2010
I will be completing the Olympic Triathlon, a 1.5 km swim, 40 km bike, and 5.6 mile run.  This will be my second triathlon – I was disqualified from the first because I had a panic attack during the swim and quit!  :(  I can't wait to "complete" a triathlon.
Ride to Remember – May 15, 2010
Coming off my triathlon, I hope to extend my bicycling and complete a century bike ride, which is 100 miles.  I have done a metric century (60 miles) before, but I want to do the BIG one!
A Weight Lifting Challenge – Ongoing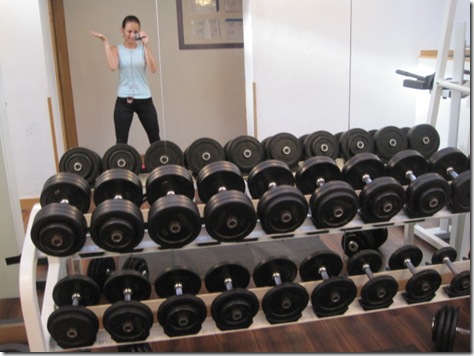 One aspect of my fitness that I would really like to work on is my strength.  So, once I settle down from the marathon, I will be creating a Weight Lifting Challenge for the blog (that you can participate in, too!).  I'm going to be enlisting the help of some personal trainers who really know their strength-training stuff.  Stay tuned!
I MIGHT have some other race tricks up my sleeve.  🙂
What are your goals right now?