The Husband offered to make me breakfast this morning.  Score!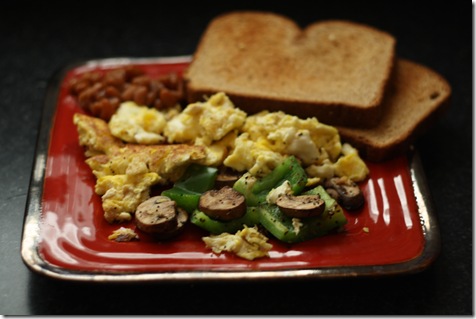 He cooked up a simple egg and veggie scramble.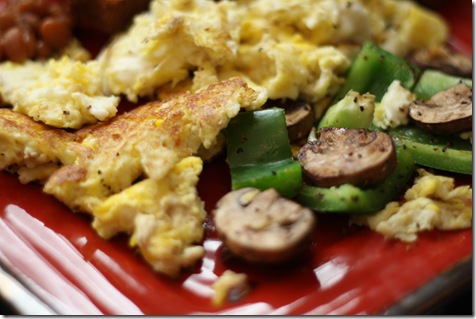 Plus, two pieces of buttahed toast and a little bit of baked beans.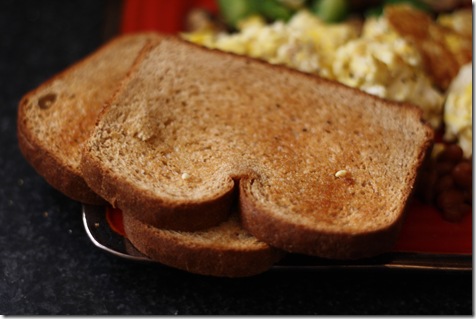 This breakfast totally hit the spot!  Combined with the wonderful feeling of waking up in my own bed with my dogs for the first time in two weeks, I was in heaven this morning!  🙂
Movies About Running
I thought I'd make a list of my favorite movies about running!  I am going to rent one of these to watch on Friday night to get my friend Lauren and I pumped about running 26.2 miles on Sunday.  (All the synopsises are from Rotten Tomatoes).
Spirit of the Marathon
From three-time Academy Award winning filmmaker and Executive Producer Mark Jonathan Harris comes the first ever non-fiction feature film to capture the drama and essence of the famed 26.2 mile running event.  Filmed on four continents, Spirit of the Marathon brings together a diverse cast of amateur athletes and marathon luminaries. As six unique stories unfold, each runner prepares for and ultimately faces the challenge of the Chicago Marathon.
The trailer is SO inspirational – check it out!  "You triumph over the adversary, that's what the marathon is all about.  And then you know there's nothing in life that you can't triumph over after that."
Without Limits
This drama about American track star and hero Steve Prefontaine intelligently looks at the character of this oft mythologized athlete and features a fantastic performance by Donald Sutherland as Prefontaine's trainer.
Without Limits is one of my absolutely favorite running movies! My friend Stef introduced me to it back in college (ironically, before I was a runner).
Run, Fat Boy, Run!
Five years after jilting his pregnant fiancée on their wedding day, out-of-shape Dennis decides to run a marathon to win her back.  More funny than inspirational, this movie explores issues such as bloody nipples and running with a hangover.
Chariots of Fire
An absorbing drama, based on a true story, deals with the personal struggles faced by two very different long-distance runners competing for Britain in the 1924 Paris Olympic Games.
Have you seen any of these movies?  Are there any other running movies I should see? What sports movies inspire you?