After my car accident, I was not in the best mood last night.  However, the appearance of my BFF Lisette and her husband, Danny, made me feel so much better!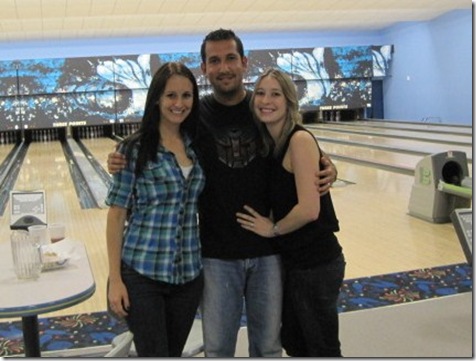 Lisette had a rough day, too, so we proceeded to forget our worries and reminisce about the good old days over beer: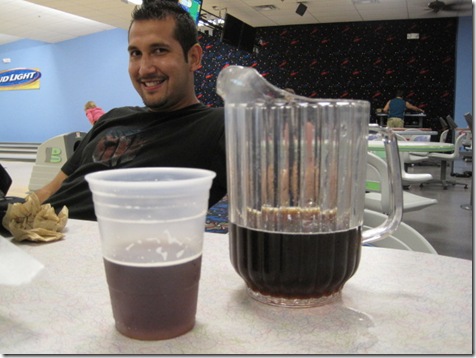 And curly fries:
Since I wasn't driving (obviously, since I don't have a car anymore!), I had a fair amount of beer.  And I had a bowl of cereal when I came home.
This morning, I made pancakes for Lisette and Danny, but I stuck with stomach-settling oatmeal: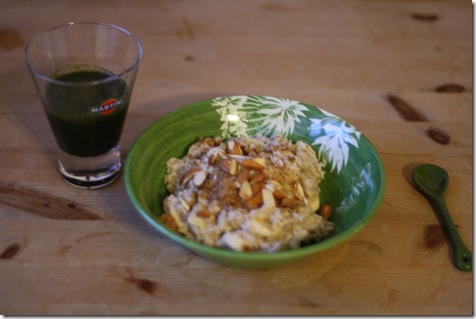 My oatmeal contained:
1/2 cup oatmeal
1/2 cup skim milk
1/2 cup water
1 sliced banana
Toppings: flax, brown sugar, and almonds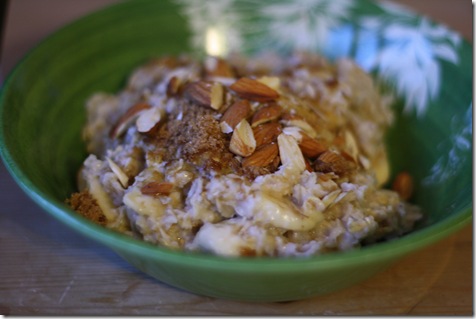 I also had wheatgrass with apple juice.  I figured I needed something extra healthy after last night!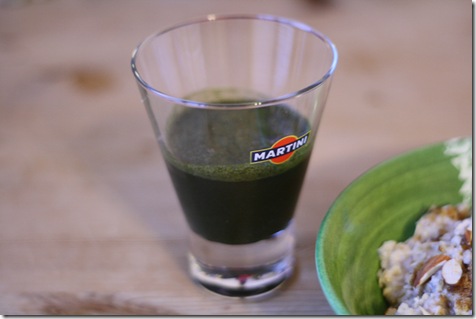 This morning I was thinking about emotional eating.  Obviously, I engaged in emotional eating (and drinking) last night after my rough day. I just wanted to bury my worries in curly fries, beer, and best friends. 
We always hear from experts about how emotional eating is "so bad."  Because if you rely on your emotions to dictate when and how you eat – odds are, you won't have a healthy diet (life is too crazy). 
I used to have a problem with emotional eating.  I would come home after a rough day and drown my sorrows in a pint of ice cream, double portions of mashed potatoes, or a sleeve of Girl Scout cookies (no joke).  I would also overeat (or overdrink) when I was happy.  But once I started to focus more on health, I learned to curb my emotional eating and replaced that habit with more healthy outlets for my stress (like exercising). 
But sometimes…. I'm going to make the argument that emotional eating isn't always SO bad!  It was fun to "cut loose" last night and just eat curly fries for dinner.  The beer helped, too.  :)  And honestly… it DID make me feel better!
Is emotional eating ALWAYS bad?  Do you sometimes enjoy a good emotional eat (like I did last night)?  If you stopped emotional eating because you found it to be a destructive behavior, how did you stop?