Don't forget to nominate a blogger for the Blogging Pants!  I'd like to give the pants to a newer/lesser known but equally awesome blogger… so nominate away!  It's going to be hard to pick someone.  And I'll announce winners of The Spark giveaway at dinner.
I finally wedged my bike into my car and took it to the shop to get the chain ring fixed.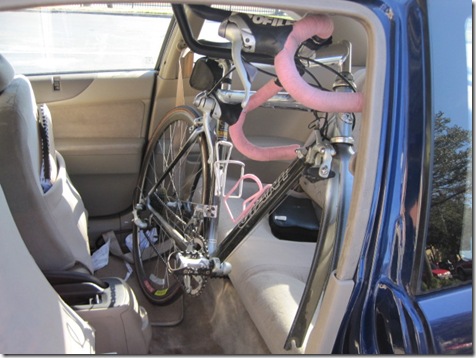 I crashed in November and destroyed the chain ring… I'm excited to get Pink fixed so I can ride outside again.  🙂
Afterwards, I headed to the gym.  I did 37 minutes on the stationary bicycle while reading a draft of Jenna's memoir/cookbook.  It's good! I can't wait to buy it.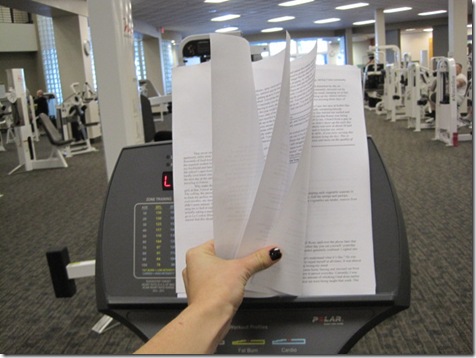 For a while, I wanted to be a book editor.  I was convinced that I couldn't write well enough to make it into a career, but I really liked writing and books, so I thought editing would be a good fit.  I landed an interview for a Penguin publishing internship; however, I didn't think I could afford to live in New York City for the summer so I never even went to the interview.
Other career choices I flirted with:
Sexual Assault Counselor
Marketing or Public Relations
Newspaper journalist
Lottery winner
Physical Therapist
When I graduated college, I began a position as an Urban Planner/Technical Writer and worked there for about 3.5 years.  If you told me that I'd be a semi-professional blogger, freelance writer, and author a few years ago, I would have laughed in your face!
Funny how life works out.
Anyway, while I did my workout on the bike, I looked longingly at the treadmills: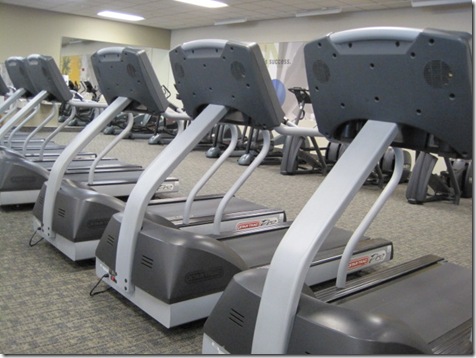 I am happy to report that my foot is feel a LOT better.  Actually, after biking, my feet felt great, like the movement and increased blood flow was good for it.  Keep your fingers crossed that this is not a serious injury! 🙂
Lunch: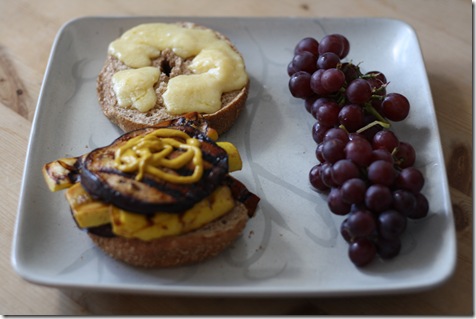 I made an amazing grilled vegetable bagel sandwich.  I covered slices of eggplant and squash in low-sodium soy sauce and then grilled on a George Foreman for a few minutes.
With melted cheese + mustard: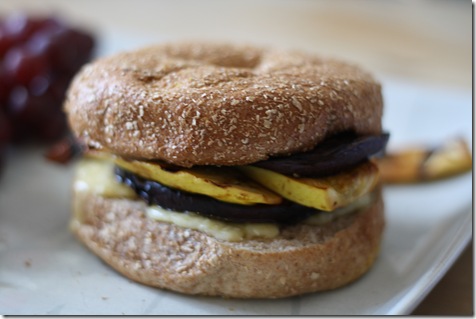 And a copious amount of grapes: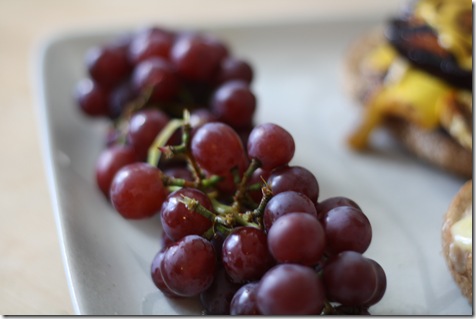 What career paths have you considered and where did you end up?  Do you like your current field or do you want to make a change?